Wissahickon Cross - (C2)
VERGE MAC Series Race #2 Ludwigs Corner, PA, USA, October 22, 2006
2005 results Results Photography Past Winners
Trebon and Compton dejavu
by Kirsten Robbins in Ludwigs Corner, PA
Trebon solos to his fourth major win
Barry Wicks (Kona) edges out
Photo ©: Dennis Smith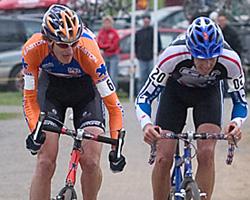 Kona's star cyclocross rider Ryan Trebon has proven to be unbeatable this weekend after winning this afternoon's Wissahickon Cross UCI C2 event. The Trebon train took off and the only one on board was Tim Johnson (Cyclocrossworld.com). The two riders worked together until Trebon decided it was time to win, with six laps remaining, leaving Johnson to finish a strong second place. The podium became complete after Barry Wicks (Kona) won a two up sprint against US Cyclocross champion Todd Wells (Team GT) for third.
"Tim and I were together for the first part of the race today and I just punched it hard in the head wind to get a bit of a gap on him," said Trebon. "I got away from him with six laps to go. I just tried to keep the same speed the whole time even though I was alone. But it feels great to win back-to-back races this weekend."
Ryan Trebo (Kona) stretches out his lead
Photo ©: Dennis Smith

Trebon showed his 'cross versatility winning on a course completely different from the previous day's event. "Today's circuit was much faster and more technical than yesterday, with lost of turns," said Trebon. "I think there were many sections that made this circuit really hard because of the wind. There were a lot of head wind sections that I had to power through and I think that is where I was able to get away from Tim. He said he wasn't feeling so good today so I wanted to make him work harder," joked Trebon.
Johnson has been known for his strength on the technical side of 'cross racing. Although much of today's circuit proved to be technically demanding there may have been too many 'powerful' sections playing into Trebon's strengths. "I like the tighter and twistier type courses because I feel like that's where I can keep the speed up," said Johnson. "Today was very fast and dry and this course was kind of half technical and half powerful.
"His fitness is really strong," said Johnson. "I can gain on him in the corners a little but when he stands up and goes he just puts the power down on me. That is why I need something like snow or mud to even out the horsepower a little bit between us."
Tim Johnson (Cannondale/cyclocross world)
Photo ©: Dennis Smith

The podium door was shut by Trebon's Kona teammate Barry Wicks in a sprint against Todd Wells. The two riders escaped a group of four chasing Trebon and Johnson midway through the race. "There was a small group that was chasing Tim and Ryan," said Wicks. "I was riding at the back when Todd Wells attacked. I was caught behind and he got away. It took me a couple of laps just to get around the others and catch up to him. But this is the type of course where you need to be able to ride smoothly with the riders you are with.
"It took me a while to get ensinc with Todd through the corners, but once we knew we were not going to catch Tim, we started to watch each other instead. I knew he was starting to hurt by the end," added Wicks.
Today's event marks Trebon's fourth major win this season and his strength has not gone unnoticed by his competitors. "I could not get over how strong he is," said Johnson. "I say this over and over again but he is so strong - he should be beating up on guys named Vervecken and Nijs in Europe, not guys like Wicks and Johnson. The guy is heads and shoulders above everyone I know here, he is just that much stronger."
Bessette gives Compton a run for her money
Bessette, Compton and Gould on the podium
Photo ©: Dennis Smith

US cyclocross champion Katie Compton (Spike Professional/Primus Mootry) repeated her win over Canadian champion Lyne Bessette (Cyclocrossworld.com) - only this time around the battle was fierce. The womens' race began much like the mens', with the two strongest riders separating themselves from the field. "I wanted to do my own race and get out there and give the whole shot, to start out front and that is what I did," said Lyne Bessette."The first part of the circuit is really tricky and on the first lap I am always more nervous, so it is easy to make mistakes sometimes. I pre-road the course with my husband, Tim, which helped me a lot and I knew exactly what I was going to do today.
"Katie is really strong and there was a much better battle today than there was yesterday. I wanted to be able to stay on her wheel from the very beginning and that is what I did," she added.
First lap, Bessette, Compton (Spike), Gould (Luna)
Photo ©: Dennis Smith

Bessette glued herself to Compton's wheel until the two had a significant gap over third placed US mountain bike champion, Georgia Gould. "Once we got off the front, we worked together a little but I never pulled as hard as I could when I was at the front and I am sure she did not either," said Bessette. "But neither of us wanted Georgia to come to us because she is so good technically, and today was a technical course."
With no imminent threat of Gould, Compton and Bessette worked together until the final few hundred meters of the race. "I think Lyne had better legs today," said Compton. "We were taking turn pulling and there were a few sections where I tried to accelerate but she was too strong for me to get away. I think we were very evenly paced today and so we ended up just working together to try to stay out the front."
Neither rider could shake the other and in the end it was a tactical game to the finish line. "We were switching a lot coming into the finish and hesitating to let the other person take the lead," said Compton. "I knew that coming into the sprint it would be better to be on her wheel. But I was stuck in front so I did not want to start the lead out too fast because it would have made it easier for her. I just tried to watch her, wait and then just go when I felt her about to go."
ADG team mates Viable
Photo ©: Dennis Smith

In the final three hundred meters it was Compton who lead out the sprint and Compton who won the race. "I was sitting on Katie coming into the sprint and she started it shorter - I think I probably should have started the sprint earlier," said Bessette. "But, I am really happy with my race today and I feel like it was much better than yesterday"
Many of the 'cross riders and spectators have noticed a difference in the level of competition entered in the women's cross events this year. "It was really fun to race head to head with another woman," said Compton. "She usually races here and I race in Colorado so we don't get to race each other often. It was nice to race together to see how our strengths compare. I think Bessette had great skills today and we were matched really evenly."
Photography
For a thumbnail gallery of these images, click here
Images by Dennis Smith/www.dennisbike.com
Images by FJ Hughes/FjHughes@FhughesPhoto.com
Results
Elite Men

1 Ryan Trebon (USA) KONA                                     1.02.03
2 Tim Johnson (USA) Cannondale/cyclocrossworld.com              0.45
3 Barry Wicks (USA) KONA                                        1.25
4 Todd Wells (USA) Team GT                                          
5 Jeremy Powers (USA) Jelly Belly                               1.54
6 Matt White (USA) FiordiFrutta                                 1.58
7 Davide Frattini (Ita) Colavita Oil/Sutter Home                2.15
8 Ben Jacques-Maynes (USA) cyclocrossworld.com/SRAM             2.20
9 Troy Wells (USA) TIAA-CREF                                    2.28
10 Tristan Schouten (USA) Trek/VW/Michelin                      2.32
11 Matt Kraus (USA) Alan Factory Team                           2.36
12 Geoffrey Kabush (Can) Maxxis                                 3.15
13 Erik Tonkin (USA) Kona                                       3.25
14 Adam Myerson (USA) Nerac-OutdoorLights.com Pro Cycling       3.33
15 Dan Timmerman (USA) Fiordifrutta                             3.44
16 Jamey Driscoll (USA) FiordiFrutta Elite Cycling Team         3.45
17 Justin Spinelli (USA) Richard Sachs/RGM/RexChio              3.51
18 Michael Garrigan (Can) HB cycling club                       4.04
19 Roger Aspholm (Fin) Westwood Velo                            4.35
20 Jonny Sundt (USA) Hagens Berman                              4.56
21 Brandon Dwight (USA) Boulder Cycle Sport                     5.11
22 Chris McGovern (USA) sonic cyclocross                        5.24
23 Molly Cameron (USA) Vanilla bicycles!                        5.54
24 Charles Storm (USA) INLAND CONSTRUCTION                      6.05
25 David Wyandt (USA) HRS-Rocklobster                           6.16
26 Weston Schempf (USA) FORT Factory Team                       6.24
27 Michael Yozell (USA) FORT Factory Team                       6.35
28 Nathan Chown (Can) Cyclissimo/KONA Canada                    6.50
29 Adam McGrath (USA) Team Maxxis                               7.02

One lap down

30 Tyler Wren (USA) Colavita Olive Oil / Sutter Home                
31 Ryan Dewald (USA)                                                
32 Kyle Hammaker (USA) Trek/VW/Michelin                             
33 Greg Wittwer (USA) FORT Factory Team                             
34 Noah Taylor (USA) RGM WATCHES-RICHARD SACHS -REX CHIU            
35 Kyle Douglas (Can) 3 Rox Racing/ Scott                           
36 Nathan Deibert (USA) Holmes Cycling                              
37 John Hanson (USA) Nerac/Outdoorlights.com Pro Cycling Team       
38 Kyle Wamsley (USA) Colavita/Sutter Home                          
39 Kyle Jacobson (USA) Team Beans and Barley                        
40 Shawn Harshman (USA) Harshman Wealth / Primus Mootry             
41 Stephen Cummings (USA) Meredith group GPOA Cannondale            
42 Andrew Wulfkuhle (USA) ADG/Joe's Bike Shop/C3                    
43 Dan Wilson (USA) Monstr Health Cycling                           
44 Ryan Leech (USA) Meredith Group-GPOA-Cannondale                  
45 Joe Reynolds (USA) Wissahickon                                   
46 John Minturn (USA) Team Hotel San Jose                           
47 Jeremy Walker (USA) Cane Creek/Caboto Velo Club                  
48 Alistair Sponsel (USA) Colavita Racing                           
49 Stephan Kincaid (USA) Meredith Group/GPOA/Cannondale             
50 Peter Rubijono (USA) HarrisCycleryRacing.com                     
51 Chris Saunders (Can) saint catharines cc                         
52 David Hall (USA) Myogenesis Nutrition- Cane Creek-Blue           
53 Andy Gorski (USA) Agisko - Viner p/b kinetic-koffee.com          
54 Michael Seek (USA) Pabst Blue Ribbon / Human Zoom                
55 Myles Romanow (Can) HUC-IF                                       
56 Elliot McAllister (USA) Pabst Blue Ribbon/ Human Zoom!           
57 Scott Kelly (Can) Freewheel Cycle/Opus/McMaster Cycling          
58 Chris Newell (USA) HVB/Marathon Roofing                          
59 David Goodwin (USA) pabst blue ribbon/Human Zoom                 
DNF Zak Grabowski (USA) Harshman Wealth/Primus Mootry               
DNF Greg Marini (USA) coffee plus inc. com                          
DNF Sean Galegher (USA) Hunt Valley Bicycles/Marathon Roofing       
DNF Stephen De Lisle (USA) FORT Factory Team                        
DNF Matt Shriver (USA) Sonic                                        
DNF Bill Elliston (USA) TARGETRAINING/Fuji                          
DNF Brian Hayes (USA) RGM WATCHES - RICHARD SACHS - REX CHIU        
DNF Erik Mitchell (USA) Quaker City Wheelmen                        
DNF Harlan Price (USA) Independent Fabrication                      
DNS Luca Damiani (Ita) Team FIDIBC VC ARBEDO                        
DNS Zoltan Tisza (Hun) Rocky Mountain Business Objects              
DNS Steve Tilford (USA) Verge/Shimano  
                             
Elite Women

1 Katie Compton (USA) Spike Professional/Primus Mootry         42.15
2 Lyne Bessette (Can) Cyclocrossworld.com                           
3 Georgia Gould (USA) Luna Women's MTB Team                     0.39
4 Sarah Kerlin (USA) Velo Bella - Kona                          1.41
5 Maureen Bruno Roy (USA) Independent Fabrication/Wheelworks    1.55
6 Deidre Winfield (USA) Velo Bella-Kona                         2.15
7 Mackenzie Dickey (USA)                                        2.34
8 Melissa Thomas (USA) Team Maxxis                              2.41
9 Rebecca Wellons (USA) GearWorks/Spin Arts                     2.48
10 Megan Monroe (USA) Sports Garage-BMC                         2.58
11 Mandy Lozano (USA) Cheerwine                                 3.10
12 Amanda Sin (Can) 3 Rox Racing                                3.17
13 Melanie Swartz (USA) Velo Bella - Kona                       3.30
14 Anna Milkowski (USA) Velo Bella-Kona                         4.27
15 Amy Wallace (USA) RGM WATCHES - RICHARD SACHS - REX CHIU     4.49
16 Erica Yozell (USA) FORT Factory Team                         5.07
17 Elizabeth Frye (USA) Cheerwine                               5.14
18 Samantha Williams (USA) ALAN Factory Team                    5.34
19 Marjan Huizing (USA) DC Velo                                 5.47
20 Perri Mertens (Aus) Harris Cyclery/Igleheart                 6.06
21 Karen Watson (Can) McMaster Cycling Club                     6.11
22 Megan Bilodeau (USA) NCC/BikeReg.com                         6.21
23 Kathleen Billington (USA) Connecticut Coast Cycling          6.27
24 Pauline Frascone (USA) Independent Fabrication               6.38
25 Tara Ross (Can) Cheerwine                                    6.48
26 Alie Kenzer (USA) IBC/Nerac/i [heart] icecream               6.54
27 Stephanie White (USA) Velo Bella-Kona                        7.09
28 Beth Mason (USA) C3/ADG/Joe's                                7.16
29 Brenda Bahnson (USA) Independent Fabrication                 7.18
30 Lynda Maldonado (USA) Human Zoom                             7.27
31 Heidi Von Teitenberg (USA) C3/ADG/Joe's                      7.28
32 Lisa Most (USA) Wissahickon                                  7.40
33 Betsy Shogren (USA) FORT Factory Team                            
34 Tammy Ebersole (USA) Evolution Racing                        7.55

One lap down

35 Lisa Vible (USA) C3/ADG/Joe's Bike Shop                          
36 Janet Olney (USA) C3/ADG/Joe's Bike Shop   

U19 Men

1 Tyler Brown (USA) Bike Line/LWA                                 28.35

Elite Masters Men

1 Charlie Storm (USA) Inland Construction                         41.24
2 Todd Cassan (USA) NYC Velo                                       0.29
3 Greg Ferguson (USA) FORT Factory Team                                
4 Richard Mihills (USA) The Secret Henry's Team                        
5 Eric Schlauch (USA) Team Somerset / Van Dessel                   0.42
6 Gerry Pflug (USA) SciFit/Dirty Harry's                           0.44
7 Ralf Warmuth (USA) Highland Park Hermes                              
8 Robert Campos (USA) HVC/Jessies                                      
9 Kris Aur (USA) C3/AD6/Joe's                                      1.08
10 Mike Hebe (USA) GPOA-Cannondale                                     
11 Christopher Long (USA) Independent Fabrication/Gotham               
12 Kirk Reisinger (USA) Wissahickon                                    
13 Joseph Ruggery (USA) Freddie Fu Cycling Team                    1.21
14 John Lux (USA) HVB/Marathon Roofing                             1.29
15 Gunnar Shogren (USA) FORT Factory Team                              
16 Glenn Turner (USA) Human Zoom / Pabst Blue Ribbon               1.43
17 Joseph Piccillo (USA) Evolution Racing                          2.02
18 Blair Saunders (USA) Henrys                                         
19 Matthew Howard (USA) CRCA/Bandit Racing                         2.12
20 William Alcorn (USA) MOOTS/SPEEDGOAT                            2.16
21 Jeff Cordisco (USA) Capoforma Custom/Cadence                    2.23
22 Douglass Gray (USA) First State Velo Sport                      3.11
23 Sean Mealey (USA) Hunt Valley Bicycles/Marathon Roofing         3.18
24 Brian Wieczorek (USA) Freddie Fu Cycling Team                   3.25
25 Roger Masse (USA) All American Bicycle Club                     3.30
26 John Miller (USA) Guys Bicycles                                 3.38
27 Mark Dontigny (USA) Central Penn Racing                         3.41
28 Martin Jones (USA) Team Somerset/Bike King                          
29 Mark Kutney (USA) Van Dessel Factory Team                       3.54
30 Rob Lyon (USA) HUNT VALLEY BICYCLES/HVB/MARATHON ROOFING        4.11
31 Mark Featherman (USA) Guy's Racing                              4.30
32 John Stenger (USA) Guy's Racing                                 4.32
33 Kevin Saint Clair (USA) BiKyle/Main Line Cycling                4.38
34 Mike Jancola (USA) Alan Factory Team                            4.50
35 Judd Milne (USA) Squadra Coppi/IM Saab                          5.05
36 Charles Tom Mcdaniel (USA) Secret Henry's Team                      
37 Karl Kensinger (USA)                                            5.10
38 Christopher Weiland (USA) E-Caps.com / Highland Park Hermes     5.27
39 Fred Wittwer (USA) Charlottesville Racing Club                  5.29
40 Kevin Breckenmaker (USA) Yellow Breeches Racing                 5.30
41 Rolf Windh (USA) Guy's Racing Team                              5.38
42 David Lowe (USA) Human Zoom/Pabst Blue Ribbon                   5.56
43 Chip Sovek (USA) Potomac Velo Club                              5.59
44 Shawn Downing (USA) Chesapeake Wheelmen/King Pawn               6.02
45 Karl Faruzel (USA) Secret Henry's Team/Soul Cycles              6.10
46 David Stauffer (USA) Team Cycle Works                               
47 Charles Chichester (USA) CRC OF A                               6.29
48 Mike Czupryna (USA) First State Velo Sport                      6.37
49 Scott Reynolds (USA) Guy's Racing                               7.05
50 Chris Evans (USA) Club Wissahickon                                  
51 Drew Guldalian (USA) Wissahickon                                8.02

One lap down
                                             
52 Joseph Kenas (USA)Guy's Racing                                      
53 Jay Downs (USA) FORT Factory Team                                   
54 David Mitchell (USA) Meredith Group-GPOA-Cannondale                 
DNF Bob Piacine (USA) Guys Racing Club                                 
DNF John Mcburney (USA) unattached                                     
DNF Mark Laser (USA) Yellow Breeches Racing                            
DNF Richard Sachs (USA) RGM Watches- RICHARD SACHS - REX CHIU          
DNF Fafar Bayat (USA) Sotheby's/Strictly Bicycles                      
DNF Michael Kolb (USA) First State Velo Sport                          
DNF Charles Erndl (USA) Human zoom cycling                             
DNF David Manhardt (USA) The Secret Henry's Team                       
DNF Jon Bruno (USA) Independent Fabrication                            
DNS Randall Root (USA) Team Snow Valley/Sibex                          
DNS Kelly Cline (USA) Wissahickon                                      
DNS Gary S. Keblish (USA) Cycle-Smart, Inc.                            
DNS John Huth (USA) Hilton Cycling Club/ Conte's                       
DNS Ransom Weaver (USA) Guys Racing                                    
DQ N. Johan Anestad (USA) Evolution Racing                             
DQ Kurt Mikeska (USA) Secret Henry's                                   
                                                
B Masters Men

1 Matt Bergerson (USA)                                            23.46
2 James Perren (USA) Breakaway Racing                                  
3 Fred Wittwer (USA) Charlottesville Racing Club                       
4 Jeffrey R. Guy (USA) FORT Factory Team                               
5 Paul Incognito (USA) Secret Henry's Team                             
6 Raymond Zeimet (USA) Premier Bank/Cycle Sports                       
7 Bo Glenn (USA) Inland Construction                                   
8 Joel Moats (USA) MBM                                                 
9 Tim Bowman (USA) Trophy Bikes                                        
10 Chris Schaefer (USA) Yellow Breeches Racing                         
11 Joseph Manacchio (USA) MLC BiKyle                                   
12 James Ambagis (USA) FORT factory team                               
13 Ken Woodrow (USA) Squadra Coppi/IM Saab                             
14 Brad Clarke (USA)                                                   
15 Dennis Smith (USA) Secret Henry's Team                              
16 Bob Jaggard (USA) action wheels                                     
17 Paul Speranza (USA) Bean's /Tioga Velo Club                         
18 Chris Thaler (USA) Evolution Racing                                 
19 Gary Wolff (USA) team Maxxis / Prima Tappa                          
20 Mike Jinks (USA) BIKEWORKS                                          
21 Christian Faino (USA) Evolution Racing                              
22 R. Michael Williams (USA) Wilmington Velocity                       
23 Gary Dugovich (USA) Beaver Valley Velo                              
24 Jon Schafer (USA) Moots                                             
25 Kevin Kuza (USA)                                                    
26 Joe Mulligan (USA) Team Bikery/Shebel Shebel                        
27 Nunzio Dibiasi (USA) Yellow Breeches Racing                         
28 Gary Kelley (USA) South Mountain Velo Club                          
29 Charles Wahl (USA) Evolution Racing                                 
30 Bob Perna (USA) beans bikes                                         
31 Ronne Irvine (USA) Team Fuji                                        
32 Tom Grim (USA) ERA Cycling                                          
33 Thaddeus Newnam (USA)                                               
34 Ashley Halsey (USA) Team Snow Valley                                
DNF Barry Holman (USA) Team Fuji                                       
DNF Bill Bray (USA) Shirks   
                                          
B Men

1 Neil Ross (USA) Mcmaster Cycling                                43.00
2 Chad Totaro (USA) Team Human Zoom / Pabst Blue Ribbon            0.30
3 Adam Szczepanski (USA) Wissahickon                               0.47
4 Matthew Ferrari (USA) Mt Nittany Wheelworks                      0.53
5 Matthew Budd (USA) Budd Bike Works                               1.22
6 Ray Ignosh (USA) Gotham Cyclist                                  1.33
7 Marc Vettori (USA) FORT Factory Team                             1.36
8 Gregory Lindstrom (USA) Hunt Valley Bicycles/Marathon Roofing    1.38
9 Todd Hesel (USA) Hunt Vally Bicycles / Marathon Roofing              
10 Chris Mayhew (USA) Wissahickon                                  1.41
11 Mike O Hara (USA) LSV/Kelly Benefit Strategies                  1.49
12 Colin Sandberg (USA) Meredith Group-GPOA-Cannondale             2.11
13 John Hostetter Iii (USA) C3/ADG/Joe's                           2.17
14 Jeremy Dunn (USA) Harris Cyclery/Igleheart Frames               2.18
15 Andrew Crooks (USA) NYC Velo                                    2.31
16 Kevin Hazzard (USA) McMaster Cycling                                
17 Ethan Townsend (USA) First State Velo Sport                     2.38
18 Frank Zgoda (USA) Sotheby's/Strictly Bicycles                   2.42
19 Emerson Loustau (USA) BICYCLE THERAPY                           2.48
20 Chris Harshman (USA) Team Snow Valley                           2.56
21 Morgan Gerlak (USA) C3/ADG/Joe's                                3.00
22 Chris Nystrom (USA) C3/ADG/Joe's Bike Shop                      3.07
23 Michael Hosang (USA) TRIPOWER                                   3.09
24 Eric Morgan (USA) Wissahickon                                   3.11
25 Michael Kumiega (USA) RUUD RACING/TVC                           3.16
26 Don Kessel (USA) Holmes Cycling/BodyLogicTherapy                3.20
27 Daniel Brill (USA) Team Beacon                                  3.24
28 Bernard Mcdonald (USA) C3/ADG/Joe's                             3.35
29 Nathaniel Cook (USA) Harris/Igleheart                           3.53
30 Eric Linder (USA) HUNT VALLEY BICYCLES/ MARATHON ROOFING            
31 Peter Salon (USA)                                                   
32 Peter Nicoll (USA) Squadra Coppi/ IM Saab                       4.06
33 Conrad Tufte (USA)                                              4.18
34 Jim Mudd (USA) Hunt Valley Bicycles/Marathon Roofing                
35 Wade Hess (USA) Team Beacon                                     4.22
36 James Perren (USA) Breakaway Racing                             4.35
37 Craig Lebair (USA) philadelphia ciclismo                        4.42
38 Marty Mckeon (USA) Guys Racing                                  4.44
39 Jd Bilodeau (USA) NCC/BikeReg.com                               5.07
40 Brian Burgess (USA) Team Beacon                                 5.13
41 Ryan Pomajevich (USA) Gotham Cyclists                               
42 Bruce Freehoff (USA) Team Beacon                                5.15
43 Zach Adams (USA) Fort Frames                                    5.27
44 Kevin Horvath (USA) Tri-Power                                   5.49
45 Rob Collins (USA) Collins Pediatric Dentistry                       
46 Michael Jernigan (USA) Rudberg Law Cycling                      6.09
47 John Eorio (USA) Premier bank/Cycle Sports                      6.11
48 Joshua West (USA) Bikeman.com                                   6.22
49 Jay Nossen (USA) Rutgers University Cycling Team                6.27
50 Jonathan Kahler (USA) Team HumanZOOM /PBR                       6.31
51 Christopher Salice (USA) LSV/Kelly Benefit Strategies           7.17
52 David Berson (USA) East Coast Velo                              7.51
53 Charly Hermanson (USA) LSV/Kelly Benefit Strategies             7.52
54 David Covell (USA) Wissahickon Cycling                          7.58
55 Eric Mitchell (USA)                                                 
DNF Mike Devuono (USA) Philadelphia Ciclismo/Disco Biscuits Racing     
DNF Fj Hughes (USA) Bike Doctor                                        
DNF Theo Procopos (USA) Wissahickon                                    
DNF Aaron Ritz (USA) Quaker City Wheelmen/Team Breakaway 2             
DNF Jonathan Beyer (USA) WBI Investments                               
DNF Luke Sauder (USA) HVB/Marathon Roofing                             
DNF Jim Wirtanen (USA) Harris Cyclery/Igleheart Frames                 
DNF John Brown (USA) High Road Cycles                                  
DNF Marc Frazer (USA) Kelly Benefit Strategies/LSV                     
DNF Jeff Shumaker (USA) Philly Ciclismo                                
DNS Shawn Johnson (USA) Central Penn Racing - The Bicycle Shop Inc.    
DNS Jed Kornbluh (USA) Human Zoom                                      
DNS Chris Thaler (USA) Evolution Racing                                
                             
C Men

1 Matt Harris (USA) Philadelphia Ciclismo                         23.32
2 Patrick Bradley (USA) Team Beacon                                    
3 Robert Sprague (USA) Penn Cycling                                    
4 Peter Dalkner (USA) Trophy Bikes Team Shiftless                      
5 Brendan Gallivan (USA) Gallivan Corporation/cbrc                     
6 Bob Goldman (USA) Wissahickon                                        
7 William Gilmer (USA) tri-power                                       
8 Robert Thomas (USA) Secret Henry's Team                              
9 Joseph Hu (USA) Quaker City Wheelmen/Team Breakaway                  
10 Richard Bilson (USA) Evolution Racing                               
11 Les Russell (USA) Yellow Breeches Racing                            
12 Jason Ferrier (USA)                                                 
13 Todd Schwartz (USA)                                                 
14 Josh Delmanzo (USA)                                                 
15 Barry Wahner (USA) Wahner Chiropractic                              
16 Spencer Shelly (USA)                                                
17 Chad Culbertson (USA) CRC of A / Hart's Racing                      
18 Rob May (USA) Holtina River Lodge                                   
19 Ken Deitch (USA)                                                    
20 Greg Hoffman (USA) Bike Doctor                                      
21 Carey Jackson Yonce (USA)                                           
22 Matt Neugebauer (USA) Deep Blue                                     
23 Jared Kennedy (USA) Team Shiftless - Trophy Bikes                   
24 Joseph Zorn (USA)                                                   
25 Steven Burke (USA) Hunt Valley Bicycles/Marathon Roofing            
26 Jason Eicholtz (USA) Bike & Blade                                   
27 Josh Carter (USA) Trogdor                                           
28 Adam Leman (USA) Team Independence/Drexel University                
29 Jeff Ziemski (USA)                                                  
30 Trevor Shattuck (USA) Team BBC                                      
31 Geoffrey Heintz (USA) The Children in the Shoe                      
32 Tim Clark (USA)                                                     
33 Tim Foley (USA)                                                     
34 Jason Gabriel (USA) Tristatevelo                                    
35 Mark Fitzwater (USA) secret henry's team                            
36 Mark Wanco (USA) World Cup Ski and Cycle cycling team               
37 Harry Langdon (USA) Guys Racing                                     
38 Tim Blanchard (USA) The Children in the Shoe                        
39 Brad Quinnan (USA) Evolution Racing                                 
40 Joseph Manning (USA)                                                
41 Charles Gardiner (USA)                                              
42 Tom Slowikowski (USA) Hunt Valley Bicycles/Marathon Roofing         
43 Norman Young (USA) St. Catharines CC                                
44 Tracy Campbell (USA) Team Beacon                                    
45 David Rainey (USA) Human Zoom                                       
46 Louis D'amelio (USA) Century Road Club of America                   
47 Frank Schlipi (USA)                                                 
48 Bill Lawson (USA) Liam Lawson Foundation                            
49 Howard Richards (USA)                                               
50 Patrick Good (USA)                                                  
DNF James Wilson (USA) Human Zoom                                      
DNS Geoffrey Beaty (USA) Alan Factory                                  
DNS Dan Lichtenberger (USA) Secret Henry's Team    
                    
B Women

1 Jessica Singerman (USA) Bike Line and Twin Six                  27.31
2 Nikki Thiemann (USA) Human Zoom                                  0.37
3 Liz Feeney (USA) Sturdy Girl Cycling                             1.10
4 Dina Disantis (USA) Alans                                            
5 Sally Poliwoda (USA) Sturdy Girl Cycling                         1.18
6 Diane Castor (USA) ADG-Joe's Bike Shop                           1.22
7 Elizabeth Harlow (USA) Hunt Valley Bicycles/Marathon Roofing     1.33
8 Mary Fetrow (USA) Yellow Breeches Racing                         1.41
9 Pamela Saltzgueber (USA) Premier Bank/Cycle Sports               1.49
10 Jill Waggett (USA) Watchung Wheelpeople                         2.04
11 Karen Tourian (USA) Guy's Racing                                    
12 Stephanie Swinerton (USA)                                       2.44
13 Anne Rock (USA) Biketopia                                       2.57
14 Kim Dubeck (USA) Bean's                                         3.00
15 Amanda Romsa (USA) PENN                                         3.19
16 Nina Santiago (USA)                                             3.30
17 Kyra Kenwood (USA)                                              3.55
18 Kerry Combs (USA) Independent Fabrication                       4.02
19 Christina Lindsey (USA) Wissahickon                                 
20 Kera Daily (USA) WildBlues                                      4.38
21 Diane Vettori (USA) Secret Henrys Team                          5.03
22 Kathrin Schumacher (USA) CRC of A / Harts Racing                5.32
23 Kathleen Fite (USA) Charm City Cycling, LLC                     6.11
DNF Anna Fox (USA) Human Zoom/Pabst Blue Ribbon                    
DNF Christine Kelley (USA) Team BBC                                
DNF Emily Smith (USA) hup united/boston university cycling         
DNF Elizabeth White (USA) NEBC/Cycleloft                          

Past Winners

2005 Barry Wicks (Kona), Lyne Bessette (Cyclocrossworld.com-Louis Garneau )
2004 Ben Jacques-Maynes (USA) Sierra Nevada Cycling, Barbara Howe (Velo Bella)
2003 Ryan Trebon (USA) Easton Kona CCA, Carmen D'Aluisio (USA) Clif Bar