Recently on Cyclingnews.com
Wissahickon Cross - C2
Verge MACC Series Race #4, Philadelphia, PA, USA, October 23, 2005
Wick too quick; Bessette the best by far
The elite women's podium (L to R):
Photo ©: Todd Leister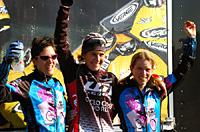 On a deceptively difficult wind-blown course, Oregon's Barry Wicks of Kona Bikes and Canadian Lynn Bessette of Cyclocrossworld.com-Louis Garneau galloped to victories in the UCI sanctioned Pro Elite portion of the Wissahickon Cyclocross in Glenmore, Pennsylvania on Sunday, October 23. Part of the Verge Mid Atlantic Cyclocross Series, the races took place at the Ludwig's Corner Horse Show and Country Fair Grounds in this semi-rural area about 45 minutes northwest of Philadelphia.
Though the race itself is established as one of the finest in the nation, the venue was a new one. And, as with any new venue, it was guesswork as to what the personality of the track would be. Adding to the guesswork was the days of rain that turned the previous day's race at Granouge Estate into a slippery, muddy mess. As the first racers arrived, they gazed across the fields and show rings of the facility and saw a classic English cyclocross track. Completely open, and mainly grass with a long, paved start/finish straight and a short run-up -- the course appeared to be almost like a grass criterium. Early warm-ups also gave the impression that this would be an "easy" race. Once the actual racing started, though, the track turned around and bit riders like the coiled snake it resembled. With a collection of switchback turns, hairpin turns and turns that don't even have names, the track twisted back and forth and inside itself. As Pro Women's winner Lynne Bessette told some of the Pro Men prior to their race, "The course is much harder than it looks, there's no place to rest."
Lynn Bessette (Can)
Photo ©: Todd Leister

In the Women's race, Kona's Georgia Gould took the holeshot and led the field into the first section of turns. It was quite an unusual occurrence for Gould, who is normally a poor starter. "I've been trying to improve my starts. That was on of my goals for this race." said Gould afterward. Once Bessette took the lead, however, it was clear who was the strongest rider in the race. The Velo Bella duo of "Barbarella" Howe and "Peanut" Vardaros gamely tried to work together in an effort to keep Bessette in sight, but to no avail. Turning laps faster than the Class B men who had just finished their race, Bessette gave a display not only of power, but also of the incredible torque she is able to generate as she consistently pedaled out of the tight lower corners in a slight motorcycle-style power slide. In the end, Bessette won by a margin that was large enough for her to ride back to the spectator area, where she cheered as loudly as any of the spectators for her fellow competitors who were engaging in sprints for second and fourth places. Velo Bella riders Barbara Howe and Christine Vardaros finished second and third, with Victory Brewing's Tara Ross winning the sprint for fourth.
Barry Wicks (USA) Kona
Photo ©: Todd Leister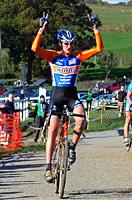 The Men's race that followed featured a stacked field led by Ryan Trebon of Kona Bikes, a two-time winner in the 2005 Verge MAC Series. Trebon was joined on the grid by 50 other competitors including Kona teammate Barry Wicks, former U23 world championship bronze medallist Tim Johnson, 1999 USPRO road racing champion Mark McCormack of Team Clif Shot, defending Verge MAC champion Ryan Leech, Kodak Gallery-Sierra Nevada's Ben Jacques-Maynes and Belgian Sten Raeymakers. From the start it was the usual suspects up front, but Kona's Barry Wicks made an early adjustment that had repercussions later. In the exact opposite approach to what teammate Georgia Gould took, Wicks decided to throttle back some on the start rather than give the 100% effort he usually does off the line.
On the first lap the usual suspects of Trebon, McCormack, Wicks and Jacques-Maynes were joined by Colorado's Jonathan Baker (Primus Mootry Racing), with Tim Johnson mired near the back of the field. By the second lap, Trebon, Wicks and McCormack rode away from the others with Johnson working his way through the field -- a difficult task on the twisty circuit. Johnson finally elbowed his way into fourth place, 23 seconds behind the leaders. Though Johnson was well behind, he was still influencing the race for the lead. "Ryan, Mark and I were up front, but McCormack wouldn't work," said Wicks afterwards. Asked if the Kona riders where teaming-up on McCormack, Wicks responded, "Oh sure. We couldn't just wait for Johnson to catch up, so we had to keep it going." The following lap, Wicks surged ahead on the uphill grass to establish a lead. Eventually, Johnson was able to claw his way up to the second place battle, but Wicks had checked out and had a commanding lead. Trebon counter-attacked soon after to establish himself in second, closing Kona's two-week eastern road trip with a one-two finish.
Afterwards Wicks was smiling and candid about his first Verge MAC victory of the year. "I got lucky," he said, "One of us was going to drop McCormack, and it just happened to be me. It's always better to go with three laps to go instead of five laps to go, but it worked out in the end."
Race notes:
Masters rider Mike Yozell won his second race in as many days, leading his FORT/GPOA teammate Gunnar Shogren to a one-two finish. Shogren also raced the Elite race later in the day.;
University of Texas rider Chris Case out-dueled Steve Cummings to win a thrilling sprint in the B Men's class.
Velo Bella's Christine Vardaros' third place won her a special bonus by being the highest placed rider age 35+. The bonus was put up for the second year in a row by Sturdy Girls, an all-female cycling club out of Philadelphia.
Photography
For a thumbnail gallery of these images, click here
Images by Todd Leister
Results

Elite Men
 
1 Barry Wicks (USA) Kona                                                     59.12
2 Ryan Trebon (USA) Kona                                                      0.24
3 Mark McCormack (USA) Clif Bar                                               0.50
4 Tim Johnson (USA) Cyclocrossworld.com-Louis Garneau                             
5 Jesse Anthony (USA) Team Clif Bar                                           2.30
6 Jonathan Baker (USA) Primus Mootry Racing                                   2.38
7 Ben Jacques-Maynes (USA) Kodak Gallery Sierra Nevada                        2.49
8 Sten Raeymakers (Bel) AWS Cycling Team                                      3.01
9 Ryan Leech (USA) Fort - GPOA!                                               3.09
10 Matt White (USA) FiordiFrutta                                              3.35
11 Joshua Snead (USA) Rock Lobster                                            3.37
12 Justin Spinelli (USA) RGM Watches-Richard Sachs-Hudson Valley Velodrome    3.38
13 Roger Aspholm (USA) Westwoodvelo                                           4.10
14 Noah Taylor (USA) RGM Watches-Richard Sachs - Hudson Valley Velodrome      4.48
15 Matt Kraus (USA) Alan Factory Team                                         5.05
16 Chris Mcgovern (USA) Alan / Bamba                                          5.07
17 Dan Wilson (USA) Henrys Bikes                                              5.17
18 Stuart Gillespie (USA) TIAA-CREF/Clif Bar                                  5.39
19 Ben Turner (USA) TIAA-CREF/Clif Bar                                            
20 Molly Cameron (USA) Vanilla bicycles-Veloshop                              5.54
21 Greg Marini (USA) Coffee plus inc.com                                      6.23
22 Greg Wittwer (USA) FORT-GPOA!                                              6.48
23 Tristan Galbraith (Can) Kona                                               7.04
24 Gunnar Shogren (USA) FORT-GPOA!                                            8.14
25 Weston Schempf (USA) FORT-GPOA!                                    1 lap behind
26 Adam Hodges Myerson (USA) Team Nerac.com p/b Banknorth                         
27 Sean Galegher (USA) Hunt Valley Bicycles                                       
28 Jon Bruno (USA) Independent fabrication                                        
29 Andrew Wulfkuhle (USA) Alan Mid-Atlantic LSV/Kelly Benefits                    
30 Nathan Deibert (USA) Evolution Racing                                          
31 Joseph Reynolds (USA) Wissahickon                                              
32 Joseph Piccillo (USA) Evolution Racing                                         
33 John Minturn (USA) Kraynick's                                                  
34 Alistair Sponsel (USA) Colavita Racing                                         
35 Ransom Weaver (USA) Guys Racing                                                
36 Kristopher Auer (USA) Alan-Mid Atlantic                                        
37 Glenn Turner (USA) Evolution Pro Bike & Ski                                    
38 Scott Zwizanski (USA) Kodak Gallery Sierra Nevada                              
39 Logan Hodson (USA) Independent fabrication                                     
40 Todd Cassan (USA) Rocinau                                                      
41 Brian Hayes (USA) RGM Watches-Richard Sachs - Hudson Valley Velodrome          
42 Chris Newell (USA) Hunt Valley Bicycle Club/HVB                                
43 Nicholas Shaffer (USA) Evolution                                               
DNF Tyler Johnson (USA) EASTON/KONA CCA                                           
DNF Zak Grabowski (USA) TIAA-CREF/Clif Bar                                        
DNF Jordan Kahlenberg (USA) Alan                                                  
DNF Myron Baker (USA) VergeSport.com                                              
DNF John Hanson (USA) Nerac.com                                                   
DNS Colin Barry (USA) Manulife Financial / Kane Bikes                             
DQ Nathan Chown (Can) Ital Pasta/Fuji Canada/St.Catharines                        
 
Elite Women
 
1 Lyne Bessette (Can) Cyclocrossworld.com-Louis Garneau                      38.07
2 Barbara Howe (USA) Velo Bella                                               0.45
3 Christine Vardaros (USA) Velo Bella                                         0.47
4 Tara Ross (Can) Victory Brewing                                             1.18
5 Maureen Bruno Roy (USA) Independent Fabrication                             1.20
6 Georgia Gould (USA) Kona                                                        
7 Mackenzie Dickey (USA) Team Bicycle Alley                                   2.46
8 Melanie Swartz (USA) Squadra Coppi/IM Saab                                  2.48
9 Rebecca Wellons (USA) Gearworks/Spin Arts Cycling                           2.49
10 Betsy Schauer (USA) FORT-GPOA                                              2.52
11 Hollie Mcgovern (USA) sierra express                                       3.26
12 Pauline Frascone (USA) Independent Fabrication                             4.22
13 Megan Bilodeau (USA) NCC/BikeReg.com                                       4.35
14 Kami Tremblay (USA) Gearworks/Spin Arts Cycling                                
15 Erica Yozell (USA) FORT-GPOA                                               5.16
16 Anna Milkowskii (USA) Gearworks/Spin Arts Cycling                          5.47
17 Heidi Von Teitenberg (USA) Alan Mid-Atlantic                               6.22
18 Lisa Vible (USA) Velo Bella                                                6.38
19 Janet Olney (USA) Alan Mid-Atlantic                                        6.56
20 Lisa Most (USA) Wissahickon                                                    
21 Brenda Bahnson (USA) Independent Fabrication                               7.16
22 Lesley Chown (Can) St.Catharines C.C.                                      8.38
23 Pamela Saltguerger (USA) Evolution                                 1 lap behind
24 Jill Neumann (USA) Evolution                                                   
25 Tammy Ebersole (USA) Evolution                                                 
26 Christine Lynch (USA) Alan Mid-Atlantic