Bay State Cyclo-cross, Verge NECCS #5 - C2
Sterling, Massachusetts, USA, November 25, 2006
Bessette, Johnson enjoy sterling outings
Johnson wins
Photo ©: Paul Weiss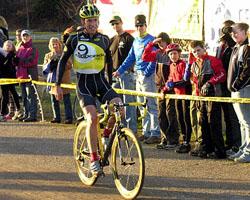 While the sunny skies and high temperatures made it feel more like early-season, Saturday's Gear Works Bay State Cyclocross, round 5 of the 2006 Verge New England Championship Cyclo-Cross Series, packed all the punch of a classic East Coast 'cross throwdown. Cyclocross's first couple, Lyne Bessette (Cyclocrossworld.com) and Tim Johnson (Cannondale-cyclocrossworld.com), won the Elite Women's and Men's races, though under very different circumstances.
The flowing Chocksett School course offered few technical challenges, instead rewarding flat out strength and speed. Those requirements fit perfectly into Bessette's skill set and the Canadian champion dashed off the front of a flummoxed Elite Women's field on the first lap, never looking back. With Verge NECCS jersey holder Mackenzie Dickey (Verge Sports) suffering through a sub-par outing, local favorites Rebecca Wellons (GearWorks-SpinArts) and Mo Bruno Roy (Independent Fabrication-Wheelworks) took up the ultimately fruitless pursuit of Bessette. With Bessette comfortably ahead, Wellons took second and Bruno Roy third.
"I really feel like the form is there right now," said Bessette after her third Verge NECCS win in as many starts this year. "Because I didn't race this summer it's been a little late in coming, but now I'm starting to feel that ease on the pedals. I really want to get the jersey back and win the Series, but I'll have to win the remaining two races to do it. We'll see."
As for Bessette's husband, Johnson won from a powerful trio with fellow New Englanders Mark McCormack (Clif Bar) and Jeremy Powers (Jelly Belly) on a spectacular last-lap attack. Having spent nearly an hour figuring just the right spot for a definitive acceleration, Johnson put full effort through a small set of chicanes and opened the race winning margin. Powers, who had been the most aggressive of the leading three, found his legs not up to the task when Johnson went and McCormack too had no answer for the defending Verge NECCS champ's move. McCormack out-kicked Powers for second.
"I saw there was only one place I could really make a gap," said Johnson after his win. "So I knew I had to hit it as hard as I could without crashing, it was pretty much all or nothing. Mark may be an old guy but he's a fast guy and no way did I want to sprint it out with him."
Dickey retained the Elite Women's leader's jersey while the Elite Men's lead passed from Matt White (FiordiFrutta) to McCormack. The Verge NECCS concludes December 9-10 in Rhode Island with the W.E. Steadman Grand Prix and Caster's Cyclocross.
Photography
For a thumbnail gallery of these images, click here
Images by Paul Weiss/www.paulweiss.bz
Images by Ed Collier/www.cyclingpix.net
Images by Dave McElwaine/www.trailwatch.net
Results
Elite Men

1 Tim Johnson (Cannondale/cyclocrossworld.com)                     58.06
2 Mark Mccormack (Clif Bar)                                         0.04
3 Jeremy Powers (Jelly Belly Pro Cycling)                               
4 Matt White (Fiordifrutta)                                         0.54
5 Greg Reain (Stevens International Cyclocross Team)                    
6 Tristan Schouten (Trek/VW/Michelin)                               1.05
7 Jesse Anthony (CLIF BAR)                                              
8 Johannes Huseby (FiordiFrutta Elite Cycling Team)                 1.32
9 Adam Myerson (Nerac.com / International Bike Centers)             2.01
10 Justin Spinelli (sachs)                                          2.43
11 Michael Cody (FiordiFrutta Cycling Team)                         2.59
12 Matt Kraus (Alan Factory Team)                                   3.33
13 Ted King (Priority Health)                                       3.49
14 Josh Dillon (Fiordifrutta)                                           
15 Charles Marzot (CL Noonan/ Coast to Coast/ KAM)                      
16 Alec Donahue (Joe's Garage/Reynold's Composites)                 3.52
17 Eneas Freyre (TARGETRAINING)                                     4.16
18 Ryan Fleming (Alan Factory Cyclocross Team)                      4.40
19 Chris Peck (FiordiFrutta Cycling Team)                               
20 Jonathan Bruno (Independent Fabrication/Channel Cafe)                
21 Todd Cassan (Rocinate)                                               
22 Brian Hayes (RGM WATCHES - RICHARD SACHS - REX CHIU)             4.55
23 Robbie King (Priority Health)                                    5.54
24 Adam Snyder (Devo)                                               6.02
25 Michael Taylor (Seven Cycles)                                    6.12
26 Stephen Weller (Cycle-Smart)                                     6.15
One Lap Down
27 Matt Demeis (BIKEMAN.COM)                                            
28 Ryan Larocque (Team Bicycle Alley)                                   
29 Daniel Coady (NCC / BikeReg.com)                                     
30 Noah Taylor (Richard Sachs)                                          
31 Brad Sheehan (1K2GO.com/S&W SPORTS CYCLING TEAM)                     
32 Stan Jurga (Independent Fabrication/Channel Cafe)                    
33 Adam Sullivan (Caster's Majik Coffee p/b Apex Tech Group)            
34 Peter Rubijono (Harris Cyclery/Igleheart Frames)                     
35 Kevin Wolfson (Dartmouth College)                                    
36 Dylan O'sullivan (Team Bicycle Alley)                                
37 Brett Racine (Bliss Racing)                                          
38 Colt Mcelwaine (NERD Cycling)                                        
39 John Burns (Bikeman.com)                                             
40 Adam St. Germain (Caster's/Majik Coffee P/B Apex Technologies)       
41 Benjamin Peters (Kenda/Raleigh Racing)                               

Elite Women

1 Lyne Bessette (CYCLOCROSSWORLD.COM)                              40.41
2 Rebecca Wellons (Gearworks/Spin Arts Cycling)                     0.26
3 Maureen Bruno Roy (Independent Fabrication/Wheelworks)            0.58
4 Amy Wallace (RGM WATCHES - RICHARD SACHS - REX CHIU)              1.12
5 Mandy Lozano (Cheerwine Cycling)                                  1.32
6 Melanie Swartz (Velo Bella - Kona)                                1.59
7 Anna Milkowski (Velo Bella-Kona)                                  2.09
8 Betsy Shogren (FORT Factory Team)                                 2.45
9 Cris Rothfuss (NEBC/Cycle Loft)                                   2.59
10 Mackenzie Dickey (VERGE SPORT/TEST PILOT)                        3.20
11 Stephanie White (Velo Bella-Kona)                                3.22
12 Pauline Frascone (Independent Fabrications)                      3.24
13 Marci Titus Hall (DeSalvo Custom Cycles)                         3.51
14 Beth Mason (C3/ADG/Joe's)                                        4.00
15 Sara Cushman (Gear Works/Spin Arts)                              4.45
16 Rhonda Morin (Portland Velo Club/Cyclemania)                     4.57
17 Brenda Bahnson (Independent Fabrication)                         5.06
18 Kathy Savary (Midstate Cycling Club)                             5.18
19 Arielle Filiberti (Midstate Cycling Club)                        5.22
20 Alie Kenzer (Team International Bike / NERAC)                    5.25
21 Kim Blodgett (Team Internationa/NERAC)                           5.44
22 Catherine Dudley (Putney/West Hill)                              5.57
23 Megan Bilodeau (NCC/Bikereg.com)                                 6.21
24 Rebecca Menke (Team Internationa/NERAC)                          6.48
25 Maryann Martinez (Anthem Blue Cross & Blue Shield - CCCC)        7.18
One Lap Down
26 Kathryne Carr                                                        
27 Michele Smith (Independent Fabrication)                              

B Men

1 Johnathan Awerbuch (Darthmouth College)                          46.36
2 Nathaniel Ward (Joe's Garage/Reynolds Composites)                 0.17
3 Marc Bavineau (Essex County Velo)                                 0.25
4 Damien Colfer (Mechanical Services/Cyclemania)                        
5 Pete Smith (Essex County Velo)                                        
6 Hunter Pronovost (Anthem Blue Cross & Blue Shield - CCCC)         1.03
7 Greg Hillson (Amgen/Stratham Hill Bicycle)                        1.14
8 Brendan Cornett (Mechanical Services/Cyclemania)                  1.26
9 Matthew Purdy (North Atlantic Velo)                                   
10 Patrick Goguen (NCC/Bikereg.com)                                     
11 Scott Rosenthal (Hup United)                                     1.42
12 Andrew Grabarek (CCC- Keltic)                                        
13 Sean Capizzo (Caster's/Majik Coffee p/b Apex Tech Group)             
14 Miro Koulnis (NCC/Bikereg)                                       1.54
15 Ernest Tautkus (Exodus Racing/Brumble bikes)                         
16 Matthew Myette (Cyclonauts Racers)                                   
17 Donald Snoop Jr (VERGE SPORT/TEST PILOT)                             
18 Pierre Vanden Borre (Hup United)                                     
19 Michael Cole (Minuteman Road Club)                                   
20 Kenny Ambach (Cyclonauts Racers)                                     
21 Brian Rutter (RB's Bait Shop)                                        
22 Scott Dolmat-Connell (UVM Cycling)                               2.10
23 Brant Hornberger (NCC / BikeReg.com)                             2.13
24 Jeremy Gardner (MICHELIN)                                        2.22
25 Corey Masson (TNMracing.net)                                         
26 J Gabriel Lloyd (Columbia University)                                
27 Joel Biederman (Cyclonauts Racers)                                   
28 James Newton (Nerac.com / International Bike Centers)                
29 Ryan Rumsey (Bikeman.com)                                        2.47
30 Robert Poole (Bikebarnracing.com)                                    
31 Greg Burbidge (CLAREMONT CYCLE DEPOT)                                
32 Scott Brooks (NEBC/Cycle Loft)                                       
33 Richard Brown (NorEast Cycling)                                      
34 Jeremy Dunn (Harris Cyclery/Igleheart Frames)                        
35 Tim Cook (Annie's Homegrown)                                         
36 Mark Vareschi (Rutgers University Cycling Team)                  3.00
37 Colin Reuter                                                     3.29
38 Jerry Hughes (BIKEMAN.COM)                                           
39 Glenn Cook (Annies Homegrown)                                        
40 C. Greg Robidoux (Team International Bike/Nerac)                     
41 Erik Osborn (BIKEMAN.COM)                                        3.46
42 Jeff Ferraro (Anthem Blue Cross & Blue Shield - CCCC)            3.52
43 Tyson Parody (Putney/West Hill)                                  4.00
44 Ethan Parsons (NCC/BikeReg.com)                                  4.05
45 Cary Fridrich (!HUP HUP UNITED!)                                 4.12
46 Justin Ziemba (Team International Bike/NERAC)                    4.30
47 Greg Martin (Independent Fabrication)                            4.47
48 Kevin Cummisford (Boston Road Club)                              4.56
49 C Todd Lombardo (Team International Bike/NERAC)                  4.59
50 Joshua Austin (201A presented by Pro Cyclists Against RKelly)    5.02
51 Art Trapotsis (BRC)                                              5.19
52 Craig Roth (Harris Cyclery Racing/Igleheart Custom Frames)           
53 Anders Larson (Bikeman.com)                                      5.22
54 Jesse Perreault (Salem Cycles/Comprehensive Training)            5.34
55 Ronnie Steers (Gamache Cyclery)                                  5.44
56 Jamie Pelletier (NCC/Bikereg.com)                                    
57 Josef Brandauer (Team International Bike/NERAC)                  5.51
58 Thomas Ball                                                      6.09
59 Matthew Donahue (DCMTB/City Bikes)                               6.17
60 Charles Florek (Rutgers University Cycling Team)                 6.26
61 Jorge Hernandez (Minuteman Road Club)                            6.39
62 Eric Wemhoff (NEBC/Cycle Loft)                                   6.45
63 Michael Zanconato (HUP United)                                   7.16
64 Jeff Murray (Anthem Blue Cross & Blue Shield - CCCC)                 
65 Dan Seaton (NorEast Cycling/Hammer Nutrition)                    7.29
66 Oscar Purwin (NorEast Cycling)                                   8.19
67 Marco Verwijs (Bike Route Racing)                                    
68 Mark Robson (nerac/ OutdoorLights.com)                               
69 Jeffrey Maclean (BOB cycling)                                        
70 Scott Sullivan (casters/majik coffee p/b apex technologies)          
71 Dusty Adams (MosaicSmalti.com)                                       

U19 Juniors

1 Jerome Townshend (Alan Factory Team)               39.15
2 Luke Keough (CL Noonan/ Coast to Coast/ KAM)            
3 Gavin Mannion (CCB/Volkswagen)                      0.04
4 Ethan Gilmore (Coyote Hill)                         0.09
5 Nicholas Keough (CL Noonan/ Coast to Coast/ KAM)    0.12
6 Daniel Estevez (Hot Tubes)                          1.57
7 Greg Carpenter (Devo)                               3.12
8 Brad Perley (trek/cape-able bikes)                  3.36
9 Ryan Barlow (ALAN)                                  4.58
10 Steve Simonds (SMCC/Gianr)                         5.09
11 Dan Fishkin (TEAM HARBORSIDE CYCLE)                6.04
12 Spencer Pero (NERD)                                    
13 Jesse Keough (CL Noonan/ Coast to Coast/ KAM)          
14 Aaron House (Housatonic)                               
15 William Catlin (Tokeneke Road Club)      

Cub Juniors

1 Ryan Packard (Quad Cycles / Arlington Bicycle Club)    15.40
2 Shawn Hudlin (FTS Racing)                               0.20
3 Paul Lynch (Mystic Velo Club)                               
4 Jarred Reuter (rt-44 Velo/Silver City)                  0.26
5 Curtis White (CBRC/Capital Bicycle Racing Club)         0.46
6 Aaron House (Housatonic)                                0.49
7 Tommy Goguen (Union Velo)                               2.12
8 Peter Goguen (Union Velo)                               2.56
9 Caleb Anthony (ECV)                                         
10 Ian Keoun (Corner Cycle)                                   
11 Abigail Callahan (BicycleLink/MBRC)                    5.33
12 Nicolas Catlin (Tokeneke Road Club)                    9.38
13 Nate Morse (MBRC)      

B Women

1 Linnea Koons                                                                        41.22
2 Erin Duggan (Anthem Blue Cross & Blue Shield - CCCC (road)/Velo Bella-Kona (mtb))    0.17
3 Hannah Kirshner (the Hub)                                                            1.17
4 Robin Shea (east end/kreb cycle)                                                     1.22
5 Leslie Ludtke (New Hampshire Cycling Club)                                           1.48
6 Jenifer Rhodes (IBC NERACK)                                                          1.58
7 Elizabeth White (NEBC/Cycleloft)                                                     2.04
8 Heidi Wakeman (Team Harborside Cycle)                                                    
9 Tamela Lynch                                                                             
10 Rachel Brown (Harvard University Cycling Association)                               2.16
11 Caitlin Bever (MIT)                                                                 2.38
12 Julie Lefebvre (Sturdy Girl Cycling)                                                3.20
13 Christina Buerkle (Union College)                                                   3.40
14 Cathy Rowell (NEBC/Cycleloft)                                                           
15 Rebecca Zanconato (HUP United)                                                      4.36
16 Katie Dunn (Tufts University)                                                       5.36
17 Melissa Smith (Team International Bike/NERAC/ Univ. of NH)                          5.03
18 Lorraineq Warner (NEBC)                                                             5.23
19 Kerry Combs (Independent Fabrication)                                               5.49
20 Natalia Gardiol (MIT)                                                               6.10
21 Teri Carilli (NEBC/Cycle Loft)                                                      6.24
22 Amy Lane (Cyclonauts)                                                                   
23 Rozanne Puleo (Team LUNA Chix)                                                      6.54
24 Judy Keeley (NEBC/Cycle Loft)                                                           
25 Michele Harrison                                                                        
26 Sherri Curcuru                                                                          
27 Elaine Debitetto (Team Psycho)                                                          
28 Stephanie Farrar (The Hub)                                                              
29 Hannah Sarnow (Team International Bike/NERAC)                                           
30 Julie Lockhart (NEBC/Cycle Loft)                                                        
31 Todne Texeira (Quad Cycles / Arlington Bicycle Club)                                    
32 Lauren Garant     

Masters 35-45 A

1 Jonny Bold (Corner Cycle)                                      45.28
2 John Meerse (Hurricane Mountain Multisport)                     0.46
3 Greg Ferguson (FORT Factory Team)                               0.48
4 Sam Morse (Bicycle Link/MBRC)                                   0.52
5 Sean Groom (Squadra Coppi/IM Saab)                              0.55
6 Kevin Hines (Gear Works / Spin Arts)                            1.00
7 Troy Fenderson (Boston Scientific Cycling/Everactive Online)    1.03
8 Mark Stotz (Gearworks -- Spinarts)                              1.21
9 Michael Yozell (FORT Factory Team)                              1.27
10 Keith Gauvin (Horst,Benidorm PRC)                              1.32
11 Gunnar Shogren (FORT Factory Team)                                 
12 Stephan Marcoux (Louis Garneau/ski velo)                           
13 Alan Starrett (Bikeman.com)                                        
14 Christopher Long (Independent Fabrication/Gotham)                  
15 John Mosher (Bicycle Link/MBRC)                                2.12
16 Curtis Boivin (Providence Velo)                                2.23
17 Eric Marro (BOB/Skofield Builders)                                 
18 Chris Borrello (Gearworks/Spinarts)                                
19 Kurt Perham (Cycle-Smart)                                      2.26
20 Aaron Millett (ESSEX COUNTY VELO)                              2.30
21 Coleman Oconner (MBRC)                                         2.42
22 Mark Gunsalus (BikeBarnRacing.com)                             2.45
23 Joel Danke ( )                                                     
24 Paul Lynch (bicyclelink/mbrc)                                  3.01
25 Brian Cantele (Benidorm Bikes)                                 3.18
26 Harry Stover (bikebarn racing)                                 3.30
27 Bo Fuller (Caster's/Majik Coffee p/b Apex Tech Group)              
28 Brian Pierce (Martinez Bros. Racing)                               
29 James Walsh (Cox Communications)                                   
30 Bob Bisson (Gear Works/Spin Arts)                              3.35
31 Tim Groesbeck (CCB)                                            3.54
32 Paul Curley (GEARWORKS/SPINARTS)                                   
33 Paul Boudreau (Essex County Velo)                                  
34 Jeffrey Molongoski (Cyclonauts)                                4.24
35 David Frederickson                                                 
36 Michael Bernard (gearworks spinarts)                           4.36
37 Robert Kramer (Alan Factory Team)                              4.38
38 Chris Milliman (HUP UNITED-CLIF BAR)                               
39 Matthew Domnarski (Horst-Benidorm-Property Research Corp.)         
40 Keith Button (noreast cycling)                                     
41 William Sawyer (Gearworks - Spinarts)                          4.51
42 Doug Aspinwall (Joe's Garage/Reynolds Composites)                  
43 Paul Nyberg (Horst-Benidorm-Property Research Corp.)           5.11
44 Kevin Callahan (Bicycle Link/MBRC)                                 
45 Bob Lesmerises (White Mountain Velo)                           5.15
46 Steven Kane (Byron Lake)                                       5.34
47 Royce Yeomans (cyclonauts racers)                              5.36
48 Geoff Sullivan (Eastern Bloc Cycling Club)                     5.39
49 Thomas Butler (CCB/Volkswagen)                                     
50 Mike Rowell (NEBC)                                                 
51 Andrew Durham (CCB/Volkswagon)                                     
52 Judd Milne (Squadra Coppi/IM Saab)                             6.05
53 Paul Weiss (PORTLAND VELO CLUB)                                6.10
54 Daniel Russell (Bicycle Link/MBRC)                                 
55 Michael Spangenberg (Cyclonauts)                               6.12
56 Timothy Shea (BOB / SKOFIELD BUILDERS)                         6.20
57 John Grenier (BOB/Skofield Builders)                           6.22
58 David Schachte (Union Velo)                                    6.26
59 Dave Barr (Fitchburg Cycling Club)                             6.29
60 Michael Tucker (Berkshire Cycling Association)                 6.36
61 Kenny Shardlow (Bikebarnracing.com)                            6.42
62 Paul Debartolo (GS Gotham/TOGA)                                6.44
63 Bruce Bell (GMBC/Catamount)                                    6.53
64 Drew Davis (QuadCycles/Arlington Bicycle Club)                 7.00
65 James Mcdonald (NCC/Bikereg.com)                               7.51
66 Ned Connell (Putney/West Hill)                                 8.22
67 Peter Crowley (NCC / BikeReg.com)                                  
68 Paul Crowley (MBRCBicyclelink)                                     
69 Anthony Pace (EASTERN BLOC CYCLING CLUB)                           
70 David Leedberg (GearWorks / Spin Arts)                             
71 Carl Ring (NHCC/ Team NH)                                          
72 Eric Derivera                                                      
73 Tim Crowley (Vortex Racing)                                        
74 Unknown                                                            
75 Barry Doubleday (Mass Bay Road Club)                               
76 Matt Spence (Onion River Sports)                                   
77 Chris Curven (NAV/Pedros)                                          
78 Scott Roy (Bicycle Link MBRC)                                      
79 Unknown                                                            
80 Jerry Chabot (Johnathan Page.com)                                  
81 Jim Burke (NEBC/CycleLoft)                                         
82 Kurt Loell (Union Velo Cycling Club)                               
83 Mark Dutka (Mystic Velo)                                           
84 Donald Catlin (Tokeneke Road Club)   

C Men

1 Paul Novotasky Jr. (Pig Iron Sports)                       
2 Manny Goguen (Union Velo)                                  
3 Cort Cramer (CCV)                                          
4 Timothy Mather (Pig Iron Sports)                           
5 Garett Burke                                               
6 Oscar Jimenez (NEBC/Cycleloft)                             
7 Benjamin Buckley (VERGE SPORT/TEST PILOT)                  
8 Yasushi Katsumi (HUPUNITED)                                
9 Christopher Bailey (Boston Road Club)                      
10 Dan Ouellette (Gamache Cyclery)                           
11 John Gibbons                                              
12 Joseph Crooks (Cyclonauts Racers)                         
13 Jason Gulbinas (NEBC/CycleLoft)                           
14 Jason Sears (MIT Cycling / FXDD)                          
15 Stephen Wright (Minuteman Road Club)                      
16 Keith Reynolds (NEBC/Cycle Loft)                          
17 Jonathan Packer (AFD / Ocean State Velo Club)             
18 Christopher Owen                                          
19 Tom Buttner (VERGE SPORT/TEST PILOT)                      
20 Matthew Simpson (B.O.B Cycling - Skofield Builders)       
21 Blake Bedoya (Rutgers University Cycling Team)            
22 Steen Sawyer (Minuteman Road Club)                        
23 Sven Lohse (Essex County Velo)                            
24 Sean Trinque (PVC)                                        
25 Chris Butler (Butler Furniture/Gear Works)                
26 Eli Papa (MIT Cycling/FXDD)                               
27 Joseph Hughes                                             
28 Cimarron Wortham (MIT Cycling / FXDD)                     
29 Thomas Needham                                            
30 Brian Medeiros (Scottee's Westport Bicycle)               
31 Richard Person (Minuteman Road Club)                      
32 Robert Follansbee                                         
33 Gary Sacon (Cyclonauts Racers)                            
34 Keith Berkoben                                            
35 Bill Maidment                                             
36 Geoffrey House (Housatonic Wheel Club)                    
37 David Alden-St-Pierre (Crank Racing)                      
38 Michael Cook (Minuteman Road Club)                        
39 Terrence Mcgovern                                         
40 Brad Paquin (Stage 1)                                     
41 Paul Yeomans (TEAM WAYFARER)                              
42 Andrew Salmon (Cyclonauts)                                
43 Thomas Goodman                                            
44 Andy Glaser (Rutgers University Cycling Team)             
45 Tom West (CBC)                                            
46 James Hoard                                               
47 Jim Airgood (HUP United)                                  
48 Matthew Salmon (Cyclonauts Racers)                        
49 Ryan Retelle (NEBC/Cycleloft)                             
50 Scott Sweeney                                             
51 Steven Robbins (NCC/BikeReg.com)                          
52 Erin Bennett (Team Haborside Cycle)                       
53 Paul Crowley, Jr (MBRC/BICYCLELINK)                       
54 David Elliston (Gioia Designs)                            
55 Jim Lynch (Mystic Velo Club)                              
56 Ken Scott                                                 
57 Jason Clark                                               
58 Pieter Van Lieu                                           
59 Ian Goodman                                               
60 James Dutko (CBRC (Capital Bicycle Racing Club))          
61 Michael Lowry (Minuteman Road Club)                       
62 Steven Bird                                               
63 Ron Goguen                                                
64 Steven Godbey (Maine Cycling Club)                        
65 Eric Wolf  
                                               
Masters 35-45 B

1 Aaron Richer (Team Pinnacle)                               
2 James O'mara (BOB)                                         
3 Mike Troisi (Gear Works)                                   
4 Steve Witkus (Blackstone Valley Velo/thepeloton.net)       
5 Michael Keough (cornerCycleCyclingClub)                    
6 Peter Collins (Collins Crane & Rigging)                    
7 Joe Rodrigues (Cyclonauts)                                 
8 James Paterson                                             
9 Robert Naser (Casterama)                                   
10 Chip Baker (Sycip Racing)                                 
11 Thomas Despart (CBRC)                                     
12 Jay Bartlett (HUP United)                                 
13 Dan Stasz (Joe's Garage / Reynolds Composites)            
14 Mark Lescault (TEAM Gearworks/Spinarts)                   
15 Unknown                                                   
16 Eric Cohen                                                
17 Patrick Smith (Salem Cycle Club / Comprehensive Tri)      
18 Robert Dadekian (CBRC)                                    
19 David Rioux (Boston Road Club)                            
20 Matt Carpenter (EBCC/Benidorm)                            
21 Theo Kindermans (cyclocrossworld.com)                     
22 Kevin Chichlowski (bikebarnracing.com)                    
23 Walter Conley (CCB/Volkswagen)                            
24 Mark Suprenant (CCB/Volkswagen)                           
25 Coley Bryan (Harborside Cycle)                            
26 Stephen Frothingham (CCB/Volkswagen)                      
27 Chris Winter (CYBC Richard Sachs)                         
28 Geoff Williams (Providence Velo)                          
29 Fran Boudreau (Unattached)                                
30 Michael Sarnblad (Gearworks / Spinarts)                   
31 Bill Doonan (NEBC/Cycleloft)                              
32 George Gagnon (Naults.com)                                
33 Robert Bauer (Minuteman road Club)                        
34 Derek Griggs (Recycled Sports)                            
35 Stephen Jablonski (Hup United)                            
36 Art Baril (Minuteman Road Club)                           
37 Matthew Snow (BREAKING AWAY BICYCLES)                     
38 David King (CCB/Volkswagen)                               
39 Christopher Kadlick (Minuteman Road Club)                 
40 Jay Downs (FORT Factory Team)                             
41 Joseph Lellman (NCC / BikeReg.com)                        
42 David Goodwin (NCC / BikeReg.com)                         
43 Todd Savage (Minuteman Road Club)                         
44 Stuart Beaulieu (Essex County Velo)                       
45 Rick Desmarais (Union Velo)                               
46 Lawrence Felton                                           
47 William Turner (Minuteman Road Club)                      
48 Kevin Young (Minuteman Road Club)                         
49 Kenneth Hamel (AFD/OSVC)                                  
50 Randy Taylor (laurel)                                     
51 Jeff Papineau (Cyclonauts)                                
52 John Plump (Quad Cycles/Arlington Bike Club)              
53 Eli Levine (BRC/ATA Cycles)                               
54 Raymond Martin (Union Velo)                               
55 John Torrey (day pass from my wife)                       
56 Todd Samuelson (clarke cycles/ TEAM CYCLO-CORE .COM)      
57 Rob Desrosiers (blackstone valley velo peloton/domino)    
58 Lawrence King (Union Velo)                                
59 Jesus Vazquez (Bikebarnracing.com)                        
60 Paul Debitetto (Boston Triathlon Team)                    
61 Joe Rapuano (Essex County Velo)                           
62 Gary Lavigne (Southern Maine Cycling Club)                
63 Jack Chapman (Nault's Cyclery/naults.com)                 
64 Chris Duffey (MLRC/The Bicycle Link)    
                  
Masters 55+

1 David Rath (GMBC/Catamount)                                
2 Bruce Mccowan (Arc En Ciel Racing Team / MCRA)             
3 Phillip Bannister (Putney/West Hill)                       
4 Kent Webster (Putney/West Hill)                            
5 Dave Beals (CBRC)                                          
6 James Themig (Mystic Velo MCRA)                            
7 Richard Costa (Cyclonauts Racers Inc.)                     
8 Joseph Collins (Collins Crane & Rigging)                   
9 Jim Dowling (Maine Cycling Club/Rainbow)                   
10 Dan Tieger (Essex County Velo)                            
11 Hunt Barrows (sachs)                                      
12 Jim Quinn (The Bicycle Link/MBRC)                         
13 Steven Abbott (thread city cyclers)                       
14 Clive Woakes (Competitive Edge/ARC)                       
15 Tec Thomas (Jacksonville Racing Club)                     
16 Bob Ludecke (laurel bike club)                            
17 Joe Hepp (Southern Maine Cycling Club)                    
18 John Shea (east end/kreb)                                 
19 Herbert Bates (naults.com)                                
20 Curtiss Burwell (Laurel Bicycle Club)                     
21 Russell Brooks (naults cyclery/naults.com)                
22 Vincent Donohue (worcester cycling club)