Gearworks Cyclocross - C2
(Verge New England Championships Cyclocross Series #4)
Sterling, Mass., USA, November 26, 2005
Johnson & Bessette swoop in the snow
Tim Johnson (cyclocrossworld.com-louisgarneau)
Photo ©: Paul Weiss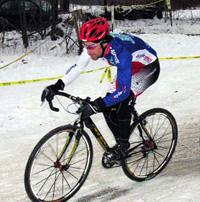 Billed as a sneak preview of the course for December's National Championships in Rhode Island, Saturday's Gearworks Bay State Cyclocross, round four of the 2005 Verge New England Championships Cyclocross Series, presented by Cycle-Smart, added an extra bit of intrigue: a healthy blanket of snow. The Sterling, Mass. course, designed by National's course guru Tom Stevens, was already challenging before the four inches of white fluff came down on Thanksgiving Day, but the added element of dodgy traction and sub-freezing temps made for an epic day in the fourth race of the 2005 Verge NECCS.
Verge NECCS Elite Men's points leader Tim Johnson (Cyclocrossworld.com-Louis Garneau) reveled in the slick conditions, taking a solid victory over four-time defending Verge NECCS champ Mark McCormack (Team Clif Bar). McCormack's teammate Jesse Anthony got the action started on the first lap as the Under-23 Series leader pushed the pace hard going into the race's main run-up. With McCormack falling back due to technical bobble in the treacherous conditions, Anthony and Johnson were on their own. Johnson powered away from Anthony on lap three, cracking open a lead that, while seriously threatened in the waning laps, never disintegrated totally.
McCormack fought back in the closing four laps, trimming Johnson's margin down to a mere six seconds with two laps to go. But while McCormack could see Johnson he couldn't catch Johnson, who goosed the pace just enough to make a last-lap lead change impossible. McCormack settled for a credible second, while Johnson solidified his overall Series lead. Anthony rounded out the top three and also finished on top of the U-23 podium.
Lyne Bessette (cyclocrossworld.com-louisgarneau)
Photo ©: Paul Weiss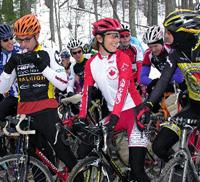 "I had a great start, pretty much the best one I've had all season," said Johnson. "I knew there would be a lot of crashes on the first lap and with the slippery course a good start was important for staying out of trouble. Some guys definitely lost time because they were caught behind crashes, so I picked a good time to have such an excellent start."
Using the B Men's race as a warm-up, in which she finished third, Elite Women's Series leader Lyne Bessette (Cyclocrossworld.com-Louis Garneau) ran her Verge NECCS win streak to four with a run away romp through the snow in Sterling. Bessette led all but the first 100 meters of the race, showing why she already has two cyclocross titles to her credit so far in 2005 – Canadian National Champion and U.S. Gran Prix Champion. Maureen Bruno Roy (Independent Fabrication) and Mackenzie Dickey (Bicycle Alley) collected the final two podium spots, but the day belonged to Bessette. Sterling marked the Canadian's final Verge NECCS race of the year as her schedule in the coming weeks will take her to Europe for a World Cup.
"The Series has been great preparation for going to race in Europe," said Bessette. "It's too bad I have to miss the final weekend but I feel lucky we have such good races in New England in the first place. I'll be ready for the World Cups I think."
The 2005 Verge New England Championship Cyclocross Series concludes the weekend of December 3-4 with the Rhode Island "double dip" of W. E. Stedman Co. Grand Prix of Cyclocross in South Kingstown and Castor's Grand Prix in Warwick.
Photography
For a thumbnail gallery of these images, click here
Images by Paul Weiss/www.paulweiss.bz
Results

Elite Men
 
1 Tim Johnson (USA) CyclocrossWorld.com                                         57.17
2 Mark McCormack (USA) Colovita                                                  0.37
3 Jesse Anthony (USA) Clif Bar                                                   1.18
4 Tristan Schouten (USA) Midwest Cyclesport                                      2.51
5 Noah Taylor (USA) RGM Watches- RICHARD SACHS - HUDSON VALLEY VELODROME         2.58
6 Michael Cody (USA) Fior di Fruitta                                             3.01
7 Johs Huseby (USA) Fior di Fruitta                                              3.20
8 Matt White (USA) Fior di Fruitta                                               3.47
9 Keith Jennings (USA) Louis Garneau Racing                                      4.16
10 Daniel Coady (USA) NCC / BikeReg.com                                          5.35
11 Adam Hodges Myerson (USA) NERAC.COM                                           5.36
12 Justin Spinelli (USA) RGM Watches- RICHARD SACHS - HUDSON VALLEY VELODROME    5.59
 
One lap behind                                                                  
 
13 Ryan Oconnor (USA) 1k2go.com                                                      
14 Matt Demeis (USA) bikeman.com                                                     
15 Greg Ferguson (USA) Meredith Group                                                
16 Jonathan Bruno (USA) Independent Fabrication                                      
17 John Hanson (USA) Team Nerac.com                                                  
18 John Foley (USA) Team Bike Alley                                                  
19 Jeffery Craddock (USA) CCB/VW                                                     
20 Aaron Malloy (USA) 1k2go.com                                                      
21 Jon Belcher (USA) Trek/VW/New England                                             
22 Ryan Fleming (USA) ALAN Factory Team                                              
 
Two laps behind                                                                 
 
23 Brad Sheenan (USA) 1k2go.com                                                      
24 Alan Reain (Can) Cycle Logik Racing                                               
25 Morgan Macleod (USA) Portland Velo                                                
pulled Tom Gosselin (USA) Mechanical Services/Cycle Mania                            
pulled Steve Wallace (USA)                                                           
pulled William Dugan (USA) BCA/Vomax                                                 
? Kevin Wolfson (USA) Dartmouth College                                              
? Timothy Halliday (USA) America's Cycling Team                                      
? Matt Wilson (USA) Team Harborside Cycles                                           
? Marc Bavineau (USA) Essex County Velo                                              
? Adam Sullivan (USA) Caster's/Majik Coffee p/b Apex Tech Group                      
? Brian Hayes (USA) RGM Watches- RICHARD SACHS - HUDSON VALLEY VELODROME             
? John Burns (USA) bikeman.com                                                       
? Toby Marzot (USA) Dartmouth College                                                
? Adam Snyder (USA) Team Devo                                                        
 
Under 23
 
1 Jesse Anthony (USA) Clif Bar                                                  58.35
2 Keith Jennings (USA) Louis Garneau Racing                                      2.58
 
One lap behind                                                                  
 
3 Jon Belcher (USA) Trek/VW/New England                                              
 
Two laps behind                                                                 
 
4 Morgan Macleod (USA) Portland Velo                                                 
pulled Tom Gosselin (USA) Mechanical Services/Cycle Mania                            
pulled William Dugan 203975 BCA/Vomax                                                
? Kevin Wolfson 126022 Dartmouth College                                             
? Timothy Halliday 203376 America's Cycling Team                                     
? Brian Hayes (USA) RGM Watches- RICHARD SACHS - HUDSON VALLEY VELODROME             
? Toby Marzot (USA) Dartmouth College                                                
? Adam Snyder (USA) Team Devo                                                        
 
Elite Women
 
1 Lyne Bessette (Can( Cyclocrossworld.com                                       36.52
2 Maureen Bruno Roy (USA) Independent Fabrication                                1.02
3 Mackenzie Dickey (USA) Team Bicycle Alley                                      2.14
4 Amy Wallace (USA) Verizon Wireless Wheelworks                                  2.55
5 Marianne Stover (USA) Independent Fabrication                                  4.06
6 Pauline Frascone (USA) Independent Fabrication                                 4.08
7 Arielle Filiberti (USA) Team Bicycle Alley                                     4.16
8 Audrey Huffman (USA) Mad River Riders                                          4.42
9 Kami Tremblay (USA) Gearworks/Spin Arts                                        4.53
10 Rebecca Wellon (USA) Gearworks/Spin Arts                                      6.47
11 Tara Ross (Can) Victory Brewing                                               5.50
12 Cris Rothfuss (USA) NEBC/Cycle Loft                                           6.12
13 Stephanie White (USA) Gearworks/Spin Arts                                     6.44
14 Perri Mertens (Aus) harriscycleryracing.com                                   6.50
15 Mary Ann Martinez (USA) CCB/VW                                                7.19
16 Sara Cushman (USA) Gear Works/Spin Arts                                       7.24
17 Megan Bilodeau (USA) NCC / BikeReg.com                                        7.29
 
One lap behind                                                                  
 
18 Jennifer Rhodes (USA) Dansko Wheelworks                                           
19 Susan Maclean (USA) Gear Works/Spin Arts Cycling Team                             
20 Brenda Bahnson (USA) Independent Fabrication                                      
21 Marci Titus Hall (USA)                                                            
22 Janet Olney (USA) Team BBC                                                        
23 Martha Wilson (USA) Gear Works/Spin Arts Cycling Team                             
24 Michele Smith (USA) Independent Fabrication                                       
? Rebecca Cooke (USA)                                                                
 
C Men
 
1 Erik Olson (Team Bicycle Alley)                                               32.11
2 Matthew Myette (cyclonauts Racers)                                             0.49
3 Barry Groton (Claremont Cycle Depot)                                               
4 Ronnie Steers                                                                      
5 Doug Aspinwall (NCC / BikeReg.com)                                                 
6 Michael Olbrys (NEBC/Cycle loft)                                               2.02
7 Mark Suprenant (CCB/Volkswagen)                                                    
8 Robert Bauer (Minuteman road Club)                                                 
9 Derek Griggs (Recycled Sports)                                                     
10 Kevin Young (Minuteman Road Club)                                                 
11 James Conopask (Tokeneke Road Club)                                               
12 Greg Burbidge (WWODEN WHEELS)                                                     
13 Christopher Henning (Alberto's Sport)                                             
14 Royce Yeomans (cyclonauts racers)                                                 
15 Jay Bartlett                                                                      
16 Glenn Cook (Team Fred)                                                            
17 Matthew Steidler (Team Bike Alley)                                            2.34
18 Bill Doonan (NEBC/Cycleloft)                                                      
19 Daniel Abbe (cyclonauts Racers)                                                   
20 Theo Kindermans (cyclocrossworld.com)                                             
21 Peter Collins (unattached)                                                        
22 David Leedberg (GearWorks / Spin Arts)                                            
23 Kenny Ambach                                                                      
24 Phil Brubaker (Putney/West Hill)                                                  
25 Stuart Beaulieu (Essex County Velo)                                               
26 Ben Corbalis (union velo)                                                         
27 Jeffrey Bousfield (Mystic Velo Club)                                              
28 Oscar Jimenez (NEBC/Cycleloft)                                                    
29 Jose Martinez (Team Bike Alley)                                                   
30 James Paterson                                                                    
31 Jon Plump (Quad Cycle)                                                            
32 Jacob Morrison (unattached)                                                       
33 Jeffrey Nebolini (Hjolamenn)                                                      
34 Christopher Borrello (BikeWorks)                                                  
35 Joseph Lellman (NCC / BikeReg.com)                                                
36 Joseph Hughes (REI/Novara)                                                        
37 Tim Cook (U Mass)                                                                 
38 Christopher Kadlick (Minuteman Road Club)                                         
39 David Barr (unattached)                                                           
40 Eric Derivera                                                                     
41 Rhonda Morin (Portland Velo Club)                                                 
42 Erin Canniff (Team Harborside)                                                    
43 Michael Lowry (Minuteman Road Club)                                               
44 C Todd Lombardo (Boston Velo/Pepsi)                                               
45 Adam Brodsky (Missing Link/ MBRC)                                                 
46 Erin Bennett (Harborside Cycle)                                                   
47 Jim Quinn (the bicycle link)                                                      
48 Joseph Sconzo (Capitol Velo Club)                                                 
49 Charlie Roberts (Minuteman Road Club)                                             
50 Eric Edlund (MIT Cycling)                                                         
51 Stuart Boyd (Essex County Velo)                                                   
52 Paul Crowley                                                                      
53 Clifford Sharp (Boston Bicycle)                                                   
54 Edward Dishong (NHCC)                                                             
55 Na                                                                                
56 Jose Ardila (Ardila Sports)                                                       
57 Lawrence King (Providence Velo)                                                   
58 Thomas Ball (Minuteman Road Club)                                                 
59 Crystal Sineath (Essex County Velo)                                               
60 Richard Sachs (RGM Watches- RICHARD SACHS - HUDSON VALLEY VELODROME)              
61 David Loszewski (B.O.B. Cycling)                                                  
62 Nick Loomis (MIT Cycling)                                                         
63 Thayne Nord (unattached)                                                          
64 Martin Wright (harriscycleryracing.com)                                           
65 Chip Baker (Sycip Racing)                                                         
66 John Beaudoin (Southern Maine Cycling Club)                                       
67 Sarah Greene (Ski Rack Sports)                                                    
68 David Alden (crank racing)                                                        
69 Heidi Wakeman (Team Harborside Cycle)                                             
70 John Roche (Team B.O.B/Naults Cyclery)                                            
71 Na                                                                                
72 Rachel Brown (BRC/ATA Cycles)                                                     
73 Gary Lavigne (SMCC)                                                               
74 John Torrey (MTBMIND.COM)                                                         
75 Jay Curry (crank racing)                                                          
76 Jessica Truslow (Northeast Bicycle Club NEBC/Cycloloft)                           
77 William Hancox (Boston Bicycle)                                                   
78 Brian Hoehne (Cheshire Cycle)                                                     
79 Laura Jensen (Benidorm/Eastern Bloc Cycling Club)                                 
80 Janet Sestokas (NEBC Cycle Loft)                                                  
81 Kerry Combs (Hup United / Independent Fabrication)                                
82 Richard Costa (unattached)                                                        
83 Rebecca Zanconato (HUP United)                                                    
84 David Rioux (BRC/ATA Cycles)                                                      
85 Catherine Humblet (unattached)                                                    
 
One lap behind                                                                  
 
86 Lana Courtney                                                                     
87 Steve Hansen (NEBC/Cycle Loft)                                                    
88 Melissa Smith (UNH /Dansko/Wheelworks)                                            
89 Lori Whynot (NEBC/CycleLoft)                                                      
? Dan Stasz (NCC / BikeReg.com)                                                      
? Marvin Wang (www.internationalbike.com)                                            
? Harry Stover (Arc - en - ciel)                                                     
? Scott Roy (Bicycle Link MBRC)                                                      
? Jason Hughes (*TEAM BOO-YAH!*)                                                     
? Kevin Hetherington-Young (NEBC/CycleLoft)                                          
? Jim Dowling (Maine Cycling Club/Rainbow)                                           
? Tim Burton                                                                         
? Kathleen Fulton                                                                    
? Joseph Phillippino (unattached)                                                    
? Lys Crowther (NCC/Bikereg.com)                                                     
 
B Master 35+
 
1 Erik Olson (Team Bicycle Alley)                                               32.11
2 Matthew Myette (cyclonauts Racers)                                             0.49
3 Barry Groton (Claremont Cycle Depot)                                               
4 Doug Aspinwall (NCC / BikeReg.com)                                                 
5 Michael Olbrys (NEBC/Cycle loft)                                               2.02
6 Mark Suprenant (CCB/Volkswagen)                                                    
7 James Conopask (Tokeneke Road Club)                                                
8 Christopher Henning (Alberto's Sport)                                              
9 Royce Yeomans (cyclonauts racers)                                                  
10 Jay Bartlett                                                                      
11 Matthew Steidler (Team Bike Alley)                                            2.34
12 Bill Doonan (NEBC/Cycleloft)                                                      
13 Daniel Abbe (cyclonauts Racers)                                                   
14 Phil Brubaker (Putney/West Hill)                                                  
15 Stuart Beaulieu (Essex County Velo)                                               
16 Christopher Borrello (BikeWorks)                                                  
17 Christopher Kadlick (Minuteman Road Club)                                         
18 David Barr (unattached)                                                           
19 Joseph Sconzo (Capitol Velo Club)                                                 
20 Lawrence King (Providence Velo)                                                   
21 Thomas Ball (Minuteman Road Club)                                                 
22 Chip Baker (Sycip Racing)                                                         
23 John Beaudoin (Southern Maine Cycling Club)                                       
24 David Rioux (BRC/ATA Cycles)                                                      
? Dan Stasz (NCC / BikeReg.com)                                                      
? Marvin Wang (www.internationalbike.com)                                            
? Harry Stover (Arc - en - ciel)                                                     
? Scott Roy (Bicycle Link MBRC)                                                      
? Kevin Hetherington-Young (NEBC/CycleLoft)                                          
 
B Master 45+
 
1 Derek Griggs (Recycled Sports)                                                     
2 Kevin Young (Minuteman Road Club)                                                  
3 Theo Kindermans (cyclocrossworld.com)                                              
4 Peter Collins (unattached)                                                         
5 David Leedberg (GearWorks / Spin Arts)                                             
6 Jeffrey Bousfield (Mystic Velo Club)                                               
7 James Paterson                                                                     
8 Jon Plump (Quad Cycle)                                                             
9 Joseph Lellman (NCC / BikeReg.com)                                                 
10 Eric Derivera                                                                     
11 Adam Brodsky (Missing Link/ MBRC)                                                 
12 Jim Quinn (the bicycle link)                                                      
13 Stuart Boyd (Essex County Velo)                                                   
14 Paul Crowley                                                                      
15 Edward Dishong (NHCC)                                                             
16 Richard Sachs (RGM Watches- RICHARD SACHS - HUDSON VALLEY VELODROME)              
17 John Roche (Team B.O.B/Naults Cyclery)                                            
18 Richard Costa (unattached)                                                        
 
One lap behind                                                                  
 
19 Steve Hansen (NEBC/Cycle Loft)                                                    
? Jim Dowling (Maine Cycling Club/Rainbow)                                           
? Joseph Phillippino (unattached)                                                    
 
B Women
 
1 Rhonda Morin (Portland Velo Club)                                                  
2 Erin Canniff (Team Harborside)                                                     
3 Erin Bennett (Harborside Cycle)                                                    
4 Crystal Sineath (Essex County Velo)                                                
5 Sarah Greene (Ski Rack Sports)                                                     
6 Heidi Wakeman (Team Harborside Cycle)                                              
7 Rachel Brown (BRC/ATA Cycles)                                                      
8 Jessica Truslow (Northeast Bicycle Club NEBC/Cycloloft)                            
9 Laura Jensen (Benidorm/Eastern Bloc Cycling Club)                                  
10 Janet Sestokas (NEBC Cycle Loft)                                                  
11 Kerry Combs (Hup United / Independent Fabrication)                                
12 Rebecca Zanconato (HUP United)                                                    
13 Catherine Humblet (unattached)                                                    
 
One lap behind                                                                  
 
14 Lana Courtney                                                                     
15 Melissa Smith (UNH /Dansko/Wheelworks)                                            
16 Lori Whynot (NEBC/CycleLoft)                                                      
? Kathleen Fulton                                                                    
? Lys Crowther (NCC/Bikereg.com)                                                     
 
Master 55+
 
1 Phillip Bannister (Putney/West Hill)                                          34.13
2 David Rath (GMBC/Catamount)                                                        
3 David Genest (RGM Watches- RICHARD SACHS - HUDSON VALLEY VELODROME)                
4 Robert Hayssen (Vision Quest)                                                      
5 Bruce McCowan (ARC EN CEIL)                                                        
6 Dave Beals (SAAB of Halfmoon/New Salem - CBRC)                                     
7 Joe Hepp (Southern Maine Cycling Club)                                             
8 James Themig (Mystic Velo Club)                                                    
 
One lap behind                                                                  
 
9 Bob Ludecke (laurel bibe club)                                                     
? Vincent Donohue (worcester cycling club)                                           
? Herbert Bates (NEBC/Cycle Loft)                                                    
 
Elite Master 35+/45+
 
1 Jonny Bold (Corner Cycle / Independent Fabrication)                           40.23
2 Rob Hult (FiordiFrutta)                                                        0.23
3 Mark Stotz (Gearworks -- Spinarts)                                                 
4 Todd Watters (union velo)                                                          
5 Kevin Hines (Gear Works / Spin Arts)                                               
6 Greg Ferguson (Fort/GPOA!)                                                     1.06
7 Sam Morse (Bicycle Link/MBRC)                                                      
8 Mark Gunsalus (Bike Barn Racing)                                               1.36
9 Alan Starrett (Bikeman.com)                                                    1.42
10 Arik Jon Holm (Union Velo)                                                        
11 Colman Oconnor (MBRC)                                                             
12 Keith Gauvin (Benidorm Bikes)                                                     
13 Brian Cantele (Benidorm Bikes)                                                2.24
14 Robert Campos (HVC/Jessies)                                                       
15 Todd Rowell (NCC / BikeReg.com)                                                   
16 David Belknap (Bike Link/MBRC)                                                    
17 Christopher Long (Independent Fabrication/Gotham)                                 
18 Paul Curley (Gearworks/Spinarts)                                                  
19 John Mosher (Bicycle Link/MBRC)                                                   
20 Bradley Patches (BCA/VOmax)                                                       
21 Scott Wade (Gearworks/Spinarts)                                                   
22 Steve Roszko (NCC / BikeReg.com)                                              3.22
23 Tim Groesbeck (CCB)                                                           3.26
24 Joel Brown (Cox Communications Cycling Team)                                      
25 James Tordella                                                                    
26 Bob Bisson (Gear Works/Spin Arts)                                                 
27 Daniel Gagliarde                                                                  
28 Stuart Jensen (Benidorm/Eastern Bloc Cycling Club)                                
29 Todd Wheelden (BIKEMAN.com)                                                       
30 Christopher Burke (Providence Velo)                                               
31 Eric Marro (BOB/Nault's Cyclery)                                                  
32 Andrew Durham (CCB/Volkswagon)                                                    
33 Roger Goulart (unattach)                                                          
34 William Sawyer (Gearworks - Spinarts)                                             
35 Matthew Domnarski (Benidorm-Property Research Corp.)                              
36 John Grenier (Maine Cycling Club)                                                 
37 Thomas Butler (SAAB of Halfmoon/New Salem - CBRC)                                 
38 Chris Milliman (HUP UNITED)                                                   5.34
39 Paul Lynch (bicyclelink/mbrc)                                                     
40 David Fredrickson                                                                 
41 Wade Summers (Benidorm - Property Research Corp)                              5.52
42 Eric Bowker (Gary Fisher Bicycles)                                            6.00
43 Kevin Callahan (Bicycle Link/MBRC)                                                
44 Aaron Richer                                                                      
45 Mike Troisi (Gear Works / Spin Arts)                                          6.14
46 Robert Dadekian (Capital Bicycle Racing Club)                                     
47 Peter Crowley (NCC / BikeReg.com)                                                 
48 Robert Kramer (Bicycle Link/MBRC)                                                 
49 Gene Garneau (Mercy Cycling)                                                      
50 Paul Nyberg (Benidorm-Property Research Corp.)                                    
51 Paul Weiss (PORTLAND VELO CLUB)                                                   
52 Michael Cole (Minuteman Road Club)                                                
53 Steven Kane (Byron Lake)                                                          
54 John Brady (BRC/ATA CYCLES)                                                       
55 Daniel Russell (Bicycle Link/MBRC)                                                
 
One lap behind                                                                  
 
56 Richard Morin (Union Velo)                                                        
57 George Benington (Linscott Real Estate Racing)                                    
58 David Sc? (Union Velo)                                                            
59 Barry Doubleday (Mass Bay Road Club)                                              
60 Paul Cooke (Alan racing)                                                          
61 Wayne Cunningham (NEBC/Cycle Loft)                                                
62 Carl Ring (NHCC/ Team NH)                                                         
63 Kenneth Hamel (AFD/OSVC)                                                          
64 Joe Rodrigues (Cyclonauts)                                                        
65 Michael Zocchi (Boston Velo)                                                      
? Timothy Shea (BOB / Nault's Cyclery)                                               
? John Meerse (Hurricane Mountain Multisport)                                        
? Christopher Smith                                                                  
? Brad Roberts (westhill)                                                            
? James Walsh (Cox Communications)                                                   
? Bill Mark (providence velo club)                                                   
? Brian Bigelow (BOB/Nault's)                                                        
? Michael Wonderly (CogWildRacing.org/RocknRoadcycles.com)                           
? Alan Douglass (Cyclonauts Racers, Inc.)                                            
? Geoff Sullivan (Benidorm/Eastern Bloc Cycling Club)                                
? Chris Borrello (bikeworks)                                                         
? Christopher Cyr (Bikeman.com)                                                      
? Jeffrey Kellogg (North Atlantic Velo / Mercury Web Dev)                            
? Tim Lucia (NEBC/CycleLoft)                                                         
? Bo Fuller (Caster's/Majik Coffee p/b Apex Tech Group)                              
? Paul Niehoff (Southern Maine Cycling Club)                                         
? Kurt Loell (Union Velo Cycling Club)                                               
? Christian Zauner (TEAM Gearworks/Spinarts)                                         
? Robert Naser (Caster's/Majik Coffee p/b Apex Tech Group)                           
? Gary Aspnes (Benidorm-Property Research Corp)                                      
? Tim Crowley (Vortex Racing)                                                        
 
Elite Master 35+
 
1 Jonny Bold (Corner Cycle / Independent Fabrication)                           40.23
2 Rob Hult (FiordiFrutta)                                                        0.23
3 Mark Stotz (Gearworks -- Spinarts)                                                 
4 Todd Watters (union velo)                                                          
5 Greg Ferguson (Fort/GPOA!)                                                     1.06
6 Sam Morse (Bicycle Link/MBRC)                                                      
7 Mark Gunsalus (Bike Barn Racing)                                               1.36
8 Alan Starrett (Bikeman.com)                                                    1.42
9 Arik Jon Holm (Union Velo)                                                         
10 Keith Gauvin (Benidorm Bikes)                                                     
11 Brian Cantele (Benidorm Bikes)                                                2.24
12 Robert Campos (HVC/Jessies)                                                       
13 Todd Rowell (NCC / BikeReg.com)                                                   
14 Bradley Patches (BCA/VOmax)                                                       
15 Steve Roszko (NCC / BikeReg.com)                                              3.22
16 Joel Brown (Cox Communications Cycling Team)                                      
17 James Tordella                                                                    
18 Daniel Gagliarde                                                                  
19 Stuart Jensen (Benidorm/Eastern Bloc Cycling Club)                                
20 Todd Wheelden (BIKEMAN.com)                                                       
21 Andrew Durham (CCB/Volkswagon)                                                    
22 Roger Goulart (unattach)                                                          
23 Matthew Domnarski (Benidorm-Property Research Corp.)                              
24 Chris Milliman (HUP UNITED)                                                   5.34
25 David Fredrickson                                                                 
26 Wade Summers (Benidorm - Property Research Corp)                              5.52
27 Eric Bowker (Gary Fisher Bicycles)                                            6.00
28 Aaron Richer                                                                      
29 Mike Troisi (Gear Works / Spin Arts)                                          6.14
30 Robert Kramer (Bicycle Link/MBRC)                                                 
31 Gene Garneau (Mercy Cycling)                                                      
32 Paul Weiss (PORTLAND VELO CLUB)                                                   
33 Michael Cole (Minuteman Road Club)                                                
34 John Brady (BRC/ATA CYCLES)                                                       
35 Daniel Russell (Bicycle Link/MBRC)                                                
 
One lap behind                                                                  
 
36 Richard Morin (Union Velo)                                                        
37 Wayne Cunningham (NEBC/Cycle Loft)                                                
38 Carl Ring (NHCC/ Team NH)                                                         
39 Joe Rodrigues (Cyclonauts)                                                        
40 Michael Zocchi (Boston Velo)                                                      
? John Meerse (Hurricane Mountain Multisport)                                        
? Christopher Smith                                                                  
? Brad Roberts (westhill)                                                            
? James Walsh (Cox Communications)                                                   
? Bill Mark (providence velo club)                                                   
? Michael Wonderly (CogWildRacing.org/RocknRoadcycles.com)                           
? Alan Douglass (Cyclonauts Racers, Inc.)                                            
? Chris Borrello (bikeworks)                                                         
? Christopher Cyr (Bikeman.com)                                                      
? Jeffrey Kellogg (North Atlantic Velo / Mercury Web Dev)                            
? Tim Lucia (NEBC/CycleLoft)                                                         
? Bo Fuller (Caster's/Majik Coffee p/b Apex Tech Group)                              
? Christian Zauner (TEAM Gearworks/Spinarts)                                         
? Robert Naser (Caster's/Majik Coffee p/b Apex Tech Group)                           
? Gary Aspnes (Benidorm-Property Research Corp)                                      
? Tim Crowley (Vortex Racing)                                                        
 
Elite Masters 45+
 
1 Kevin Hines (Gear Works / Spin Arts)                                               
2 Colman Oconnor (MBRC)                                                              
3 David Belknap (Bike Link/MBRC)                                                     
4 Christopher Long (Independent Fabrication/Gotham)                                  
5 Paul Curley (Gearworks/Spinarts)                                                   
6 John Mosher (Bicycle Link/MBRC)                                                    
7 Scott Wade (Gearworks/Spinarts)                                                    
8 Tim Groesbeck (CCB)                                                                
9 Bob Bisson (Gear Works/Spin Arts)                                                  
10 Christopher Burke (Providence Velo)                                               
11 Eric Marro (BOB/Nault's Cyclery)                                                  
12 William Sawyer (Gearworks - Spinarts)                                             
13 John Grenier (Maine Cycling Club)                                                 
14 Thomas Butler (SAAB of Halfmoon/New Salem - CBRC)                                 
15 Paul Lynch (bicyclelink/mbrc)                                                     
16 Kevin Callahan (Bicycle Link/MBRC)                                                
17 Robert Dadekian (Capital Bicycle Racing Club)                                     
18 Peter Crowley (NCC / BikeReg.com)                                                 
19 Paul Nyberg (Benidorm-Property Research Corp.)                                    
20 Steven Kane (Byron Lake)                                                          
 
One lap behind                                                                  
 
21 George Benington (Linscott Real Estate Racing)                                    
22 Barry Doubleday (Mass Bay Road Club)                                              
23 Paul Cooke (Alan racing)                                                          
24 Kenneth Hamel (AFD/OSVC)                                                          
? Timothy Shea (BOB / Nault's Cyclery)                                               
? Brian Bigelow (BOB/Nault's)                                                        
? Geoff Sullivan (Benidorm/Eastern Bloc Cycling Club)                                
? Paul Niehoff (Southern Maine Cycling Club)                                         
? Kurt Loell (Union Velo Cycling Club)                                               
 
Under 19
 
1 Jerome Townsend (Team Bike Alley)                                             35.24
2 Brad Perley                                                                    0.07
3 Ethan Gilmour (Coyote Hill)                                                    0.28
4 Robert Schmidt (Vortex Racing- CBRC)                                           1.25
5 Ryan Barlow (CUEVAS)                                                           1.49
6 Silas Anthony (ECV)                                                            1.50
7 Dylan O'Sullivan (Team Bicycle Alley)                                          1.51
8 Nathan Belcher (Union Velo)                                                    3.44
9 Steve Simonds (SMCC)                                                           4.18
10 Gavin Mannion (CCB/Volkswagen)                                                4.35
11 Manny Goguen (Union Velo)                                                     7.54
? Sean Trinque (Portland Vello)                                                      
? Dan Fishkin (Team Harborside Cycle)                                                
DNF Nicholas Keough (Corner Cycle)                                                   
 
Junior 15-16
 
1 Silas Anthony (ECV)                                                           37.14
2 Steve Simonds (SMCC)                                                           2.28
3 Gavin Mannion (CCB/Volkswagen)                                                 2.45
4 Manny Goguen (Union Velo)                                                      6.04
? Dan Fishkin (Team Harborside Cycle)                                                
 
Junior 17-18
 
1 Jerome Townsend (Team Bike Alley)                                             35.24
2 Brad Perley                                                                    0.07
3 Ethan Gilmour (Coyote Hill)                                                    0.28
4 Robert Schmidt (Vortex Racing- CBRC)                                           1.25
5 Ryan Barlow (CUEVAS)                                                           1.49
6 Dylan O'Sullivan (Team Bicycle Alley)                                          1.51
7 Nathan Belcher (Union Velo)                                                    3.44
? Sean Trinque (Portland Vello)                                                      
DNF Nicholas Keough (Corner Cycle)                                                   
 
Cub Juniors
 
1 Luke Keough (unattched)                                                       16.50
2 Shawn Hudlin (BCA/Vomax)                                                           
3 Spencer Pero (BCA/Vomax)                                                           
4 Jarred Reuter (44Velo)                                                             
5 Ryan Packard (Quad Cycles / Arlington Bicycle Club)                                
6 Curtis White (SAAB of Halfmoon/CBRC)                                               
7 Elizabeth White (NEBC)                                                             
8 Jesse Keough (Corner Cycle)                                                        
9 Adam Hudlin (BCA/Vomax)                                                            
10 Tommy Goguen (Union Velo)                                                         
11 Gabe Anthony (ECV)                                                                
12 Nate Morse (BikeLink/MBRC)                                                        
13 Patrick Douglass (Cyclonauts)                                                     
14 Peter Goguen (Union Velo)                                                         
15 Abigail Callahan (unattched)                                                      
? Caleb Anthony (ECV)                                                                
? Henry Russell (unattched)                                                          
 
B Men
 
1 Christopher Case (University of Texas)                                        41.44
2 Stan Jurga (Essex County Velo)                                                 0.28
3 Ryan Rumsey (Bikeman.com)                                                          
4 Don Snoop (VERGESPORT.COM/TEST PILOT)                                          0.41
5 NA                                                                             0.43
6 Matt Hersey (bikeman.com)                                                      0.45
7 Peter Rubijono (HarrisCycleryRacing.com)                                       1.05
8 Alexandre Frappier (Biogen Idec)                                               1.11
9 Alex Whitmore (harriscycleryracing.com)                                            
10 Roland Meunier (bike alley)                                                   1.17
11 Patrick Goguen (NCC/Bikereg.com)                                                  
12 Sean O'Rourke (Team Spirit Cycling)                                           1.32
13 Hunter Pronovost (Trailblazer - CCCC)                                             
14 Brendan Cornett (Maine Cycling Club/Rainbow Bike)                             1.52
15 Edward Parsons (VeloEuropa Cycle Sport)                                           
16 Jeff Murray (Team Berlin Bike)                                                2.06
17 C. Greg Robidoux (Boston Velo/Pepsi)                                          2.12
18 Pascal Bussières (Biogen idec, Auberge La Goéliche)                           2.25
19 Neil Ross (McMaster University)                                                   
20 Stephen Weller (Cycle-Smart)                                                      
21 Coley Bryan (Team Harborside Cycle)                                               
22 Nathaniel Ward (SAAB of Halfmoon/New Salem-CBRC)                                  
23 Sean Capizzo (Caster's/Majik Coffee p/b Apex Tech Group)                          
24 Leo Patnode (Team Harborside Cycle)                                               
25 David Rose (harriscycleryracing.com)                                              
26 Michael Harney (Caster's/Majik Coffee p/b Apex Tech Group)                        
27 Justin Ziemba (NHCC/Team NH)                                                      
28 Zac Daab (Hup United)                                                             
29 Yasushi Katsumi (Hup United)                                                  3.40
30 Pete Smith (ESSEX COUNTY VELO)                                                    
31 Ethan Parsons (NCC/BikeReg.com)                                                   
32 Corey Masson                                                                      
33 Robert Poole (Bikebarnracing.com)                                                 
34 Scott Brooks (NEBC/Cycle Loft)                                                    
35 David Rath (GMBC/Catamount)                                                       
36 Miro Koulnis (UVM cycling)                                                        
37 Pierre Vanden Borre (HUP United)                                                  
38 Erik Osborn (Bikeman.com)                                                         
39 Mark Vareschi (Rutgers Cycling)                                                   
40 Brian Rutter (Berlin Bike)                                                        
41 Richard Brown (NHCC/Team NH)                                                      
42 Greg Black (VERGESPORT.COM/TEST PILOT)                                            
43 Robert Schmidt (Vortex Racing- CBRC)                                              
44 Mike Zanconato (HUP United)                                                       
45 Juston Manville (North Atlantic Velo)                                             
46 Zach Johnson (Essex County Velo)                                                  
47 Chris McKernan (essex county velo)                                                
48 Jeremy Dunn (harriscycleryracing.com)                                             
49 Jason Sears (Essex County Velo)                                                   
50 Scott Rosenthal (HUP United)                                                      
51 Karl Sineath (ECV)                                                                
 
One lap behind                                                                  
 
52 Greg Martin (Independent Fabrication)                                             
53 Mark Robson (Team Bicycle Alley)                                                  
54 Jordan Moore (Onion River Sports)                                                 
55 Jim Wirtanen (harriscycleryracing.com)                                            
56 Eric Wemhoff                                                                      
57 Chris Winter (CYBC Richard Sachs)                                                 
58 Paul Niehoff (Southern Maine Cycling Club)                                        
59 Cary Fridrich (Minuteman Road Club)                                               
60 Chuck Nguyen (Providence Velo Club)                                               
61 NA                                                                                
62 Steven Morse (BIKEMAN.COM)                                                        
63 Dye-Zone Chen (MIT Cycling)                                                       
64 Art Trapotsis (HUP United)                                                        
65 Darren Crupi (RAD SPORT OUTFITTERS LLC.)                                          
66 Timothy Shea (BOB / Nault's Cyclery)                                              
67 NA                                                                                
68 Stephen Jablonski (Hup United)                                                    
69 Zachary Sager (BIKEMAN/Boston University)                                         
? Keith Button (NHCC/Team NH)                                                        
? Kyle Smith (Alan Factory Team)                                                     
? Jeremy Gardner                                                                     
? David Chiu (NEBC/CycleLoft)                                                        
? Richard Battaglia (Boston Road Club/ATA Cycles)                                    
? Michael Parr (NAV/Mercury Web Solutions)