Superprestige #7 - C1
Hoogstraten, Belgium, February 6, 2005
2004 Results Results Past winners
Vervecken stops the Rabobank run
Erwin Vervecken (Fidea Cyclocrossteam)
Photo ©: AFP Photo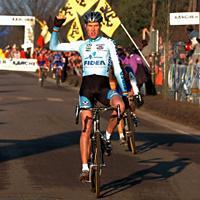 Erwin Vervecken (Fidea) has brought an end to the recent success of the Rabobank riders in major cyclo-cross races by winning the seventh round of the Superprestige series in Hoogstraten, Belgium. Vervecken outsprinted Sven Vanthourenhout (Rabobank) with Davy Commeyne (Palmans) finishing third. World Champion and series leader Sven Nys (Rabobank) was sixth, but kept his outright lead.
The race was held in tricky, sandy conditions and this proved to be decisive in the closing laps. Sven Nys crashed with three laps to go and took down Enrico Franzoi (Lampre) with him, leaving Vervecken, Vanthourenhout, Commeyne and Groenendaal in the front group. Rabobank still had the numbers in front, and Groenendaal tried to attack on the second last lap. But Vervecken led the rest of the group back up to him, and it was all together for the final lap.
Vanthourenhout played his card on the last hill, attacking hard with only Vervecken able to go with him. The Fidea rider was then able to beat Vanthourenhout in the sprint, taking his third big win of the season.
Photography
For a thumbnail gallery of these images, click here
Images by AFP Photo
Images by Delphine Page/www.cycling-photos.net
Results
Elite Men
 
1 Erwin Vervecken (Bel) Fidea Cyclocrossteam               58.31
2 Sven Vanthourenhout (Bel) Rabobank                        0.01
3 Davy Commeyne (Bel) Palmans-Sapim                         0.06
4 Richard Groenendaal (Ned) Rabobank                        0.07
5 Enrico Franzoi (Ita) Lampre-Caffita                       0.19
6 Sven Nys (Bel) Rabobank                                       
7 Bart Wellens (Bel) Fidea Cyclocrossteam                   0.42
8 Camiel van den Bergh (Ned) Saey-Deschacht                     
9 Martin Nijland (Ned) Eurogifts.com                        0.56
10 Peter Van Santvliet (Bel) Fidea Cyclocrossteam           1.02
11 Wim Jacobs (Bel) Fidea Cyclocrossteam                    1.15
12 Martin Zlámalík (Cze) Cyklo Team Budvar Tábor            1.16
13 Petr Dlask (Cze) Author Praha                            1.22
14 Tom Vannoppen (Bel) Palmans-Sapim                        1.26
15 Jonathan Page (USA) Cervelo-HotTubes-Adidas-Mavic            
16 Václav Jezek (Cze) Author Praha                          1.29
17 Bart Aernouts (Bel) Rabobank                                 
18 Tim Van Nuffel (Bel) Saey-Deschacht                      1.55
19 David Derepas (Fra)                                      2.13
20 Wilant van Gils (Ned) Rietveld WTC wielerteam            2.57
21 David Willemsens (Bel)                                   3.03
22 Nico Berckmans (Bel)                                     3.07
23 Gusty Bausch (Lux)                                       3.19
24 Milan Barenyi (Svk)                                      3.58
25 Nico Clarysse (Bel) Saey-Deschacht                       4.10
26 Tadeusz Korzeniewski (Pol)                               4.21
27 Václav Metlicka (Svk) CK ZP Sport A.S.                   5.01
28 Bert Vervecken (Bel)                                     5.27
29 David Laenen (Bel)                                       5.58
30 Eddy Van Bouwel (Bel)                                        
31 Robert Glajza (Svk) CK ZP Sport A.S.                    10.00
32 Dirk Bertels (Bel)                                           
33 Tom De Kort (Bel)                                            
34 Sven Van Eyndt (Bel)                                         
35 Leon Brouwer (Ned)                                           
36 Johan Myngheer (Bel)                                         
37 Guy Bertels (Bel)                                            
38 Jan Geerts (Bel)                                             
39 Tom Wilmsen (Bel)                                            
40 Erik Myngheer (Bel)                                          
41 Freddy De Meester (Bel)                                      
42 David Coughlin (Can)                                         
 
Starters: 53
Classified: 42
 
U23 Men
 
1 Niels Albert (Bel) Palmans-Sapim                         47.56
2 Kevin Pauwels (Bel) Fidea Cyclocrossteam                  1.02
3 Rob Peeters (Bel)                                             
4 Radomír Simunek Jr. (Cze) Author Praha                        
5 Bart Dirkx (Ned)                                              
6 Dieter Vanthourenhout (Bel)                                   
7 Jan Soetens (Bel)                                             
8 Eddy Van Ijzendoorn (Ned)                                 1.24
9 Tom Van Den Bosch (Bel)                                   1.32
10 Lars Boom (Ned) Rabobank                                 2.04
11 Mariusz Gil (Pol)                                        2.22
12 Stijn Penne (Bel)                                        2.30
13 Maxim Debusschere (Bel)                                  2.34
14 Geert Wellens (Bel) Fidea Cyclocrossteam                 2.38
15 Bart Verschueren (Bel)                                   3.08
16 Jeroen Dingemans (Bel)                                   4.07
17 Mike Thielemans (Bel)                                    5.36
18 Jeroen Bosmans (Bel)                                         
19 Rik Jonkheym (Ned)                                       6.05
20 Jeroen Thielemans (Bel)                                  6.29
21 Harm Vandekerckhove (Bel)                                    
22 Frank Van Grootel (Ned)                                      
23 David Bertram (Ger)                                          
24 Joeri Kouwenhoven (Ned)                                      
25 Valentijn Ponseele (Bel)                                10.00
26 Joost Springintveld (Bel)                                    
27 Steffen Vanderhoydonck (Bel)                                 
28 Michael Lorenc (Pol)                                         
29 Dave Schuurmans (Bel)                                        
 
Starters: 33
Classified: 29
 
Juniors
 
1 Wim Leemans (Bel)                                        37.50
2 Rik Van Ijzendoorn (Ned)                                  0.17
3 Davy De Scheemaeker (Bel)                                 0.27
4 Tom Meeusen (Bel)                                         0.35
5 Jan Arnouts (Bel)                                         0.40
6 Dennis Vanendert (Bel)                                        
7 Kevin Cant (Bel)                                          0.53
8 Bart Senders (Ned)                                        1.13
9 Ricardo Van Der Velde (Ned)                               1.15
10 Kenneth Van Compernolle (Bel)                            1.17
11 Patrick Vliegen (Ned)                                    1.23
12 Gianni Denolf (Bel)                                      1.34
13 Quentin Bertholet (Bel)                                  1.39
14 Dennis Verhoeven (Bel)                                   1.56
15 Laurens De Vreese (Bel)                                  2.00
16 Mattijn Motshagen (Ned)                                      
17 Dave De Cleyn (Bel)                                          
18 Matthias Onghena (Bel)                                       
19 Dries Pauwels (Bel)                                          
20 Thomas Boeckx (Bel)                                          
21 Jan Verhaegh (Bel)                                           
22 Ivar Hartogs (Ned)                                           
23 Koen Van Grootel (Ned)                                       
24 Jeroen Dekkers (Ned)                                         
25 Björn De Decker (Bel)                                        
26 Kevin Demeester (Bel)                                        
27 Edwin Arts (Ned)                                             
28 Wim Thijs (Bel)                                              
29 Tom Clauw (Bel)                                              
30 Jeffrey Maes (Bel)                                           
31 Tom Wagemans (Bel)                                           
32 Filip Van Tuyn (Bel)                                         
33 Tom Lambrechts (Bel)                                         
34 Ruben Lambrecht (Bel)                                        
35 Niel Kempenaers (Bel)                                        
36 Kristof Meulenyzer (Bel)                                     
 
Starters: 38
Classified: 36
 
Novices
 
1 Bart Hermans (Bel)                                            
2 Joeri Adams (Bel)                                             
3 Stef Boden (Bel)                                              
4 Jordy Beuker (Ned)                                            
5 Raf Pluym (Bel)                                               
6 Yannick Wydooghe (Bel)                                        
7 Vincent Baestaens (Bel)                                       
8 Sven Verboven (Bel)                                           
9 Kristof Cop (Bel)                                             
10 Pieter Bosmans (Bel)                                         
11 Dimitri Stevens (Bel)                                        
12 Jens Gys (Bel)                                               
13 Kenneth Bultinck (Bel)                                       
14 Tim Debusschere (Bel)                                        
15 Frederick Catrysse (Bel)                                     
16 Kim Goethals (Bel)                                           
17 Geert Van Der Horst (Bel)                                    
18 Erwin Theunis (Bel)                                          
19 Zeb Willems (Bel)                                            
20 Sven Beelen (Bel)                                            
21 Dennis Van Der Velden (Bel)                                  
22 Yannick Pauwels (Bel)                                        
23 Katrien Pauwels (Bel)                                        
24 Sander Van Iersel (Bel)                                      
25 Hans Bertels (Bel)                                           
26 Haye Van Boxtel (Ned)                                        
27 Thomas Van Calster (Bel)                                     
28 Bert Vermeiren (Bel)                                         
29 Rick Van Deursen (Bel)                                       
30 Thomas Pollak (Bel)                                          
31 Jonas De Backer (Bel)                                        
32 Jeroen Serverius (Bel)                                       
33 Lorenzo Messine (Bel)                                        
34 Kevin Heirwegh (Bel)                                         
35 Kenny Maes (Bel)                                             
36 Nick Lauwers (Bel)                                           
37 Stefan Spruyt (Bel)                                          
 
Starters: 37
Classified: 37 
Superprestige standings after round 7


Elite Men
 
1 Sven Nys (Bel) Rabobank                                     96 pts
2 Richard Groenendaal (Ned) Rabobank                          84
2 Sven Vanthourenhout (Bel) Rabobank                          84
4 Bart Wellens (Bel) Fidea Cyclocrossteam                     74
5 Erwin Vervecken (Bel) Fidea Cyclocrossteam                  71
6 Ben Berden (Bel) Saey-Deschacht                             60
6 Tom Vannoppen (Bel) Palmans-Sapim                           60
8 Enrico Franzoi (Ita) Lampre-Caffita                         39
9 Davy Commeyne (Bel) Palmans-Sapim                           38
10 Tim Van Nuffel (Bel) Saey-Deschacht                        30
10 Peter Van Santvliet (Bel) Fidea Cyclocrossteam             30
12 Wilant van Gils (Ned) Rietveld WTC wielerteam              29
13 Wim Jacobs (Bel) Fidea Cyclocrossteam                      26
14 Martin Nijland (Ned) Eurogifts.com                         24
15 Jan Verstraeten (Bel) Fidea Cyclocrossteam                 19
16 Camiel van den Bergh (Ned) Saey-Deschacht                  15
17 Bart Aernouts (Bel) Rabobank                               14
18 John Gadret (Fra) Chocolade Jacques                        12
19 Jonathan Page (USA) Cervelo-HotTubes-Adidas-Mavic           9
20 Martin Zlámalík (Cze) Cyklo Team Budvar Tábor               7
21 Václav Jezek (Cze) Author Praha                             5
21 Dariusz Gil (Pol)                                           5
23 David Willemsens (Bel)                                      4
24 Petr Dlask (Cze) Author Praha                               3
25 Mario de Clercq (Bel) Palmans-Sapim                         1
25 Björn Rondelez (Bel) Chocolade Jacques - Wincor Nixdorf     1
 
U23 Men
 
1 Niels Albert (Bel) Palmans-Sapim                            96 pts
2 Radomír Simunek Jr. (Cze) Author Praha                      83
3 Lars Boom (Ned) Rabobank                                    69
4 Kevin Pauwels (Bel) Fidea Cyclocrossteam                    57
5 Geert Wellens (Bel) Fidea Cyclocrossteam                    54
5 Dieter Vanthourenhout (Bel)                                 54
7 Simon Zahner (Zwi)                                          49
8 Mariusz Gil (Pol)                                           46
9 Rob Peeters (Bel)                                           44
10 Tom Van Den Bosch (Bel)                                    42
11 Zdenek Stybar (Cze) G.S.Mercedes-Benz Selle Italia         37
12 Eddy Van Ijzendoorn (Ned)                                  35
12 Bart Dirkx (Ned)                                           35
14 Stijn Penne (Bel)                                          27
15 Jan Soetens (Bel)                                          24
16 Krzysztof Kuzniak (Pol)                                    22
17 Jempy Drucker (Lux) Fidea Cyclocrossteam                   12
18 Clément L'Hotellerie (Fra)                                 10
18 Thijs Van Amerongen (Ned)                                  10
20 Jeremy Powers (USA)                                         8
21 Nick Sels (Bel)                                             6
22 Mike Thielemans (Bel)                                       5
22 Dries Devenyns (Bel)                                        5
24 Maxim Debusschere (Bel)                                     4
25 Frederik Herpol (Bel)                                       2
25 Kenny Geluykens (Bel)                                       2
27 Sebastian Langeveld (Ned)                                   1
27 Bart Verschueren (Bel)                                      1
 
Juniors
 
1 Ricardo Van Der Velde (Ned)                                 93 pts
2 Tom Meeusen (Bel)                                           80
3 Jan Van Dael (Bel)                                          66
3 Wim Leemans (Bel)                                           66
5 Kevin Cant (Bel)                                            53
6 Rik Van Ijzendoorn (Ned)                                    52
7 Quentin Bertholet (Bel)                                     43
8 Patrick Vliegen (Ned)                                       42
9 Gianni Denolf (Bel)                                         39
10 Bart Senders (Ned)                                         36
11 Jan Mikkers (Ned)                                          28
11 Jan Arnouts (Bel)                                          28
11 Davy De Scheemaeker (Bel)                                  28
14 Dennis Vanendert (Bel)                                     23
15 Jo Pirotte (Bel)                                           14
16 Thomas Vernaeckt (Bel)                                     13
17 Dries Govaerts (Bel)                                       12
17 Stijn Joseph (Bel)                                         12
19 Ivar Hartogs (Ned)                                         11
19 Björn De Decker (Bel)                                      11
19 Mark Broks (Ned)                                           11
22 Christopher Janssens (Ned)                                 10
22 Boy Van Poppel (Bel)                                       10
22 Willem Schwaner (Ned)                                      10
25 Laurens De Vreese (Bel)                                     8
26 Ben Arnouts (Bel)                                           6
26 Koen Van Grootel (Ned)                                      6
26 Kenneth Van Compernolle (Bel)                               6
29 Mattijn Motshagen (Ned)                                     5
30 Robert Malyszek (Pol)                                       3
30 David Schloesert (Lux)                                      3
32 Kim Michely (Lux)                                           2
32 Remco Broers (Ned)                                          2
32 Dennis Verhoeven (Bel)                                      2
35 Dries Pauwels (Bel)                                         1
35 Nivard Van Acker (Bel)                                      1
35 Sylvester Janiszews (Pol)                                   1

Past winners
Men

2005 Erwin Vervecken (Bel)
2004 Erwin Vervecken (Bel)
2003 Sven Nijs (Bel)
2001 Erwin Vervecken (Bel)
2000 Richard Groenendaal (Ned) 
1999 Sven Nijs (Bel) 
1998 Bart Wellens (Bel) 
1997 Peter Willemsens (Bel) 
1995 Paul Herijgers (Bel) 
1994 Peter Willemsens (Bel) 
1993 Paul Herijgers (Bel) 
1992 Gustaaf Van Bouwel (Bel) 
1991 Dirk Pauwels (Bel) 
1990 Wim Lambrechts (Bel) 
1989 Kurt De Roose (Bel)

Women

2000 Daphny Van Den Brand (Ned)