Superprestige #6 - Vlaamse Aardbeiencross - C1
Hoogstraten, Belgium, January 25, 2004
2003 Results Results Past winners
Vervecken wins World's tune up
Wellens ready for rainbow repeat
The final sprint
Photo ©: Luc Claessen/CN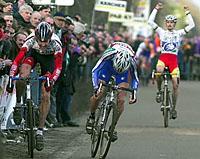 The Belgian domination continues, but today it was Erwin Vervecken who won the sixth round of the Superprestige series in Hoogstraten, Belgium. One week before the World Championships in Pontchâteau, France, all of the favourites were present and showing good form, and it was Vervecken who showed his own steadily improving condition to outsprint compatriot Tom Vannoppen for the victory. Series leader, Belgian champion, and outgoing world champion Bart Wellens completed the podium five seconds later, while arch-rival Sven Nys came home for fourth place.
"After a difficult start to the season I've been getting better and better," Vervecken said after his win. "Third in Diegem, third in Koksijde... I was just missing a victory."
Wellens set the early tempo, and only Vannoppen was able to hold his wheel. As a chase group formed, including the likes of Vervecken, Nys, Richard Groenendaal, and Sven Vanthourenhout, Wellens and Vannoppen had already pulled 15" clear. A fall in one of the turns took Wellens down, and as he struggled to untangle his bike from the fence Vannoppen sped off alone. However Vannoppen couldn't prevent the mighty Wellens from coming back, and it was in Wellens' return that Vervecken also made his move to distance the rest of the chasers.
The leading trio
Photo ©: Luc Claessen/CN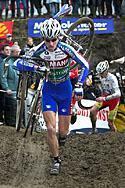 With three men away in the final lap the podium was secured. Vervecken proved his strength by riding the most difficult section of the course, which forced many to dismount, in the crucial last lap. Noting that he "didn't make a single mistake" in the finale, Vervecken took the sprint ahead of Vannoppen, while Wellens settled for third, knowing his form is just right for next week's rainbow jersey defense. Vervecken is also confident for Pontchâteau, but knows defending champion Wellens is still the man to beat.
"I'm hoping for a podium place in Pontchâteau," Vervecken said. "It's feasible. Maybe Wellens will have some bad luck, you never know. But without any setbacks, Wellens won't be beaten.
Photography
Images by Luc Claessen/Cyclingnews/www.actiefotos.be
Images by AFP/Peter De Voecht-STR
Images by Delphine Page/www.cycling-photos.net
Results
Elite Men
 
1 Erwin Vervecken (Spaar Select)                1.00.38
2 Tom Vannoppen (Bel)
3 Bart Wellens (Bel)                               0.05
4 Sven Nys (Bel)                                   0.51 
5 Maxime Lefebvre (Fra)                            0.54
6 Arne Daelmans (Bel)                              1.07
7 Ben Berden (Bel)                                 1.28
8 Peter Van Santvliet (Bel)                        1.29
9 Sven Vanthourenhout (Bel)                        1.42
10 Richard Groenendaal (Ned)
11 Davy Commeyne (Bel)                             1.59
12 Wim Jacobs (Bel)
13 Maarten Nijland (Ned)                           2.11
14 Camiel van den Bergh (Ned)                      2.12
15 Gerben de Knegt (Ned)                           2.19
16 Wilant van Gils (Ned)                           2.37
17 Petr Dlask (Cze)                                3.03
18 Jonathan Page (USA)                             3.05
19 Roger Hammond (GBr)                             4.09
20 Tadeusz Korzeniewski (Pol)                      4.15
21 Dariusz Gil (Pol)                               4.22
22 Christian Heule (Swi)                           4.26
23 Jan Verstraeten (Bel)                           4.54
24 Jean-Pierre Leijten (Ned)                       4.56
25 Tim Van Nuffel (Bel)                            4.58
26 Tim Pauwels (Bel)                               5.16
27 Bj÷rn Rondelez (Bel)                            5.45
28 David Rusch (Swi)                               6.29
29 Roel van Houtum (Ned)                           6.35
30 Eddy Van Bouwel (Bel)                           6.49
31 Bert Vervecken (Bel)                            7.18
32 David Laenen (Bel)                              7.39
33 Tsujura Keiichi (Jap)                           7.42
34 Gusty Bausch (Lux)                              7.48
35 Joachim Parbo (Den)                             8.02
36 Kevin Bossaerts (Bel)                          1 lap
37 Matthew Ellis (GBr)
38 Beat Wabel (Swi)
39 Jackson Stewart (USA)
40 Kris Smits (Bel)
 
U23 Men
 
1 Wesley Van der Linden (Brakel)                  51.00
2 Kevin Pauwels (Bel)                              0.11
3 Klaas Vantornout (Bel)                           0.19
4 Bart Aernouts (Bel)                              0.32
5 Martin Zlamalik (Cze)                            0.48
6 Mariusz Gil (Pol)
7 Simon Zahner (Swi)                               0.53
8 Krzysztof Kuzniak (Pol)                          1.02
9 Geert Wellens (Bel)                              1.14
10 Eddy van IJzendoorn (Ned)                       1.21
11 Sebastiaan Langeveld (Ned)                      1.25
12 Bart Dirckx (Ned)                               1.27
13 Jorn Van der Veken (Bel)                        1.56
14 Lars Boom (Ned)                                 2.01
15 Dieter Vanthourenhout (Bel)                     2.05
16 Stijn Penne (Bel)                               2.06
17 Jan Soetens (Bel)                               2.11
18 Pirmin Lang (Swi)                               2.17
19 Frantisek Kloucek (Cze)                         3.09
20 Koen de Kort (Ned)                              3.55
21 Rob Peeters (Bel)
22 Daan de Jonge (Ned)
23 Jeroen Thielemans (Bel)
24 Alan Obye (USA)
25 Martin Bina (Cze)
26 Jesse Anthony (USA)
27 Lorenzo Van Damme (Bel)
28 Joeri Kouwenhoven (Ned)
29 Stig Geerts (Bel)
30 Matthew White (USA)
31 Guy Bertels (Bel)
32 Coen Sevens (Ned)
33 Michael Cody (USA)
34 Bart Thielemans (Bel)
35 Andy Catteceur (Bel)
36 Roland Stenekes (Ned)
 
Juniors
 
1 Niels Albert (Bel)                              39.01
2 Thijs van Amerongen (Ned)                        1.07
3 Jempy Drucker (Lux)                              1.27
4 Bart Verschueren (Bel)                           1.38
5 Jeroen Dingemans (Bel)                           1.45
6 RenÚ Lang (Swi)                                  1.53
7 Rikke Dijkxhoorn (Ned)                           2.15
8 Wim Leemans (Bel)                                2.24
9 Jan Arnouts (Bel)                                2.34
10 Bart Senders (Bel)                              2.58
11 Enrico Liebe (Ned)
12 Ricardo van der Velde (Ned)
13 Maxime Debusschere (Bel)
14 Kenny Geluykens (Bel)
15 Dennis Verhoeven (Bel)
16 Ian Bibby (GBr)
17 Rik van IJzendoorn (Ned)
18 Patrick Vliegen (Ned)
19 Jan Mikkers (Ned)
20 Gianni Denolf (Bel)
21 Jan Verhaegh (Bel)
22 James Driscoll (USA)
23 Thomas Tucker (USA)
24 Quentin Bertholet
25 Mark Broks (Ned)
26 Dieter Schol (Bel)
27 Steven Schol (Bel)
28 Przemyslaw Taciak (Pol)
29 Koen Bertels (Bel)
30 Alison Dunlap (USA)
31 Davy Gorissen (Ned)
32 Jeroen Bosmans (Bel)
33 Gina Hall (USA)
34 Jeffrey Maes (Bel)
35 Mattijn Motshagen (Ned)
36 Andy Brooks (USA)
37 Nico Ceunen (Bel)                              1 lap
38 Thomas Boeckx (Bel)
39 Tom Lambrechts (Bel)
40 Wendy Simms (Can)
41 Carmen D'Alusio (Bel)
42 Freek van Gurp (Ned)
 
Novices
 
1 Ben Arnouts (Bel)                               34.54
2 Tom Meeusen (Bel)
3 Dries Pauwels (Bel)                              0.43
4 Dries Govaerts (Bel)                             1.10
5 Jim Aernouts (Bel)                               1.27
6 Joeri Adams (Bel)
7 Kevin Cant (Bel)
8 Christopher Janssens (Bel)
9 Ramon Sinkeldam (Ned)
10 Johim Ariesen (Ned)
11 Dave De Cleyn (Bel)
12 Joeri Lambrechts (Bel)
13 Bart Hermans (Bel)
14 Raf Pluym (Bel)
15 Sven Nooytens (Bel)
16 Tom Oerlemans (Bel)
17 Tom Last (GBr)
18 Yannick Wydooghe (Bel)
19 Wim Thijs (Bel)
20 Gert Dockx (Bel)
21 Rob van der Velde (Ned)
22 Vincent Bastiaens (Bel)
23 Katrien Pauwels (Bel)
24 Pieter Van der Velde (Bel)                     1 lap
25 Jens Gys (Bel)
26 Kasper Oppenneer (Ned)
27 Steven Stenekes (Bel)
 
Superprestige standings after 6th round
 
Elite Men
 
1 Bart Wellens (Bel)                                166 Pts
2 Sven Nys (Bel)                                    133
3 Erwin Vervecken (Bel)                             106
4 Tom Vannoppen (Bel)                               105
5 Ben Berden (Bel)                                   97
6 Sven Vanthourenhout (Bel)                          92
7 Peter Van Santvliet (Bel)                          75
8 Richard Groenendaal (Ned)                          70
  Arne Daelmans (Bel)
10 Davy Commeyne (Bel)                               57
11 Maxime Lefebvre (Fra)                             53
12 Dariusz Gil (Pol)                                 48
   Petr Dlask (Cze)
14 Wilant van Gils (Ned)                             37
15 Camiel van den Bergh (Ned)                        30
16 Jan Verstraeten (Bel)                             29
17 Mario De Clercq (Bel)                             25
18 Vaclav Jezek (Cze)                                23
19 Gerben de Knegt (Ned)                             22
20 Wim Jacobs (Bel)                                  20
21 Maarten Nijland (Ned)                             17
22 Christian Heule (Swi)                             15
23 Bj÷rn Rondelez (Bel)                              12
   Jonathan Page (USA)
25 David Seco (Spa)                                   5
26 Thijs Verhagen (Ned)                               2
   Matthew Ellis (GBr)
   Tadeusz Korzeniewski (Pol)
   Roger Hammond (GBr)
30 Michael Baumgartner (Swi)                          1
   Tim Van Nuffel (Bel)
 
U23
 
1 Wesley Van der Linden (Bel)                       148 Pts
2 Martin Zlamalik (Cze)                             115
3 Bart Aernouts (Bel)                               109
4 Klaas Vantornout (Bel)                            108
5 Kevin Pauwels (Bel)                                94
6 Geert Wellens (Bel)                                93
7 Martin Bina (Cze)                                  66
8 Jan Soetens (Bel)                                  57
9 Radomir Simunek (Cze)                              56
  Jorn Van der Veken (Bel)
11 Dieter Vanthourenhout (Bel)                       51
12 Simon Zahner (Swi)                                39
13 Lars Boom (Ned)                                   37
14 Eddy van IJzendoorn (Ned)                         34
15 Vladimir Kyzivat (Cze)                            31
   Enrico Franzoi (Ita)
   Stijn Penne (Bel)
18 Krzsyztof Kuzniak (Pol)                           28
19 Tom Van den Bosch (Bel)                           26
20 Mariusz Gil (Pol)                                 23
21 Nick Sels (Bel)                                   21
22 SÚbastien Minard (Fra)                            19
23 Sebastiaan Langeveld (Ned)                        17
24 Guus Magielse (Ned)                               16
   Bart Dirkx (Ned)
26 David Kasek (Cze)                                  8
   Frederik Herpol (Bel)
   Koen de KLort (Ned)
   Pirmin Lang (Swi)
30 Gerben de Vries (Ned)                              7
31 Dries Devenyns (Bel)                               6
32 Kevin Van Lierde (Bel)                             4
   Rob Peeters (Bel)
34 Adrien Delautre (Fra)                              2
   Frantisek Kloucek (Cze)
36 Mike Thielemans (Bel)                              1
 
Juniors
 
1 Niels Albert (Bel)                                145 Pts
2 Thijs van Amerongen (Ned)                         110
3 Bart Verschueren (Bel)                            109
4 Jempi Drucker (Lux)                               102
5 Maxime Debusschere (Bel)                           95
6 Jeroen Dingemans (Bel)                             92
7 Enrico Liebe (Ned)                                 79
8 Rikke Dijkxhoorn (Ned)                             64
9 Bart Senders (Ned)                                 46
10 Patrick Vliegen (Ned)                             45
   Ricardo van der Velde (Ned)
12 Kenny Geluykens (Bel)                             42
13 ClÚment L'Hotellerie (Fra)                        30
14 RenÚ Lang (Swi)                                   29
15 Jan Arnouts (Bel)                                 23
16 Jan Verhaegh (Bel)                                20
17 Gianni Denolf and Wim Leemans (Bel)               18
19 Koen Boelens (Bel)                                17
   Quentin Bertholet (Bel)
21 Rik van IJzendoorn (Ned)                          14
22 Quincy Vens, Ales Broz (Cze)                      13
   Willem Schwaner (Ned)
25 Ivar Hartogs (Ned)                                12
   Krzysztof Wieczorek (Pol)
27 Stijn Joseph (Bel)                                11
28 Valentijn Ponseele (Bel)                          10
   Jan Skarnitzl (Cze)
   Davy De Scheemaeker (Bel)
31 Nick Rafael (Swi)                                  9
32 Dieter Buyens 8
   Petr Novotny (Cze)
   Djuri van Rijbroek (Ned)
35 Karol Sroka (Pol)                                  7
   Steven Van Vooren (Bel)
37 Kristof Luyten (Bel)                               6
   Dennis Verhoeven (Bel)
39 Davy Gorissen (Bel)                                5
   Jan Mikkers (Bel)
   Ian Bibby (GBr)
42 Bart Van Erdegem (Bel)                             4
   Rik Jonkheijm (Ned)
   Dries Dewit (Bel)
   Pawel Cieslik (Cze)
46 Harm Vandekerckhove (Bel)                          3
   Koen van Grootel (Ned)
   Stijn Hebben (Bel)
   Jerry Kallenfels (Ned)
   Paul Timmer (Ned)
   Froimens Fricher (USA)
52 Davy Depaepe (Bel)                                 1
   Tom Broekhuysen

Past winners
Men

2004 Erwin Vervecken (Bel)
2003 Sven Nijs (Bel)
2001 Erwin Vervecken (Bel)
2000 Richard Groenendaal (Ned) 
1999 Sven Nijs (Bel) 
1998 Bart Wellens (Bel) 
1997 Peter Willemsens (Bel) 
1995 Paul Herijgers (Bel) 
1994 Peter Willemsens (Bel) 
1993 Paul Herijgers (Bel) 
1992 Gustaaf Van Bouwel (Bel) 
1991 Dirk Pauwels (Bel) 
1990 Wim Lambrechts (Bel) 
1989 Kurt De Roose (Bel)

Women

2000 Daphny Van Den Brand (Ned)