GP Rouwmoer Essen (Gazet van Antwerpen Trofee Veldrijden #3) - C2
Essen, Belgium, December 18, 2004
2003 Results Results Past winners
First win for Bart Wellens

The podium: who's a happy boy?
Photo ©: Luc Claessen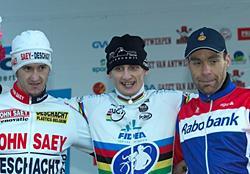 After a very difficult period this season, Bart Wellens finally won in Essen. The world champion was faster than Ben Berden and Richard Groenendaal in the fourth race of the Gazet van Antwerpen Trofee Veldrijden. Richard Groenendaal still leads the classification with an advantage of then points on Sven Nys, who finished fourth in Essen after a bad start.
Photography
For a thumbnail gallery of these images, click here
Images by Luc Claessen/www.actiefotos.be
The podium - an ecstatic Bart Wellens (Fidea Cyclocrossteam), flanked by Ben Berden (Saey-Deschacht, 2nd) and Richard Groenendaal (Rabobank, 3rd).
Images by www.cyclocrossprosport.be
Results

Elite/U23
 
1 Bart Wellens (Bel) Fidea Cyclocrossteam                            59.56
2 Ben Berden (Bel) Saey-Deschacht                                     0.01
3 Richard Groenendaal (Ned) Rabobank                                  0.02
4 Sven Nys (Bel) Rabobank                                             0.28
5 Sven Vanthourenhout (Bel) Quickstep - Davitamon                    
6 Enrico Franzoi (Ita) Saeco                                          0.45
7 Tom Vannoppen (Bel) MrBookmaker.com - Palmans                       1.40
8 Jan Verstraeten (Bel) Saey-Deschacht                                1.52
9 Mario de Clercq (Bel) MrBookmaker.com - Palmans                     1.59
10 Kevin Pauwels (Bel) Fidea Cyclocrossteam                           2.02
11 Peter Van Santvliet (Bel) Fidea Cyclocrossteam                     2.13
12 Bart Aernouts (Bel) Rabobank                                       2.18
13 Tim Van Nuffel (Bel) Saey-Deschacht                                2.22
14 Davy Commeyne (Bel) MrBookmaker.com - Palmans                      2.27
15 Erwin Vervecken (Bel) Fidea Cyclocrossteam                         2.46
16 Jirí Pospisil (Cze) Stevens International Cyclocross Team          2.49
17 Christian Heule (Swi) Stevens International Cyclocross Team        2.55
18 Geert Wellens (Bel) Fidea Cyclocrossteam                           3.07
19 Wilant van Gils (Ned) Rietveld WTC wielerteam                      3.50
20 David Willemsens (Bel)                                             4.04
21 Václav Jezek (Cze) Author Praha                                    4.15
22 Stijn Penne (Bel)                                                  4.17
23 Mariusz Gil (Pol)                                                  4.29
24 Bart Dirckx (Ned)                                                  4.39
25 Camiel van den Bergh (Ned) Saey-Deschacht                          4.53
26 Jan Soetens (Bel)                                                  5.01
27 Tadeusz Korzeniewski (Pol)                                         5.43
28 Dieter Vanthourenhout (Bel)                                        6.09
29 Jef De Boeck (Bel)                                                 6.29
30 Alessandro Fontana (Ita)                                           7.48
One lap behind
31 Kevin Bossaerts (Bel)                                                 
32 Krzysztof Kuzniak (Pol)                                               
33 Nick Sels (Bel)                                                       
34 Paul Van Loon (Bel)
 
Starters : 39
Classified: 34


Juniors
 
1 Jan Arnouts (Bel)                                                  44.48
2 Bart Senders (Ned)                                                  0.07
3 Tom Meeusen (Bel)                                                   0.08
4 Björn De Decker (Bel)                                               0.30
5 Kevin Cant (Bel)                                                    0.53
6 Richard van Loon (Ned)                                              1.13
7 Gregory Joseph (Bel)                                                1.50
8 Marcin Sobiepanek (Pol)                                             2.10
9 Dirk Van Dijck (Bel)                                                3.50
10 Jan Van Aert (Bel)                                                 4.04
11 Wim Thijs (Bel)                                                    5.54
12 Tom Van der Schoot (Bel)                                           8.00
13 Filip Van Tuyn (Bel)                                           
14 Kristof Meulenyzer (Bel)                                        
 
Starters: 14
Classified: 14
 
Novices
 
1 Jim Aernouts (Bel)                                                 30.37
2 Rob van der Velde (Ned)                                             0.26
3 Bart Bruyndonckx (Bel)                                              0.44
4 Marek Konwa (Pol)                                                   0.45
5 Stef Boden (Bel)                                                    0.52
6 Pieter Bosmans (Bel)                                                1.01
7 Nick De Proost (Bel)                                                2.20
8 Bert Vermeiren (Bel)                                                3.03
9 Anne Arnouts (Bel)                                                  3.59
10 Kurt Brosens (Bel)                                                 4.15
11 Thomas Gysbrechts (Bel)                                            4.25
12 Charlotte Van Loon (Bel)                                           4.31
13 Nick Lauwers (Bel)                                                 5.31
14 Dimi Diels (Bel)                                                   8.54
 
Starters: 14
Classified: 14


Gazet van Antwerpen Trofee Veldrijden standings after round 3

Elite

1 Richard Groenendaal (Ned) Rabobank                                    96 pts
2 Sven Nys (Bel) Rabobank                                               86
3 Sven Vanthourenhout (Bel) Quickstep - Davitamon                       78  
3 Ben Berden (Bel) Saey-Deschacht                                       78   
5 Erwin Vervecken (Bel) Fidea Cyclocrossteam                            70
6 Davy Commeyne (Bel) MrBookmaker.com - Palmans                         63  
6 Jan Verstraeten (Bel) Saey-Deschacht                                  63  
8 Tim Van Nuffel (Bel) Saey-Deschacht                                   62  
8 Peter Van Santvliet (Bel) Fidea Cyclocrossteam                        62  
10 Mario de Clercq (Bel) MrBookmaker.com - Palmans                      59
11 Bart Aernouts (Bel) Rabobank                                         57
12 Václav Jezek (Cze) Author Praha                                      52
13 Wilant van Gils (Ned) Rietveld WTC wielerteam                        51
14 Bart Wellens (Bel) Fidea Cyclocrossteam                              48
15 Wim Jacobs (Bel) Fidea Cyclocrossteam                                46
16 David Willemsens (Bel)                                               42
17 Jirí Pospisil (Cze) Stevens International Cyclocross Team            40
18 John Gadret (Fra) Chocolade Jacques                                  29
19 Enrico Franzoi (Ita) Saeco                                           25
20 Christian Heule (Swi) Stevens International Cyclocross Team          24 
20  Tom Vannoppen (Bel) MrBookmaker.com - Palmans                       24    
22 Jonathan Page (USA) Cervelo-HotTubes-Adidas-Mavic                    16
23 Kamil Ausbuher (Cze) Cyklo Team Budvar Tábor                         15  
23 Michael Baumgartner                                                  15    
25 Björn Rondelez (Bel) Chocolade Jacques - Wincor Nixdorf              12
26 Matthew Ellis (GBr)                                                  11
27 Dariusz Gil (Pol)                                                     7      
27 David Meys (Bel) Vlaanderen T Interim                                 7   
27 Jorn Van der Veken (Bel)                                              7   
30 Yoeri Beyens (Bel)                                                    7
31 Isaac Suarez (Spa)                                                    6
31 Camiel van den Bergh (Ned) Saey-Deschacht                             6   
33 Tadeusz Korzeniewski (Pol)                                            4
34 Alessandro Fontana (Ita)                                              1
 
U23
 
1 Mariusz Gil (Pol)                                                     47 pts
2 Kevin Pauwels (Bel) Fidea Cyclocrossteam                              43
3 Bart Dirckx (Ned)                                                     32
4 Krzysztof Kuzniak (Pol)                                               28
5 Stijn Penne (Bel)                                                     27
6 Dieter Vanthourenhout (Bel)                                           23
7 Nick Sels (Bel)                                                       17
8 Radomír Simunek Jr. (Cze) Author Praha                                15
9 Dries Devenyns (Bel)                                                  14
10 Mike Thielemans (Bel)                                                13  
10 Geert Wellens (Bel) Fidea Cyclocrossteam                             13  
12 Rob Peeters (Bel)                                                    12
13 Jempy Drucker (Lux) Fidea Cyclocrossteam                             10
14 Jan Skarnitzel (Cze)                                                  9
15 Kay Van den Brande (Bel)                                              8
16 Frederik Herpol (Bel)                                                 7
17 Daan de Jonge (Ned)                                                   6
18 Quincy Vens (Bel)                                                     5
18 Jan Soetens (Bel)                                                     5 
20 Maxim Debusschere (Bel)                                               4 
20 Jeremy Powers (USA)                                                   4   
22 Gerald Uyttersprot (Bel)                                              2
22 Jef De Boeck (Bel)                                                    2  
24 Jérôme Boussekey (Fra)                                                1

Past winners
2003 Bart Wellens (Bel) Spaar Select              
2002 Bart Wellens (Bel) Spaar Select 
2001 Peter Van Santvliet (Bel) Spaar Select   
2000 Erwin Vervecken (Bel) RVS-Liege
1999 Arne Daelmans (Bel)


Past winners by Mario Stiehl, www.world-of-cycling.com