Recently on Cyclingnews.com
An interview with Matthew White
White knight boards the blue train
By Anthony Tan
With five contenders all capable of winning the 58th edition of the Tour of Spain, the overall classification could well be decided on the strength of the team. The blue train of US Postal presented by Berry Floor is said to be the strongest in history; Aussie workhorse Matthew White is one of the nine Postal bulls who will be attempting to lead the charge to victory for his leader Roberto Heras.
Matthew White
Born: February 22, 1974
Place of birth: Sydney, New South Wales, Australia
Marital status: Wife Jane Saville, Olympian (walking)
Turned professional: 1997
Teams: US Postal Service presented by Berry Floor (2003), US Postal Service (2001-02), Vini Caldirola (1999), Amore e Vita (1998), Giant-ZVVZ (1997), Giant (1996)
Career highlights
2003 - US Postal Service presented by Berry Floor
2nd, Stage 1 TTT, Volta a Catalunya
4th, Wachovia Invitational
7th, Quatre Jours de Dunkerque
9th, Tour of Belgium
10th, Tour de la Region Wallonne
2001 - US Postal Service
10th, Tour de Picarde
1999 - Vini Caldirola
1st, Stage 6, Tour de Suisse
4th, Australian Road Championship
1998 - Amore e Vita
1st, Stage 5, Tour of Tasmania
1997 - ZVVZ Giant
4th, Grand Prix Cycliste de Beauce
1996 - Giant
2nd, Stage 1, Tour Dupont 1996
"THE REASON WHY I CAME HERE WAS FOR ROBERTO. He asked for me especially to come here, so obviously my first commitment is for Roberto."
It is this selfless attitude on the US Postal Service squad over the last three years that has earned Matthew White the highest level of respect among his team-mates and directors Johan Bruyneel and Dirk Demol. Though somewhat unusually, he was only given the thumbs up for the Vuelta team just a few days ago.
Early spring in Belgium... uuuggh.
Photo: © Emmanuel Isnard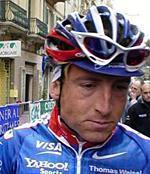 "I only found out I was doing the Vuelta three days ago," says White from his dugout in the Spanish Pyrenees, the training ground for a number of the Posties over the last two and a half weeks. "I was one of ones who was always going to be touch-and-go with the Vuelta. We've got such a competitive team, and they [the team directors] wanted to leave it to the last minute.
"Obviously I knew I was going to be in contention for the Vuelta, so I had to train as if I was going. It is hard mentally, but I had a lot of morale to come here, so they basically made a decision last Sunday after the Grand Prix Eddy Merckx that I was going."
Despite the uncertainty of training thousands of kilometres without knowing whether it was going to be put to good use, 'Whitey' seems unphased by it all. But that's how it's always been for the 29 year-old Sydneysider.
"You work out pretty quickly that if you're not going to the Tour, you've got to be strong elsewhere."
In his three years riding for the blue train, he now knows that this is all part of the game at US Postal. In an incredibly competitive (though never malicious) environment, just being selected feels like winning. But missing out on selection for the Tour de France for the third consecutive year must have hurt, surely?
Says White with the pragmatism of a director than a rider, "Sure, the Tour de France is the biggest race in the world, but if you get hung up on one race... people don't pay you to ride for three weeks in July. I wanted to be strong for a longer period of the year, and you work out pretty quickly that if you're not going to the Tour, you've got to be strong elsewhere."
Late Spring in Belgium... grrrr!
Photo: © Elmar Krings
'Elsewhere' for White began with the Tour Méditerranéen, Classic Haribo, Omloop Het Volk, Paris-Nice and Milan-San Remo, followed by an assault on the spring classics with George Hincapie and Vjatceslav Ekimov. However, being an asthmatic since childhood, an unusually warm spring wreaked havoc on his body, causing a mild but stubborn allergic reaction to morph into a full-blown lung infection. 24 hours before the start of the Tour of Flanders, only the second World Cup of the season, White was sent home to rest, sidelined from the racing scene for almost five weeks.
"I have a big problem with allergies," confesses White. "It's always the luck of the draw. When I'm home in Spain, I have no problems because it's too dry and the plants are different, but when I go to Belgium or anywhere in northern Europe in spring, I can get big problems and this year, I had problems worse than ever."
His return was an impressive one. A top 10 in two tough stage races in May, the Four Days of Dunkirk and the Tour of Belgium, led to an equally strong performance in North America at the Wachovia Cycling Series, where White placed fourth at the Wachovia Invitational and charged around Philly like a raging bull. It appeared he'd done enough to warrant selection to accompany Lance on his quest for a fifth straight Tour win.
From an outsider's perspective, however, it also appeared that Johan Bruyneel had already chosen his nine men for the Centenary Tour the day after Armstrong's fourth Tour win. Dubbed "the year of the team", US Postal rode so brilliantly in 2002 that it simply wouldn't have made sense for the risk-averse team director to choose otherwise. "I definitely had the form to ride to Tour, but the guys who went to the Tour were the best riders for the job," admits White.
Other stuff

Any hopes for a stage win? "There's always opportunities in races, and if there is a chance, I'll be taking it, that's for sure."
You're a man for the flat, but how important is it to be able to climb? "To get through and do a good job in the Vuelta, I've got to be able to climb, and that's one of the reasons why I'm in the Pyrenees with my team-mates right now, especially for a guy like me who will be playing a big team role."
You said you can still improve - what areas? "My weight is a big problem... well, not a big problem, but I know when my weight is down, I'm climbing much better. I'm not a small guy, but now I'm a lot more consistent with my weight, so it makes life a lot easier."
Have you given much thought to the World Championships? "Not really. I only found out I was doing the Vuelta three days ago, and if I wasn't doing the Vuelta, I wasn't going to go to the World's. Now that I'm doing the Vuelta, I'm going to go right through to the World Championships. It'll be interesting to see who goes this year. We're not going to send the full team; Cadel Evans is going to come, Michael Rogers and maybe the Davis brothers, so it's going to be a small team.
"But I always like to ride a good World's - the big thing is that it's two weeks after the Vuelta, so I'm either going to be very good at the World Championships or nothing super. Two weeks is sort of a funny time period; you're either very good after a three week stage race or you haven't recovered enough."
You've been coaching your wife Jane [Saville, Olympic walker] for over a year now. Do you come from a running background yourself? "I did athletics when I was younger, but her race is basically time trialling, so endurance principles don't change much - they just need to be adapted from sport to sport."
Is the Tour something you still want to do? "For sure, it's the only race I haven't done in my career, and I'll be doing it - but I'm happy with the year that I've had."
Warming up at Wachovia
Photo: © Jonathan Devich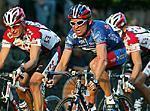 He may have narrowly missed the Tour team on several occasions, but White's been on the roll-call for the Vuelta a España three of out three times. And of all three Grand Tours, White believes experience counts most in Spain.
"The Vuelta's not like the Tour de France or the Giro - it's a very, very different race," says White. "You've got short stages, mountains scattered around everywhere... a lot of things can happen. There's no flat stages, then Alps, then Pyrenees - looking at the profile for second day for instance, we've got a category 1 [climb] 20 k from the finish. It's not as set as the Tour."
Taking a closer look at the profile of this year's Vuelta, he's quite correct. With no stage over 200 kilometres in length and a scattered parcours, White tells me the margin for error is negligible: "Here in the Vuelta, it's balls to the wall every day. There's no allowance for any mistakes if you get dropped early or if you're having a bad day; you've just got to try and push through it." I start forming a mental impression of this colourful expression... and begin to feel a little queasy.
"Here in the Vuelta, it's balls to the wall every day."
Six seasons in Europe and four Grand Tours down, Matthew White has also been learning a lot about Matthew White. He knows now not to panic in the first couple of days of a three-week stage race if things aren't going so well; he also knows that every ounce of energy he saves matters, and it means nothing to him whether he loses 5 or 25 minutes on a stage once his job for the day is complete. "I'm not riding for 70th place in the Vuelta - I'm riding for the win for my team," he says candidly.
"If I'm in the second group or the last group on the road, it doesn't matter; it doesn't make sense to me, fighting, fighting every day to lose five minutes - you're better off taking it easy and saving it for the next day. Every bit of energy you save adds up."
Raging bull
Photo: © Sirotti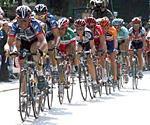 When choosing his army, Roberto Heras must have remembered his time in yellow not only from last year's Vuelta, but more recently at the Volta Catalunya, where the magnanimous White, clearly at home on the flat and in the crosswind, sacrificed himself for the flyweight Spaniard during the entire race. Heras also knows his performances in the mountains of the Vuelta will be determined to a large extent by his ability to save energy, so White's inclusion is no surprise; the tenacious Aussie is well aware he will need to play an almost identical role to that at Catalunya - albeit for thrice longer - where he, Hincapie, Beltran, Landis, Rubiera et al must cocoon the petite Heras throughout.
"In the first week, I'll be sticking by Roberto and looking after him to the bottom of the climb, and in the second and third week - which is where I usually get stronger - we can go from there and just play it day by day," he says.
"There's eight stages which are going to be flat or crosswinds, but we've got a very, very strong team for that this year," adds White with confidence. "Roberto lost time in the past with Kelme on the crosswind stages, but this team is just so strong on the flat; I'll definitely be helping him so we don't miss any moves or splits."
Even when asked about his contract with US Postal winding up at the end of year, White displays the same nerve. While somewhat reserved regarding the whereabouts of his future destination, he tells me he'll have an answer less than 10 days from now, and so long as he continues to improve and enjoy himself, the White Knight will continue to remain in the profession - although aboard a different train.