Recently on Cyclingnews.com
An interview with José Antonio Pecharromán
A future Grand Tour star
Pecharroman: "2004 will be crucial"
Photo: © AFP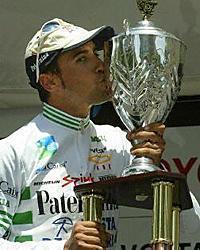 From total obscurity, José Antonio Pecharromán burst into the limelight this year after winning two of the biggest stage races in Spain. The fact that these races were spaced less than a week apart from each other has fuelled Pecharromán's potential as a future Grand Tour star, with Patrick Lefevre first to show confidence in him with a two year contract at Quick.Step-Davitamon. Hernán Alvarez Macías spoke with the rider from Cáceres days before he embarks on his third Vuelta a España.
José Antonio Pecharromán was a prominent rider as an amateur. He appeared to be one of the big prospects in the Spanish peloton, but some prolonged injuries made him lose years of sacrifice and effort.
When faced with adversity, Pecharromán did not give up, and this year he is harvesting what the seeds he planted many years ago. 2003 has become his breakthrough year, a year of success and international recognition. "In my first years as a professional, I started having significant problems with injuries, making it hard for me to change from the amateur competition to the professional races," he says. "If physical problems are bothering you all the time, the jump to the pro world is even tougher. I first had to overcome my injuries, get back into the competition, and then try to improve myself little by little. Yes, I am indeed in good shape this year and I am at a level high enough to search for victories in the races I compete in."
José Antonio Pecharromán
Age: 25
Date of birth: June 16, 1978
Place of birth: Cáceres, Spain
Turned pro: 2000
Teams: Paternina - Costa de Almeria (2003), Jazztel - Costa de Almeria (2001-02), Costa de Almeria (2000)
Career highlights
2003 - Paternina - Costa de Almeria
1st, Volta a Catalunya
1st, Euskal Bizikleta
1st, Points classification, Euskal Bizikleta
1st, Stage 6, Volta a Catalunya
1st, Stage 2, 3, 4B, Euskal Bizikleta
3rd, Stage 3, Volta a Catalunya
5th, Spanish ITT Championship
The Spanish rider won two races this year, the Bicicleta Vasca and the Volta a Catalunya. He preferred his victory in the Bicicleta Vasca "because it was a very demanding route in the Basque country and I felt I was in better form than anyone else, which enabled me to win the race. When one feels superior to the others on the bicycle, the race is more enjoyable. Also, it was my first victory in my pro career, and these feelings made the win spectacular for me. In the Volta I had all the pressure on my shoulders from what I had done the previous week (the Volta a Catalunya started a week after the finish of the Bicicleta Vasca), but I was mentally strong and prepared to win again."
"There is a crisis these days in the Spanish cycling."
The Vuelta a España is now about to start. And Pecharromán will be watched by many eyes to see how he responds in a big race: "I plenty of ambition for the Vuelta, but after the injury that I suffered in the femur following the Volta a Catalunya, I had to stop riding for almost the whole month of July. I restarted training at the end of July, so I think I will need around 30 more days or so to be 100 per cent ready and in good shape for the Vuelta. I will not get to the start of the competition as well prepared as I would like. I'll try to get a good rhythm in the beginning, and then try to have a better second half and win a stage."
Can now climb with the best
Photo: © AFP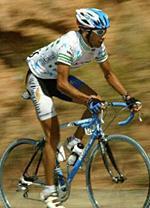 2004 will be a key and decisive year in the career of this cyclist from Cáceres. He asserts: "I want to keep on training and prepared during the winter for optimum performance. It's very important to have good preparation in order to obtain the performances that I demand from my body. I want to do very tough sessions in order to get as good results as I've got this year. I want to go outside Spain and obtain as many first positions as I achieved this last June."
He is now in the Spanish Paternina-Costa de Almería team. Nevertheless, he plans to move to a non Spanish squad like the Belgian superteam Quick.Step-Davitamon, and admitted the move from Paternina is almost complete: "There are a few small things to work out, but in the next few days I will have signed a contract. My contract with Paternina-Costa de Almería ends on December 31, so I'll be a free rider and able to sign with the team which offers me more money." [His move to Quick.Step was confirmed on Cyclingnews on August 12-Ed.]
Paternina losing their star to Quick.Step
Photo: © AFP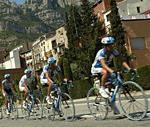 Pecharromán may be blunt in explanation, but he certainly won't be the last Spaniard moving outside the boundaries of his country to find better payment conditions. "There is a crisis these days in the Spanish cycling," he says. "The two big squads, ONCE and iBanesto, are about to abandon the professional world. The riders of these teams are not sure about what will happen to them next year. If there are no good offers here in Spain and you have much better propositions both professionally and financially outside the country, you should go where you have those conditions. It's perfectly clear that if the Spanish cycling were like a few years ago with strong teams like Vitalicio, ONCE or iBanesto, we would have a place here and would not move out."
Pecharromán has only taken part in two grand tours, two Vueltas a España. When asked whether there are some weaknesses to correct before he appears in the first positions of the big three, he responds: "First of all, what I should do is obtain an excellent level of form, begin one these races at that point and make an excellent start. However, I consider myself a very complete rider, but I have to continue improving in all aspects, especially in terms of consistency. I think that I am very prone to having bad days because of my youth. However, I must be very balanced in order to avoid bad days. I have made big improvements on the climbs; they were very hard places for me years before. I believe I'm very good in the time trials and because I have made progress in the mountains, I think I'm able to be a very complete cyclist fighting for the overall classification in any race".
He exhibits such self-confidence. I think I'm in front of a new star who will become a serious contender to win one of the big three Grand Tours. "Well, I don't know," says Pecharromán. "I have the desire to get better and better. I guess I will see how far I can go next year. 2004 will be crucial, and it will probably determine if I can obtain major achievements in the sport."