Track World Cup 08-09 Round 1 - CDM
Manchester, Great Britain, October 31-November 2, 2008
Main Page Results Overall standings Previous Session Next Session
Session 2 - October 31: Men: Keirin, Scratch race, Individual pursuit, Kilometre; Women: Sprint, Individual pursuit, Points race,
Evening session produces firsts
By Ben Atkins in Manchester
Purvis takes Keirin by a tyre
Francois Pervis was happy
Photo ©: Gerry McManus
Perhaps the first unexpected result of this World Cup came when Francois Pervis of Cofidis – who came through in the first round repêchage – managed to hold off the advances of Olympic sprint silver medallist Jason Kenny of Sky+ HD. For the 24 year-old Frenchman though, this result is a bright spot in what has been a disappointing year.
"For me it is very good," Pervis told Cyclingnews, "because in June this year I broke my collarbone and during two months [I did] zero cycling; zero training." That accident put paid to the main targets of his, and most other riders', season. "It was very difficult for me," he continued. "[Beijing]: finished; national championships: no. In my head it was very difficult."
The young Cofidis rider has found that this enforced break has meant that he has come to the first major event of the winter season fresh. "I took a long holiday – two months – and here I am very happy because it's my first victory in the Keirin," he continued, "and I'm very happy for my new team – Cofidis – it's very good. A very good day for me!"
For a while it was unclear which of Pervis or Kenny had taken the victory, so close was it on the line. A quick replay was all that was needed though, and the Frenchman could belatedly raise his arms in triumph. "In the finish line," he explained, "I don't know if I win or Jason, but after I see on the screen and I see that it's me and I'm very happy. Before, Jason was second in [Beijing] and he's very strong. For me it's very good."
Kenny was obviously disappointed not to have taken the victory on his home track, but equally philosophical about the way that the result had turned out. "Nearly," he shrugged. "Nearly, but not quite. I gave it my best shot, but he [Purvis] just hung on in the end. Fair enough, isn't it? It's always the same with races like that."
After competing in the Olympic Games this summer Kenny has just began to focus his efforts on the coming season. "I didn't really know how I was going to go," he said, "I didn't really want to expect too much of myself. My training's been a bit broken up coming into it and I've had a bit of a cold this last week, as well. I went into it just with the intention of trying my best and see what I come out with, and I'm pleased with second. I obviously would have liked to win – I went out to win – and I didn't lose by much, but it's a good start to the weekend."
As for the finish, where no one was sure of the winner for a few moments, Kenny briefly raised his arms, but readily conceded that Pervis had just taken it. "When I lunged I just put my head down," he explained, "and when I looked at him he didn't look too sure. So I was like [shrugs - ed.] and I looked at him and he was the same. I had an awful feeling just before it came up that I'd lost, and fair enough I had."
Armitstead dominates Points race in British 1-2-3
It was an all-British podium
Photo ©: Gerry McManus

If 100% Me's Lizzie Armitstead's victory in her qualification heat could be described as impressive, her victory in the final was nothing short of dominant. She won the first sprint, then the third, took a lap mid-race and picked up three further second places to finish on 39 points ahead of compatriot Lucy Martin of Great Britain and 100% Me teammate Katie Colclough.
"Maybe, yeah!" she laughed at the suggestion that she'd dominated the race. "It hasn't really settled in yet. I'm still a bit, 'ooh, I've got the [World Cup] jersey on!' – I didn't expect the jersey; that was a nice touch. Yeah, dominant maybe, in this World Cup, but it wasn't the best field."
Midway through the race, Colclough got away with a few others and managed to get a lap on the field. Armitstead soon followed, but didn't find the process as simple as she might have liked. "I had to do quite a bit of work there by myself, chasing that," she continued, "A few girls got across to me, but then I felt like it was too dangerous so I had to jump them and then I finally got across. It was good.
"It wasn't easy, taking the lap was difficult, really, really hard; I was struggling. The race actually went quite quickly I was quite pleased; eighty laps went very fast so it was good."
Armitstead has not yet reached her 20th birthday, but has recently signed for the Lotto-Belisol Ladies Team in Belgium. This victory though now gives her a dilemma as to which branch of the sport to focus on in the early part of next season, particularly as the World Track Championships clash with the Italian round of the road World Cup.
"It's difficult," she explained, "because I was sort of expecting that it would be the road decision – rather than the track decision – but I don't know, I've just won a World Cup, maybe it's going to be the track. I don't know, we'll see."
At only 19 years of age, Armitstead is already a well-established figure in the British Cycling setup, and is already seeing younger women stepping up to challenge her, like second and third placed 18 year-olds Lucy Martin (Great Britain) and Colclough.
"It's fantastic," she laughed. "It's really good that there are loads of girls coming up behind me, in training as well. I think that's where it's come from: the last six weeks we've been together leading into the Europeans, and then from there it's been really good."
Stroetinga takes scratch by a lap
The scratch race podium
Photo ©: Gerry McManus

Wim Stroetinga of the Netherlands took victory in the men's scratch race final by finishing a lap ahead of the whole of the rest of the field. He took his first lap early on and then latched on to the back of a later attack to become the only rider to have taken two and take a simple victory.
"Normally, I get it just to sprint," explained the 24 year-old Dutchman to Cyclingnews. "I get it at that point, it's a bit strange for me also winning by one lap in front of the peloton, but it's pretty cool.
"The first lap was with Erik Moes from Germany," he continued, "and the guy who was third from Czech [Martin Blaha (ASC Dukla Praha)], the second lap I took with Wiggins."
Stroetinga – who recently signed a contract for 2009 with Team Milram – recognised the danger posed by the World and Olympic pursuit champion and six-day specialist. He managed to watch the Briton though, and use his power to his own advantage. "I was one lap ahead, and I went again with Wiggins, because I thought Wiggins would go again. I just stayed on his wheel and got the second lap. Then it was just following the peloton.
"It was strange for me, I never did that before," he added.
Houvenaghel in hot pursuit
Wendy Houvenaghel rode superbly
Photo ©: Gerry McManus

As the capacity Manchester crowd expected, both medal races of the women's individual pursuit fifnal went with the faster qualifiers, and both to home riders. After posting a time close to the one she set in Beijing this summer, Great Britain's Wendy Houvenaghel was too strong for Canadian Tara Whitten, taking a two and a half-second lead after the first kilometre and extending it to almost nine by the finish.
"I'm really pleased," said Houvenaghel to Cyclingnews after the race, "just with the form I've showed this evening. I haven't really put that much training into the last few weeks to be honest and it gives me a good starting point to build on in the lead up to the World Championships in March."
Most riders who rode at the Olympic Games in Beijing this summer – particularly the ones who won medals – were posting far slower times as they wind down before the start of the long winter season. Houvenaghel seemed to be bucking that trend though, almost seeming to have got even faster.
"I know," she agreed, "it's quite strange actually, I'm just really pleased that the form I have had has been tapped into again quite straightforwardly, without too much effort. It's very encouraging for me now to take that forward and make a World class performance in March."
Despite taking an early lead in the season long World Cup series, Houvenaghel will instead focus her energies on the jersey that has so far eluded her. "I've won the World Cup jersey twice now – in 05/06 and 06/07 – and I'm really focusing now on the World Championships," she confirmed.
The bronze medal match was taken by 100% Me rider Joanna Rowsell in similar, if slightly less emphatic style. For the 19 year-old, this marks a first in senior competition. "I'm really happy," she told Cyclingnews, "it's my first ever World Cup so to come away with a medal is great especially in the individual pursuit which is the event I'm just starting out in really.
"I rode the World Championships team pursuit this year, but this is only my second competitive individual pursuit over three K, so that's really good."
Women's Sprint Final: Pendleton confirms, at a canter
Victoria Pendleton punches the air
Photo ©: Gerry McManus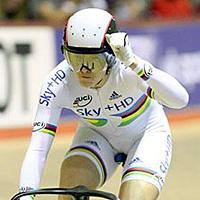 World and Olympic champion Victoria Pendleton (Sky+ HD) made short work of her opponent Zheng Lulu (China) to take gold in just two rounds. The Briton won in such a straightforward fashion that she surprised even herself by how simple it appeared to be.
"Actually, I'm really surprised how straightforward it was today," admitted Pendleton to Cyclingnews. "I didn't expect to have form like that. ... The fact that I've really struggled with training for the last three or four weeks – in terms of motivation since the Olympics – it's been a real surprise to still have this much left this far out..
"Because I've been trying to maintain some form rather than going back into my winter training, because we haven't had time, it's been a big learning experience in terms of how long I can maintain some kind of speed."
Despite surprising herself by finding such good form after such a long period of racing, Pendleton was quick to acknowledge the Manchester crowd's contribution to her victory. "When it's your home crowd and everyone's cheering for you it does make a massive difference," she said, "it gives you extra confidence. You want to please the crowd, so it does make a difference."
Despite taking the lead in the World Cup competition Pendleton will not look to defend it in the coming rounds, preferring to focus her attention on the big target of this season: the defence of her rainbow jerseys.
"I'm going back into training," she explained. "I'm going to do a solid training block until the last World Cup [in Copenhagen, Denmark], just because I need to put the ground work in because I know come March I'm really going to struggle with fining something to work with. And everyone goes better at the Worlds, so I need to go back in order to put some ground work in to improve for the Worlds in Poland."
The race for the bronze saw bad news for the home nation as Ukrainian Lyubov Shulika beat Great Britain's Anna Blyth over two rounds.
Clancy takes rare solo prize in Pursuit Final
Ed Clancy thanks the crowd
Photo ©: Gerry McManus

Great Britain team pursuiting stalwart Ed Clancy took the individual pursuit competition in a rare individual competition. Despite a strong qualification ride and an emphatic four-second victory over second-placed Vitaliy Shchedov of the Ukraine, Clancy denied that this was a move over to the solo event.
"For sure, it was good tonight," he said to Cyclingnews, "I really enjoyed it, but for me it wasn't as good as getting up there with my mates. I live and die for those guys, you know, and there's nothing better than getting up there with them. Their not just teammates, they're good mates and I really get a buzz out of riding with those guys; for me that's the ultimate.
"Having said that, I did enjoy tonight and it's nice to try different things," he added.
Another shot at personal glory looks unlikely then, especially as in the Great Britain team Clancy has become used to accepting nothing but victory. "Looking forward," he continued, "there's the Worlds in March and I've got to think: is it worth going for the IP though. It's easy to see Bradley [Wiggins] has only gone a few seconds quicker, but at this level a few seconds is quite a lot. I don't want to waste my time getting silver behind him, especially as I enjoy riding with the team so much.
"We could all have challenged for a silver medal behind Brad at the Olympics, but we wanted to do something special together and I'm glad we did it, I wouldn't change that for anything."
The bronze medal was taken by Valery Kaykov of Team Lokomtiv in even more dominating style over Eloy Teruel of Spain with a margin of victory approaching six seconds.
Daniell is Britain's new Kilo hero
David Daniell salutes the crowd
Photo ©: Gerry McManus

David Daniell, 18, of Great Britain took victory in the men's kilometre time trial and emerges as yet another potential World-beating British sprinter on the World stage. On a night of unspectacular times in an event that has lost a good deal of its sheen since being dropped form the Olympic programme, Daniell's sub-1:02 time stood out as truly World class.
"It came from the training day in and day out," he said after his ride, "from working with the coaches and trying to get every minimal gain. Then everything went right for me today, it's really good that I've smashed my PB [personal best, taking 1.1 seconds off it - ed.] and won a gold as well."
Whether or not Daniell's future lies in racing this event, he believes that the strength and endurance it gives riders stands them in good stead for other sprint events.
"I think to become a good sprinter you need to become a good kilo rider," he explained. "I think it's where Chris Hoy has proved that you need to have that basic strength which you can build on your Keirin and sprint off the back of. I think I'll always train for the kilo, I'll maybe not race the kilo, but I'll train for it, and train for my sprint on top of that as well."
Daniell is the latest in a long line of up and coming young sprinters, whose presence puts pressure on established names, and this, he believes, is all for the good.
"I think it's a really good atmosphere," he continued, "I think if we push the older ones on then I think we'll all improve. It's a bit like: you go a bit faster, someone else gets a bit worried and they train harder and go faster, so it's good for the full team."
Starting in twos on opposite sides of the track like a short distance pursuit event, Thierry Jollet of US Creteil in the fourth of ten pairs was the first man to get under 1:05. The lead lasted until Poland's Kamil Kuczynsk took it to just over 1:03 before Daniell blasted over a second off the time. Most of the late starters came in below Jollet, but no one could get close to Daniell.
Photography
For a thumbnail gallery of these images, click here
Images by Gerry McManus/www.gerrymcmanus.co.uk
Results
Women's Individual Pursuit
1 Wendy Houvenaghel (GBr) Great Britain    3.30.591
2 Tara Whitten (Can) Canada                3.39.584 (51.284km/h)
3 Joanna Rowsell (GBr) Team 100% Me        3.41.875
4 Charlotte Becker (Ger) Germany           3.44.446
5 Tatsiana Sharakova (Blr) Belarus               
6 Pascale Jeuland (Fra) France                   
7 Jolien D'hoore (Bel) Belgium                   
8 Svitlana Galyuk (Ukr) Ukraine                  
9 Edyta Jasinska (Pol) Poland                    
10 Ana Usabiaga Balerdi (Spa) Cespa Euskadi      

Men's Keirin
Second Round
 
1 Martin Blaha (Cze) Asc Dukla Praha                                        
2 Kamil Kuczynski (Pol) Poland                                              
3 Christos Volikakis (Gre) Greece                                           
4 Matthew Crampton (GBr) Great Britain                                      
5 Andriy Vynokurov (Ukr) Ukraine                                            
6 Denis Spicka (Cze) Czech Republic                                         
2 Martin Blaha (Cze) Asc Dukla Praha                                        
2 Teun Mulder (Ned) Netherlands                                             
3 Denis Dmitriev (Rus) Russia                                               
4 Charlie Conord (Fra) Us Creteil                                           
5 Hodei Mazquiaran Uria (Spa) Cespa Euskadi                                 
6 Sebastian Doehrer (Ger) Germany                                           
 
Final 1-6
 
1 François Pervis (Fra) Cofidis                                             
2 Jason Kenny (GBr) Team Sky + Hd                                           
3 Teun Mulder (Ned) Netherlands                                             
4 Kamil Kuczynski (Pol) Poland                                              
5 Christos Volikakis (Gre) Greece                                           
6 Denis Dmitriev (Rus) Russia                                               
 
Final 7-12
 
7 Matthew Crampton (GBr) Great Britain                                      
8 Andriy Vynokurov (Ukr) Ukraine                                            
9 Hodei Mazquiaran Uria (Spa) Cespa Euskadi                                 
10 Charlie Conord (Fra) Us Creteil                                          
11 Denis Spicka (Cze) Czech Republic                                        
12 Sebastian Doehrer (Ger) Germany                                          
13 Kazunari Watanabe (Jpn) Japan                                            
13 Juan Peralta Gascon (Spa) CalapieReyno de Navarra                        
13 Craig Maclean (GBr) Plowman Craven Racing Team                           
16 Barry Forde (Bar) Barbados                                               
16 Andrea Guardini (Ita) Italy                                              
16 Cédric Stoller (Swi) Switzerland                                         
19 David Askurava (Geo) Georgia                                             
19 Qi Tang (Chn) Max Success Pro Cycling                                    
19 Christopher Sellier (Tri) Trinidad &Tobago                               
22 Itmar Esteban Herraiz (Spa) Catalunya                                    
22 Wen Hao Li (Chn) China                                                   
22 Jean Christiaan Smith (RSA) Willie Engelbrecht Track Development Team    
25 Gaddy Chaid (RSA) South Africa                                           
25 Ivan Trebaticky (Svk) Slovakia                                           
27 José Antonio Escuredo Raimondez (Spa) Spain                              

Women's Points Race
Final
 
1 Elizabeth Armitstead (GBr) Team 100% Me    39 pts
2 Lucy Martin (GBr) Great Britain            25
3 Katie Colclough (GBr) Team 100% Me         25
4 Leire Olaberria Dorronsoro (Spa) Spain     23
5 Jarmila Machacova (Cze) Czech Republic     23
6 Elke Gebhardt (Ger) Germany                22
7 Wan Yiu Wong (HKg) Hong Kong               22
8 Shelley Olds (USA) Proman Racing Team       7
9 Annalisa Cucinotta (Ita) Italy              6
10 Rebecca Quinn (USA) South Bay Wheelmen     6
11 Malgorzata Wojtyra (Pol) Poland            5
12 Gema Pascual Torrecilla (Spa) Spain        5
13 Svetlana Paulikaite (Ltu) Lithuania        5
14 Rochelle Gilmore (Aus) HpTeschner          4
15 Amy Pieters (Ned) Netherlands              3
16 Jolien D'hoore (Bel) Belgium               2
17 Marta Tagliaferro (Ita) Italy              2
18 Kelly Druyts (Bel) Belgium                 1
19 Evgeniya Romanyuta (Rus) Russia            1
20 Aksana Papko (Blr) Belarus                 1
21 Malindi Maclean (NZl) New Zealand          1
22 Xiao Juan Diao (HKg) Hong Kong              
23 Alexandra Greenfield (GBr) Great Britain    
DNF Charlotte Becker (Ger) Germany             

Men's Scratch
Qualifying Heat 2
 
1 Morgan Kneisky (Fra) France                                            
2 Luke Rowe (GBr) Team 100% Me                                           
3 Elia Viviani (Ita) Italy                                               
4 Christian Ranneries (Den) Denmark                                      
5 Pablo Aitor Bernal Rosique (Spa) Spain                                 
6 Jon Mozley (GBr) Plowman Craven Racing Team                            
7 Piotr Kasperkiewicz (Pol) Poland                                       
8 Jozef Zabka (Svk) Slovakia                                             
9 Yury Yurchanka (Blr) Belarus                                           
10 Martin Blaha (Cze) Asc Dukla Praha                                    
11 Inaki Anzizar (Spa) CalapieReyno de Navarra                           
12 Jason Peter Pentz (RSA) Willie Engelbrecht Track Development Team     
13 Alexander Petrovskiy (Rus) Russia                                     
14 Carlos Uran (Col) Colombia                                            
15 Vitaliy Popkov (Ukr) Ukraine                                          
16 Ho Ting Kwok (HKg) Hong Kong Pro Cycling                              
 
Final
 
1 Wim Stroetinga (Ned) Netherlands                                       
2 Tim Mertens (Bel) Belgium                                              
3 Martin Blaha (Cze) Asc Dukla Praha                                     
4 Luke Rowe (GBr) Team 100% Me                                           
5 Morgan Kneisky (Fra) France                                            
6 Erik Mohs (Ger) Germany                                                
7 Bradley Wiggins (GBr) Great Britain                                    
8 Martin Hacecky (Cze) Czech Republic                                    
9 Stanislav Volkov (Rus) Lokomotiv                                       
10 Maxime Bally (Swi) Switzerland                                        
11 Mykhaylo Radionov (Ukr) Comanche Professional Team                    
12 Sébastien Turgot (Fra) Bouygues Télécom                               
13 Elia Viviani (Ita) Italy                                              
14 Leigh Howard (Aus) Team Toshiba                                       
15 Pablo Aitor Bernal Rosique (Spa) Spain                                
16 Jon Mozley (GBr) Plowman Craven Racing Team                           
17 Christian Ranneries (Den) Denmark                                     
18 Sebastian Donadio (Arg) Argentina                                     
19 Yury Yurchanka (Blr) Belarus                                          
20 Inaki Anzizar (Spa) CalapieReyno de Navarra                           
21 Jozef Zabka (Svk) Slovakia                                            
22 King Wai Cheung (HKg) Hong Kong                                       
DNF Jason Peter Pentz (RSA) Willie Engelbrecht Track Development Team    
DNF Piotr Kasperkiewicz (Pol) Poland                                     

Women's Sprint
Final Classification
 
Heat 1
1 Victoria Pendleton (GBr) Team Sky + Hd    11.697     11.931
2 Lulu Zheng (Chn) China                               

Heat 2
3 Lyubov Shulika (Ukr) Ukraine              11.922     12.533
4 Anna Blyth (GBr) Great Britain                       
 
5 Swetlana Grankowskaja (Rus) Russia                   
6 Jinjie Gong (Chn) China                              
7 Miriam Welte (Ger) Germany                           
8 Virginie Cueff (Fra) France                          
9 Christin Muche (Ger) Germany                         
10 Diana Maria Garcia Orrego (Col) Colombia            
11 Monique Sullivan (Can) Canada                       
12 Wai Sze Lee (HKg) Hong Kong                         
13 Victoria Baranova (Rus) Russia                      
14 Jessica Varnish (GBr) Great Britain                 
15 Natasha Hansen (NZl) New Zealand                    
16 Helena Casas Roige (Spa) Spain                      
17 Renata Dabrowska (Pol) Poland                       
18 Huang Ting Ying (Tpe) Chinese Taipei                
19 Alzbeta Pavlendova (Svk) Slovakia                   
20 Marta Janowiak (Pol) Poland                         
21 Xiao Juan Diao (HKg) Hong Kong                      
22 Joanne Van Der Westhuizen (RSA) South Africa        
Men's Individual Pursuit
Final Classification
 
1 Edward Clancy (GBr) Great Britain    4.20.041 (55.375km/h)
2 Vitaliy Shchedov (Ukr) Ukraine       4.24.859
3 Valery Kaykov (Rus) Lokomotiv        4.25.847
4 Eloy Teruel Rovira (Spa) Spain       4.31.581
5 Ingmar De Poortere (Bel) Belgium           
6 Adrian Kuriek (Pol) Poland                 
7 Mark Christian (GBr) Team 100% Me          
8 Davide Cimolai (Ita) Italy                 
9 Arno Van Der Zwet (Ned) Netherlands        
10 Damien Gaudin (Fra) Bouygues Télécom      
11 Jaime Suaza Lopez (Col) Colombia          
12 Matti Pajari (Fin) Finland                
13 Carlos Herrero (Spa) Catalunya            
14 Sergei Sakavets (Blr) Belarus             

Men's 1Km Time Trial
Final
 
1 David Daniell (GBr) Great Britain                                          1.01.996 (58.068km/h)
2 Yevhen Bolibrukh (Ukr) Ukraine                                             1.03.039
3 Kamil Kuczynski (Pol) Poland                                               1.03.176
4 Wen Hao Li (Chn) China                                                     1.03.468
5 Thierry Jollet (Fra) Us Creteil                                            1.03.993
6 Tomas Babek (Cze) Czech Republic                                           1.04.729
7 Didier Henriette (Fra) Cofidis                                             1.04.961
8 David Alonso Castillo (Spa) Spain                                          1.05.349
9 Luca Ceci (Ita) Italy                                                      1.05.536
10 Qi Tang (Chn) Max Success Pro Cycling                                     1.05.721
11 Arno Van Der Zwet (Ned) Netherlands                                       1.06.231
12 Juan Peralta Gascon (Spa) CalapieReyno de Navarra                         1.06.572
13 David Askurava (Geo) Georgia                                              1.06.687
14 Cédric Stoller (Swi) Switzerland                                          1.07.096
15 Christian Ranneries (Den) Denmark                                         1.07.736
16 Aliaksandr Lisouski (Blr) Belarus                                         1.08.884
DNS Vasileios Galanis (Gre) Greece                                                 
DNS Gaddy Chaid (RSA) South Africa                                                 
DNS Jean Christiaan Smith (RSA) Willie Engelbrecht Track Development Team