2007 UCI Track Cycling World Championships - CM
Spain, March 29-April 1, 2007
Women's team sprint
Gold for Great Britain's sprint duo
By Shane Stokes in Majorca
Victoria Pendleton and Shanaze Reade
Photo ©: AFP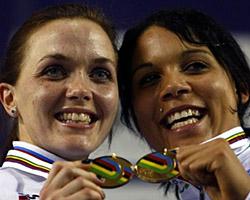 British duo Victoria Pendelton and Shanaze Reade delivered the fastest time in qualification earlier today and were again quicker than the Dutch team in the final of the women's team sprint. They netted gold in the first running of the race as a full championship event, going 0.34 quicker than their rivals Yvonne Hijgenaar and Willy Kanis with a time of 33.63 seconds.
Australian duo Kristine Bayley and Anna Meares secured bronze over the Frenchwomen Sandie Clair and Virginie Cueff, actually going faster than the Dutch in their ride-off for third.
Pendleton's ability has been known for quite a while, having won the individual sprint in 2005. However, remarkably, this is only Reade's second ever time racing at international track level, with the recent Manchester World Cup marking her debut. She has come to this wing of the sport from BMX and the 18 year old clearly has a big, big future ahead of her.
"What Vicky and I have achieved really hasn't sank in yet," she said immediately before the medal ceremony. "I would like to thank Anna Blythe who wasn't actually riding in the finals with us, but she played a massive part in this.
"I have been doing BMX for eight years and have been on the track for four months now, but really properly for two months. Manchester was my first ever race. I got into this due to the fact that BMX is now in the Olympics, and so I train with British Cycling. I did this [track] as kind of crossover training, just got better and better and so they said, "right, you should try the team sprint. It went from there, really."
Team GB
Photo ©: Mitch Friedman

Pendleton was delighted with the result. "I am really pleased with that, it was a strong performance. There is a lot to work on as regards technique but considering today's races were the first two me and Shanaze have done together, it is not a bad day's work!
"We know what to do and we have practiced the event separately, but I think we did a good job today. There are thing to work on, which makes it quite exciting for the future."
She has more goals here in Palma and will draw motivation from today's result. "Obviously starting off with a rainbow jersey on the first day is a big boost. My form is good, the times show that quite clearly, and I am looking forward to trying my best over the next couple of days."
As for Reade, she will also do the 500 metre time trial on Saturday. She says that she will continue to focus on BMX in the run up to the Olympics, but doesn't rule out a greater emphasis to track racing in the years to come.
"BMX is what I am about right now but being world champion on the track, I don't think I can put that bike away just yet! I can't say right now what is going to happen for me the future, as regards doing a lot more track racing, but being world champion is going to open so many doors."
British duo top team sprint qualifiers
Former world individual spring champion Victoria Pendleton and BMX competitor-turned-trackie Shanaze Reade were the only duo to go under 34 seconds in the women's team sprint this morning, posting a time of 33.630 seconds and making sure of their place in the final.
They will square up against Yvonne Hijgenaar and Willy Kanis this evening, the Dutch pair recording 34.071" to finish .084 seconds quicker than the third-placed duo of Kristine Bayley and Anna Meares.
The Australians will fight it off with Sandie Clair and Virginie Cueff of France for bronze.
Results
1 (Great Britain)                 33.630
 Victoria Pendleton                  
 Shanaze Reade                       
2 (Netherlands)                   34.071
 Yvonne Hijgenaar                    
 Willy Kanis                         
3 (Australia)                     34.155
 Kristine Bayley                     
 Anna Meares                         
4 (France)                        34.314
 Sandie Clair                        
 Virginie Cueff                      
5 (Germany)                       34.578
 Jane Gerisch                        
 Christin Muche                      
6 (People's Republic of China)    34.676
 Fang Tian                           
 Jinjie Gong                         
7 (New Zealand)                   34.799
 Fiona Carswell                      
 Jocelyn Rastrick                    
8 (Russian Federation)            34.862
 Swetlana Grankowskaja               
 Oksana Grishina                     
9 (Poland)                        36.159
 Renata Dabrowska                    
 Magdalena Sara                      
10 (Spain)                        36.354
 Leire Olaberria Dorronsoro          
 Ainhoa Pagola Alvarez               
11 (Czech Republic)               37.348
 Lada Kozlikova                      
 Lenka Valova                        


Gold Medal final

1 Great Britain     0.33.63	(53.522 km/h)
 Victoria Pendleton        	
 Shanaze Reade             	

2 Netherlands       0.33.97	(52.981 km/h)
 Yvonne Hijgenaar          	
 Willy Kanis               	
 	
Bronze Medal final

3 Australia         0.33.81	(53.238 km/h)
 Kristine Bayley           	
 Anna Meares               	
 	
4 France            0.34.64	(51.957 km/h)
 Sandie Clair              	
 Virginie Cueff