2007 UCI Track Cycling World Championships - CM
Spain, March 29-April 1, 2007
Women's keirin
Three for Great Britain sprint wonder
By Shane Stokes in Palma
Victoria Pendleton, Christin Muche, and Helena Casas Roige
Photo ©: Mitch Friedman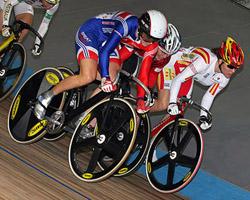 Coping well with two serious distractions affecting her, Victoria Pendleton raced to her third gold medal in the women's keirin this evening, and thus ended the 2007 championships as the most successful competitor in Majorca.

The keirin was stopped not once, but twice. The first time was when defending champion Christin Muche came down on top of Pendelton, clashing shoulders and nudging her onto the Cote d'Azur line. The race was immediately halted and, after several minutes' deliberation, the German was disqualified.

The second freeze came just after the restart when the derny malfunctioned, being unable to accelerate. The crowd started whistling while the riders had to try to maintain composure and focus while waiting for a second machine to be brought onto the track and the race to restart.

Jennie Reed (USA) tucked in behind the derny and was followed by Anna Blyth (Great Britain). The speed ramped up and with Pendleton back in fourth with a lap to go, it looked like she had a big task on her hands if she was to land her third gold. However she unleashed a strong burst of speed on the back straight to pass the others, leading around the bend. Sprint silver medallist Guo was on her wheel but was unable to get by, having to be content with another second place. Anna Meares took bronze, while Blyth and Reed placed fourth and fifth.

Pendleton was delighted with her success, although she said she was nervous after both stoppages. "In the first one, I was holding the line and the German bumped into me. I couldn't hold the track, I was fighting to stay on it, and I got a bit of a nudge and it swung me off. I wasn't sure if we had to stop because I came off the bottom of the track, or whether it was anything else.

"I was concerned, I was just waiting for the decision. I couldn't understand what was being said. I just hoped that I was still in the race."

She also had a bit of stress after the second incident. "Because the derny came through so slowly, I overtook it. That is usually disqualification. I was expecting it to come through [quicker] and having to back off, it wouldn't have been fair if they did accuse me for overtaking as I wouldn't have been able to go any slower. It nearly turned into a slow bike race!

"After that, I kept focused on trying to get the third gold, to do something really special. Everyone in the team now has got a medal, practically, I didn't really stand out from the crowd [anymore] so I really wanted to get that. I am delighted - I entered three events and have got three goals, now."

Pendleton was quite far back when the speed ramped up, leaving her potentially stranded. "I was a little bit concerned," she admitted. "I knew there was a lap to go. I just waited for things to close up a bit, because it got a bit wide [between riders] in places, and then I just went for it. It was a bit of a risky manoeuvre, but I didn't know what else to do."

She joins team-mate Chris Hoy as a triple medallist but tops his two golds and one silver with three wins. When asked how significant this was, she highlighted the lack of events she can contest in the Olympics. "Well, what am I going to do to top that? It is going to be hard," she smiled. "There is only women's sprint in Beijing, there is no keirin and there is no women's 500. There is even no team sprint yet. Perhaps in 2012 there will be one. But I (will) focus on the sprint and everything else is a bonus."

Next up is a holiday to Japan. She will go and watch a keirin race there, but says that she will take a well deserved break from racing and training, letting her body recover while she savours what she has achieved here in Palma.
Champions show speed in keirin second round
The women race the keirin.
Photo ©: Mitch Friedman

Pendleton and 500 m TT champ Anna Meares showed great sustained speed in the second round of the women's keirin, winning each of their heats.
Meares sat second in line behind Anna Blythe and then went around her with a lap and a half remaining, ramping up the speed from there and winning a drag race to the line. Last year's champion Christin Muche (Germany) took second, while Blyth briefly slipped back to fourth and then recovered to third by the line, looking strong enough to perhaps take second but being trapped on the inside. However, with the first three going through to the final she was safe. Dana Glöss (Germany), Natallia Tsylinskaya (Belarus) and Sandie Clair (France) failed to progress.
Pendleton had an easier time in heat two. She passed Jennie Reed (USA) and Shuang Gou (China) with a lap and a half to go, getting a good gap and holding on to the line. Gou was second and Reed third, both going through to the last round, while Oksana Grishina (Russian Federation), Simona Krupeckaite (Lithuania) and Willy Kanis (Netherlands) will join the others in the 7 - 12th final later today.
First round action
Glöss, Pendleton, Kanis, and Meares all won the opening rounds, with Guo, Muche, Blyth and Reed getting through as second-placed riders. Tsylinskaya, Krupeckaite, Grishina and Clair had to go to the repechages in order to progress. Pendleton continued her path toward a third gold medal of her championships with this round.
Results
First round

Heat 1
 1  Dana Glöss (Germany)                          
 2  Shuang Guo (People's Republic of China)       
 3  Diana Maria Garcia Orrego (Colombia)          
 4  Lisandra Guerra Rodriguez (Cuba)              
 5  Sandie Clair (France)                         

Heat 2
 1  Victoria Pendleton (Great Britain)            
 2  Christin Muche (Germany)                      
 3  Natallia Tsylinskaya (Belarus)                
 4  Helena Casas Roige (Spain)                    
 5  Kristine Bayley (Australia)                   

Heat 3
 1  Willy Kanis (Netherlands)                     
 2  Anna Blyth (Great Britain)                    
 3  Simona Krupeckaite (Lithuania)                
 4  Oksana Grishina (Russian Federation)          
 5  Daniela Grelui Larreal (Venezuela)            
 6  Jane Gerisch (Germany)                        

Heat 4
 1  Anna Meares (Australia)                       
 2  Jennie Reed (United States Of America)        
 3  Miriam Welte (Germany)                        
 4  Swetlana Grankowskaja (Russian Federation)    
 5  Annalisa Cucinotta (Italy)                    
 DNS  Clara Sanchez (France)  

First Round Repecharge

Heat 2
 1  Natallia Tsylinskaya (Belarus)                
 2  Oksana Grishina (Russian Federation)          
 3  Lisandra Guerra Rodriguez (Cuba)              
 4  Annalisa Cucinotta (Italy)                    
 5  Miriam Welte (Germany)                        
 6  Kristine Bayley (Australia)                   
 REL  Jane Gerisch (Germany)                      

Heat 2
 1  Simona Krupeckaite (Lithuania)                
 2  Sandie Clair (France)                         
 3  Swetlana Grankowskaja (Russian Federation)    
 4  Daniela Grelui Larreal (Venezuela)            
 5  Diana Maria Garcia Orrego (Colombia)          
 6  Helena Casas Roige (Spain)       

Second Round

Heat 1

1 Anna Meares (Australia)                    
2 Christin Muche (Germany)                   
3 Anna Blyth (Great Britain)                 
4 Dana Glöss (Germany)                       
5 Natallia Tsylinskaya (Belarus)             
6 Sandie Clair (France)                      

Heat 2

1 Victoria Pendleton (Great Britain)         
2 Shuang Guo (People's Republic of China)    
3 Jennie Reed (United States Of America)     
4 Oksana Grishina (Russian Federation)       
5 Simona Krupeckaite (Lithuania)             
6 Willy Kanis (Netherlands)       

Finals  

1 through 6

1 Victoria Pendleton (Great Britain)         
2 Shuang Guo (People's Republic of China)    
3 Anna Meares (Australia)                    
4 Anna Blyth (Great Britain)                 
5 Jennie Reed (United States Of America)     
DSQ Christin Muche (Germany) 
                
7 through 12

7 Natallia Tsylinskaya (Belarus)             
8 Willy Kanis (Netherlands)                  
9 Sandie Clair (France)                      
10 Oksana Grishina (Russian Federation)      
11 Dana Glöss (Germany)                      
12 Simona Krupeckaite (Lithuania)