2007 UCI Track Cycling World Championships - CM
Spain, March 29-April 1, 2007
Men's team sprint
France edge menís team sprint
By Shane Stokes in Palma
France's team sprint
Photo ©: AFP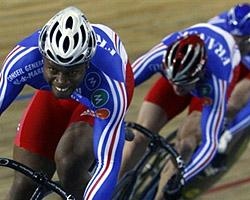 They donít come any tighter than this. The French trio of Gregory Bauge, MickaŽl Bourgain and Arnaud Tournant successfully defended the team sprint title they won in Bordeaux last year, beating fastest-qualifiers Great Britain by a miniscule two thousandths of a second.
GB riders Ross Edgar, Chris Hoy and Craig Maclean were down from the very start and were 0.239 back with just 100 metres remaining. Hoy pulled out the fastest final lap of all the teams in the competition to bring that gap right back, but ran out of time before hitting the line.
It was a repeat of the top two placings from 2006, but this time it was Germany who netted third after a young Australian team finished fifth in the qualifiers. Robert Forstemann, Maximilian Levy and Stefan Nimke beat Dutchmen Theo Bos, Teun Mulder and Tim Veldt by .046" in their scrap for the medal.
The earlier qualifiers had seen Great Britain finish .12" clear of France, with Germany and the Netherlands third and fourth.
Results
Qualifying
	
1 Great Britain       0.43.92	(61.479 km/h)
 Ross Edgar                  	
 Chris Hoy                   	
 Craig Maclean               	 	
2 France              0.44.04	(61.313 km/h)
 Gregory Bauge               	
 MickaŽl Bourgain            	
 Arnaud Tournant             	
3 Germany             0.44.13	(61.171 km/h)
 Robert Forstemann           	
 Maximilian Levy             	
 Stefan Nimke                	 	
4 Netherlands         0.44.45	(60.734 km/h)
 Theo Bos                    	
 Teun Mulder                 	
 Tim Veldt                   	 	
5 Australia           0.44.59	(60.553 km/h)
 Ryan Bayley                 	
 Mark French                 	
 Shane Perkins               		
6 Spain               0.44.74	(60.348 km/h)
 Alvaro Alonso Rubio         	
 Ruben Donet Gregori         	
 Salvador Melia Mangrinan    	
7 Japan               0.45.45	(59.404 km/h)
 Masaki Inoue                	
 Kazuya Narita               	
 Kazunari Watanabe           	
8 China               0.45.49	(59.357 km/h)
 Yong Feng                   	
 Feng Lin                    	
 Lei Zhang                   	
9 Poland              0.45.76	(59.008 km/h)
 Maciej Bielecki             	
 Lukasz Kwiatkowski          	
 Damian Zielinski            	
10 Russia             0.46.12	(58.541 km/h)
 Sergey Borisov              	
 Denis Dmitriev              	
 Sergey Polynskiy            	
11 Ukraine            0.46.20	(58.446 km/h)
 Yevgen Bolibrukh            	
 Yuriy Tsyupyk               	
 Andriy Vynokurov            	
12 Czech Republic     0.46.24	(58.397 km/h)
 Tomas Babek                 	
 Adam Ptacnik                	
 Ivan Vrba                   	
13 Greece             0.46.52	(58.043 km/h)
 Athanasios Mantzouranis     	
 Vasileios Reppas            	
 Panagiotis Voukelatos       	
14 Malaysia           0.47.27	(57.121 km/h)
 Azizulhasni Awang           	
 Josiah Ng Onn Lam           	
 Mohd Rizal Tisin            	
Gold Medal final

1 France            0.43.830	(61.601 km/h)
 Gregory Bauge             	
 MickaŽl Bourgain          	
 Arnaud Tournant           	
2 Great Britain     0.43.832	(61.598 km/h)
 Ross Edgar                	
 Chris Hoy                 	
 Craig Maclean             	

Bronze Medal final

3 Germany           0.44.240	(61.03 km/h)
 Robert Forstemann         	
 Maximilian Levy           	
 Stefan Nimke              	
4 Netherlands       0.44.286	(60.967 km/h)
             
5  Australia               
6  Spain                   
7  Japan                   
8  China                   
9  Poland                  
10  Russia                 
11  Ukraine                
12  Czech Republic         
13  Greece                 
14  Malaysia