90th Tour de France - July 5-27, 2003
Carlos Sastre - One For Claudia
CSC take second stage win
By Gabriella Ekström at Ax-3 Domaines
Sastre wins one for Claudia
Photo: © J. Devich/Cyclingnews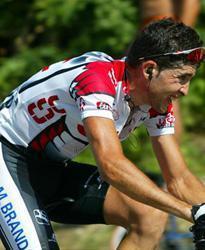 On the nine kilometre climb to Ax 3 Domaines, Armstrong was brutally attacked by Vinokourov, Ullrich and Mayo and barely defended his jersey, but stage winner Carlos Sastre (CSC) knew little about the action behind him. Supported by many friends and members of his family, he had found the willpower he needed to take the early break all the way to the line.
"There were so many relatives and friends of mine standing along the last climb. They travelled over a thousand kilometres to see me here today, and their support affected my performance today. The knowledge of them being here gave me the extra motivation and strength I needed to last during the final kilometres."
Before crossing the line, Sastre searched his back pockets for his daughter's dummy, and honoured her the victory by putting the dummy in his mouth.
"I always carry something that belongs to my daughter with me. Her name is Claudia and she'll be two years old soon. Sometimes the stress of racing and all the people around it gets to me in a bad way, and it is the thought of her and my family that keeps me sane. Her presence also works as a reminder of what is important in life, and it prevents me from taking stupid risks, like getting myself killed on a descent."
Thanks to his victory on the first Pyrenean stage, Sastre moved into the top ten (currently ninth on GC at 8.47 behind Armstrong). The Spanish rider has no podium ambitions though, and pays homage to Armstrong when he talks to the press.
"I don't think Lance was in more problems than anyone else, he is very strong and has won the Tour four years in a row so he should be treated like a champion. It is true that I was one minute ahead of him today, but that means nothing to me or him. If anyone is a threat to Armstrong, then it is Ullrich, because he really impressed me with the time trial he rode yesterday."
Just like previous stage winners this year, Sastre didn't go to the start with the knowledge he would win, but the thought of his family and friends waiting for him at the last climb was significant.
"I didn't intend to attack this morning, but just like everyone else, I always go to the sign in with the idea that it would be nice to win. It's hard to predict how the other guys will ride, and I didn't know if I would be able to attack, and if they would let me go. The attacks started early today, so I asked Tyler if I could go along. He nodded his head and said OK, so I went for it."
With six kilometres still to climb, Sastre attacked his fellow escapees and went ahead alone in pursuit of his greatest victory so far.
"I would like to thank Mercado, because we worked well together in the break before I attacked. I was never in any big difficulties, but the last climb was a tough one and the heat made it even more cruel. There aren't any places where you can go easy or hide a little on this mountain, you just have to give 100 percent all the time.
"With two kilometres to go, I struggled to keep my concentration though, because I didn't want to look behind. If I had done that, I would have started to fear that someone was coming up behind me. Instead I looked ahead, and forced myself to only think about the finish. I couldn't let myself think about the fact that there was still two thousand metres to go either, I just focused on getting one meter further, and then one more."
Before signing for Team CSC, Sastre rode for ONCE but he was never comfortable in that team. Nowadays, Sastre is grateful for the freedom he gets while riding for Bjarne Riis, and the manager of CSC is equally grateful for the morale boost Sastre provided today.
"The problem in ONCE was that I always had to work for someone else, and I never got a chance to create anything on my own," Sastre explains. "I've worked for Beloki and Gonzalez de Galdeano, and before that I worked for Olano. In CSC, I feel that I have a different freedom and that is very important to me. I have tried in the past to win big races, and I think the trust and support that CSC has shown me is the reason why I was able to win here today."