Recently on Cyclingnews.com
The Satisfaction Of Being George
By Gabriella Ekström
Captain George
Photo: © C. Henry/Cyclingnews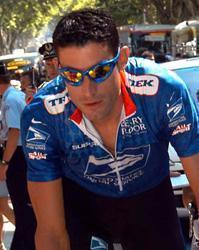 The first rest day of the Tour means that the riders can turn their mobile phones off and take a long nap after lunch, and for some lucky journalists, it is a chance to sit down and talk the riders in a somewhat relaxed area. Cyclingnews took advantage, and met up with US Postal Service-Berry Floor rider George Hincapie at the team's hotel in Montpellier.
Being a rest day at the Tour does not mean a total day off, and just like most riders, George went for an easy ride in the morning and then admits to getting lost on the way back to the hotel, having to trust the team car to get him back. The ride was followed by lunch and the mandatory nap before dinner.
With the magnificent Alps still fresh in mind, I was keen to find out what George had to say about the mountains that the Tour provides in abundance. Although he is not normally talked about as a climber, he will nevertheless do a fair bit of damage to the other riders in the mountains, and he'll certainly stretch the front group out once he gets up there. On the 13th stage, on the way from Toulouse to Ax 3 Domaines, the Tour de France will hit the second row of mountains, and George will do his best to stay at Lance's side as long as he can.
"For being the classic one day rider I am, I do a lot of work in the mountains. In a race like this you never know what might happen, and you must be prepared for all situations that could come up. In order to protect Lance, every rider in our team must be able to cover many areas. I like the mountains, because I know I can protect Lance there. It means a lot to me to know that I can help Lance during most parts of the race. In the crosswinds, on the flats, in the mountains, I will be there."
On a team with one leader only, there are a few things that must be taken into consideration when selecting the riders that will be at his side for three weeks, and strength is only one of the characteristics needed. "The team must be made up from riders who are willing to sacrifice all their personal ambitions, that is the most important thing," George explains. "Second is that the riders must be able to perform well in all kinds of terrain. They must also be very reliable, and they cannot be fragile. If they crash they must be able to get back on their bikes again. I don't see it as a big sacrifice though, because for the last four years, I've been a part of a team that has written history.
Having raced with Lance for nine years, George is the road captain and Lance 's right hand in the races. Being a part of a team that is normally able to control the race in a way other teams cannot, George is generally considered a super strong all rounder, and he certainly gets some satisfaction out of that.
"Yes, I definitely do. There's so much pressure on our team all the time because we are the biggest team, and we have a nice bus and get a lot of attention all the time. These days people expect us to do well all the time, and when we used to be a smaller team we never felt that kind of pressure. People were happy if we did well, but now they expect it everyday. I like it when I'm able to show people that I am strong, and that I can do a good job."
Up until the Pyrénées, Lance has been frequently attacked, and although exciting for the spectators, it is not necessarily your idea of fun if you are the one who has the chase them down, but George doesn't seem too bothered when he comments on the other GC riders.
"The competition's been great, and there are some very strong riders in this race. Joseba Beloki certainly looked good before he crashed out and I think that Jan Ullrich will be better in the PyrÈnÈes than he was in the Alps, Iban Mayo has been amazing, and Tyler Hamilton is still hanging tough. I cant imagine the pain he must be in, but I think he will be able to do a good time trial. (Tyler was fifth. Ed.) I must say though that our team has been riding very strongly. Most of the times we have been able to put between six and nine guys up front.
Besides having the possibility of writing history once again with Lance and the guys, George should also find big satisfaction in the fact that he has been able to come back to race condition in time for the Tour after having all his spring season ruined by illness. "Normally I would start prepare for the Tour after the spring classics, but this year I missed all the early races because I was sick for the first five months of the season. A bunch of things went wrong with me, and it turned out I had some parasite that took all my energy and made me really weak. All people have a lot of these things going on, but when you push it like we do, and continue to train even though you are not feeling well, one day you'll just push yourself over the edge."