Recently on Cyclingnews.com
90th Tour de France - July 5-27, 2003
Tyler Hamilton - C'est la vie!
Man from Marblehead pulls off impressive stage win
By Gabriella Ekström in Bayonne
Never say die for Hamilton
Photo: © Sirotti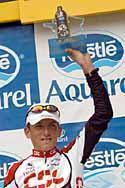 "I knew I had five minutes, and I thought that if I kept them for as long as I could, then maybe I'd break the morale of the teams that were chasing me."
The strong headed tactic of Tyler Hamilton proved to be a success and the 'Man from Marblehead' hit the 10 km to go sign with four minutes advantage over the peloton. Having been away for 142 kilometres (over 90 of which were solo), Tyler admitted to being exhausted and empty, having put everything into today's stage.
Tyler's day didn't start so good though, and after the first small climb of the day, it was reported over the race radio that he was dropped. "I made a stupid mistake over the fourth category mountain in the morning," Tyler explained. "The descent was really windy and twisty and I found myself sitting too far back in the peloton and suddenly it broke up. I couldn't get back on and had to call for help, and four or five of my teammates came down to help me. It was my own fault and I was mad at myself for having them come and pick me up, because they had to dig hard to put me up there again. I wanted to repay them in some way, and when we hit Col de Soudet I spoke to Bjarne over the radio and we decided that I should attack if I felt good. I owe this victory to my team, and I want to apologise for the inconvenience I caused. Without them, I couldn't have won here today."
After breaking his collarbone in two places in the crash at the end of the first stage, Tyler has struggled to remain in the race. "Of the seven Tours de France I've done, this race is by far the most painful, and it isn't even over yet. The pain I was going through in the first week was just brutal. I couldn't sleep and I just wanted to survive until the team time trial so that I could help my team mates out. After that stage I felt a little bit better, and I decided to go along, taking it day by day. At this point, my shoulder is better, but it's not a 100%. I still cannot sleep on my side, so I have to lay flat on my back, and I'm getting a bit sick of that. While on the bike, I can pull my handlebars, but I still feel a bit awkward when standing up."
Today's stage was the last one in the Pyrenees, and the last stage containing any mountains at all. In some people's minds, the mountains were already behind, but the CSC team made sure not to lose their focus. "Bjarne reminded us yesterday of the stage to Jaca in the Tour '96 which was similar to this one, and where he took over eight minutes on Miguel Indurain and Tony Rominger. So far we have had a good Tour, and he reminded us not to overlook the stage today. We couldn't start to think about Paris yet, that would be dangerous."
Telekom's team manager Walter Godefroot was quoted saying that Tyler's injury was nothing but a cheap American PR trick, and he smile on Tyler's face goes away for a moment when he has to respond to that. "Well, Walter has the right to have an opinion, as have everyone else. I'm sad he said that though, and he is welcome to come and visit me anytime, and I'll show him my X-rays, where you can clearly see the two breaks. It disappoints me too, that he would say such a thing, because by doing that he calls me and my team for liars. I don't like it, but I guess that's life."
One harsh comment will not take away the joy of winning a stage in one of the most spectacular Tours ever, and the smile soon finds it's way back onto Tyler's face. "Today really made up for everything I've been going through. To win a Tour stage is beyond my wildest dreams. I've been a bit disappointed up to now, even though I was seventh overall, which I think is respectable if you consider my injury, but without it I know I could have been even better. After my victory today, I can forget about all my grief."