Recently on Cyclingnews.com
90th Tour de France - July 5-27, 2003
Lance Armstrong - What goes around comes around
By Gabriella Ekström in Luz Ardiden
Lance assumes control
Photo: © Olympia Photo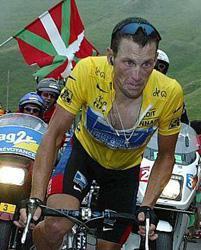 The stage to Luz Ardiden was expected to be the king stage of the Tour de France, and it was looked upon as likely to be the decisive moment of the entire three week race. Lance Armstrong held the yellow jersey, but only by fifteen seconds. Some serious action was predicted, and the millions of worldwide spectators watching the final climb got more than they had asked for. With just over nine kilometres still to race, Lance Armstrong followed the attack of Iban Mayo when a spectator's 'musette' got tangled in his brake lever. Lance went head first over his bars, and landed heavily on his left side, and Mayo who had just been caught and passed by Armstrong couldn't avoid the crash, and fell on top of him.
Saved by his slower acceleration, Jan Ullrich was a few metres behind, and just missed the bike tangle. Unhurt, Ullrich continued up the road. He clearly had the chance to go after the jersey that waited for him at the top, but that was not the way Jan Ullrich wanted to win his second Tour.
"I knew they would wait," Lance said after stage. "I would do the same for him, and in fact, I have done the same for him in the past. I was in a group with a few guys going down the Col de Peyresourde in the Tour two years ago, when Ullrich crashed. I saw that it was a bad one and told them that we couldn't go on before we made sure he was alright. I am grateful that Jan remembered that today, and decided to do the same. I think I did the correct thing two years ago, and Ullrich did the same thing today. I appreciate that, and you know that what goes around comes around."
Mayo was quick on his wheels again, but Lance had to sort his bike out before continuing, and when he started to chase the slow riding front group, a problem with his derailleur caught him by surprise and made him pull his foot. The fact that he was standing up when unclipping his foot made him fall heavily on his top tube, and there seemed to be no end to all of Lance's problems in this Tour.
The front group was still waiting, but it was growing in numbers and especially the Basques - who had the pressure on to win the stage - started to look stressed. Tyler Hamilton rode to the front and put his hand up, making sure that everyone remained patient until the patron of the race had rejoined. Once the yellow jersey sat on the last wheel, Mayo attacked again. In an impressive way, Lance was the only one who was able to react and follow. Fuelled on adrenaline he caught Mayo and passed him.
"Did I look angry? Yea, I guess I do look a bit angry at times, but that's the best way to ride for me," Lance cracks up in a smile. "I wasn't really that angry, more desperate. I knew I needed to attack and put more time into Jan Ullrich before the time trial. I believe in momentum, and I hope all my problems will stop now. It has been a Tour of many problems, close calls and near misses. It seems it has been a lifetime and I wish it would just stop, so that I could have a few uneventful days."
Today's stage was certainly not one of those days, and the excitement started when Ullrich unexpectedly attacked on Col de Tourmalet. He created a gap, and it looked liked the moment of truth had come from Lance, but at the summit, they were back in one group again.
"I didn't respond to his attack immediately, because I felt it was not the best time and place to do that. We had a long and hard descent ahead of us, and then there was still Luz Ardiden. I thought it would be better to establish a rhythm, and let him get five or ten seconds, and then keep him there like if we were doing two separate time trials or something. I actually got very close to him, but he just kept powering up that mountain, and I thought. 'Well, if you are gonna keep riding like that, you can go ahead and win this race, because I just cannot do that.' But obviously, it was a bit too early to ride like that."
Lance admits that strange things has happened during this race, and calls it an "odd and crisis filled Tour." The way he was able to win the stage and secure the jersey as a relief to him, but he says that this stage is far from being his most emotional win at the Tour.
"My most emotional win in the Tour is still the one I won in Limoges in 95, after we lost Fabio Casartelli on the descent of Col d'Aspet. Perhaps I'm too tired today to judge that properly, but the rush I felt today was nothing like what I felt that day in Limoges."