An interview with Jean Luc Jonrond, Jean Delatour Team Manager
To Le Tour with Jean Delatour
Jean Delatour star Patrice Halgand
Photo: © Peter Geyer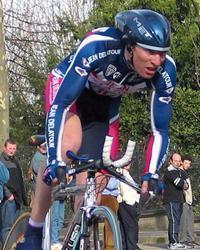 Jean Luc Jonrond, team manager of Jean Delatour, one of four teams to receive a wildcard invitation to the Centenary edition of the Tour, spoke candidly with Melanie Leveau about the team's favourable treatment over Mario Cipollini's Domina Vacanze squad and their objectives in the world's biggest cycling event.
Cyclingnews: ASO (the organising company of the Tour de France), gave you one of the last four invitations to take part in the centenary edition of the Tour, with Mario Cipollini's Domina Vacanze team not chosen. Can you explain this choice?
Jean Luc Jonrond: Last year, Jean Delatour team won a stage and finished with nine riders on the Champs-Elysées. I think they are two points that influenced ASO's decision to choose our team instead of Cipollini's. He has never finished the Tour. It is true that it is interesting for the organising committee to have the world champion taking part in the race, but it is also looking for teams with a maximum of riders crossing the finishing line in Paris. I also think that Mario Cipollini's past behaviour of always dropping out of the race by the half-way mark doesn't impress ASO.
CN: Does this controversial selection add pressure on you and your riders' shoulders?
JLJ: No, I think we will tackle the race like previous year. Our riders are quite relaxed, because since the official announcement of our selection (on May 19), we have won several major races. Our best riders, Patrice Halgand and Laurent Lefevre, are reaching their peak physical conditions and I am sure we can count on them before and during the Tour.
CN: Do you already know the names of your nine riders who will take part to the Tour?
JLJ: The team is partly organized. It will be finalized after the French championships and according to the results of the Dauphiné Libéré. But we already have an idea of the 9 Jean Delatour team members.
CN: Can you give me names?
Tro Bro Leon winner Samuel Dumoulin
Photo: © Jean-Francois Quenet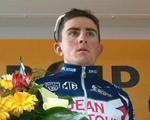 JLJ: Patrice Halgand and Laurent Lefevre of course, Jean Patrick Nazon, our sprinter and Stéphane Goubert, who was a bit tired in the last few weeks but should be ready for the Tour. The team will be based around these four names. Then, our other young riders who helped the team to be selected. I am leaning towards Frederic Finot and Samuel Dumoulin… we will try to rejuvenate the team.
CN: What is the team program before the Tour?
JLJ: Next week, we will ride the Rout du Sud and then the national championships. During the Route du Sud and just before the French championships, we have a mini training camp for our riders who will take part in the time trial championships. After this, we will meet a few days before the Tour's prologue to do a road reconnaissance of the team time trial stage. This will be the only stage that we will review.
CN: What are your ambitions for this Tour?
JLJ: Our main goals are the same than last year; that is trying to finish with a full team in Paris. Then, it would be wonderful to win a stage as we did last year in Pau. And why not wear a leader's classification jersey during the first week? We can do it. I am thinking particularly of the mountain classification. General classification is not part of our plans. Our main aim is to win one or two stages.
CN: Parice Halgand and Laurent Lefevre will be well protected then?
JLJ: Exactly, they will be protected particularly during the first week. Then we would have the opportunity to play our trump card with Jean-Patrick Nazon if there is a large final sprint.
CN: Have you already chosen stages where you think the team could ride well in?
JLJ: No, we will take each stage as it comes, trying to conserve our resources early on that may have bad consequences at the end of the Tour. Actually, there is a stage our sponsor is very keen for us to win. It is the one finishing in Lyon (stage 6) - Jean Delatour is based in Venissieux, in the suburbs of Lyon, so it is true that it would be wonderful to shine in this stage.
CN: Last week, a British cycling journalist was saying that French cycling was in the decline. Do you agree?
JLJ: I think something should be done at the grass roots. It is true that France has less and less very young riders so it is harder to discover and train new champions. I just think it is a bad time French cycling has to get over. It may be better in a few months, next year or in two years.
CN: In France, road and track are two distinct disciplines whereas a majority of Australian ride both. Do you think it would be a good idea to encourage young riders to ride track as well as road?
JLJ: Actually, track is less popular in France than in other countries. There is no famous track event in France and that is why French road riders have little experience on the track. In the same way as cyclo-cross, track is a good cycling school. We try to encourage our riders to ride on the track. For example, Samuel Dumoulin, one of our youngest riders will take part in the French track championships just one week before the road championships, so every time we have the opportunity, we'll do it.