On Test: FSA Ceramic MegaExo bottom bracket, September 14, 2006
Will this new bottom bracket make you faster?
Modern top-end bikes have gotten staggeringly light as of late. Armed with little more than a few wheelbarrows full of money, it's quite easy to not just break, but utterly shatter the UCI's fairly arbitrary minimum weight limit of 6.9kg. With that war mostly conquered, bearing friction is now seen as the new front line in the battle for bike technology supremacy. James Huang samples some of the latest drag-reducing technology to test his theory that it really IS about the bike.
Faster, more durable,
Photo ©: James Huang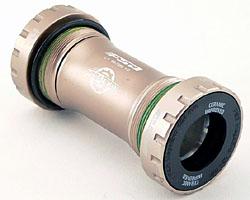 We cyclists spend most of our energy overcoming three major immutable factors: air resistance, gravity, and friction. From a tech perspective, our own bodies unfortunately comprise the vast majority of the first two factors. Aero wheels and lighter bikes and bits help, but we're definitely in a region of diminishing returns here. If you take the Zipp crankset and bottom bracket we reviewed recently as an example, it'd cost about US$425 to drop 100g off of a standard Dura-Ace 7800 bit. What's that rule again? One dollar per gram saved? Right, try four.
It seems that we've turned a corner, having finally mostly run the gauntlet of ultra-lightweight. Needless to say, things are still getting lighter, but given that now easily attainable weight limit of, our attention has been somewhat redirected towards other areas that can offer a competitive edge.
Oh, the lowly bottom bracket
The bottom bracket is a lot like the headset: it serves its role dutifully, tirelessly, and faithfully, with little praise or recognition. After all, just how glamorous can it be? Yup, it spins, and that's about all any of us asks of it. In fact, it generally doesn't even come to mind unless something goes awry, in which case its very existence is cursed. Headsets are even available in a rainbow of anodized colors, yet for the slovenly bottom bracket… well, it is what it is.
However, even when they are working properly, it turns out that contemporary external-type bottom brackets typically produce a surprising amount of drag. Independent lab measurements by Bike Testing, Inc. have pegged that figure at as much as nearly 4% of total power output. Sound like a lot? That's because it is, and the worst part about it is that it's something you have completely taken for granted up until now.
Why so much drag?
Interestingly, the antiquated square taper bottom bracket typically blows the doors off any current external stuff, at least in terms of friction. Campy has taken a lot of heat for being so late to the external-type bottom bracket party, but few will argue that its cranks spin noticeably smoother. That being said, external-type bottom brackets do offer improved spindle support and produce a rigid crankset system, but a number of design requirements also lend themselves to friction losses.
The large diameter bearing races have plenty of real estate for a greater number of ball bearings that are more capable of handling heavy loads, but all of those bearings and all of that viscous grease also slow things down. Most external-type bottom bracket bearings are also of the full complement variety that omit bearing retainers, so all of those bearings are often in contact and rotating against each other in opposite directions. Moreover, those big bearings require big contact seals with lots of surface area. Naturally, more surface area contact equals more friction.
Ceramic: it's not just for breakfast anymore
The use of ceramic
Photo ©: James Huang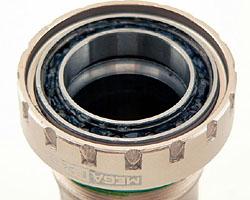 Instead of conventional bearings, FSA's Ceramic MegaExo bottom bracket uses hybrid ceramic bearing construction. In this setup, stainless steel ball bearings are replaced by ones made from silicon nitride ceramic which are separated from each other by a low-friction polymer retainer. These little guys roll on specially hardened steel races and are lubricated with a unique low-viscosity grease.
Ceramic bearings generally produce lower friction for a number of reasons. The balls themselves are much more round than even the highest quality steel bearings and are also much less compressible under load. In short, they start out rounder and they stay that way.
Steel balls also have a nasty tendency to expand with heat that is generated during particularly heavy or high RPM loads. As they're generally captured between an inner and outer race, this expansion can cause the bearing to bind. Ceramics, on the other hand, have a much lower coefficient of thermal expansion. This makes them less likely to seize up in extreme conditions, but also allows them to be run with minimal lubricant. In fact, many ceramic bearings outside of the bicycle industry can be, and are often, run with lightweight oil or even bone dry.
Finally, ceramic bearings are much more durable than standard stainless steel ones. Silicon nitride is an exceptionally hard material so most contaminants (diamond powder notably excluded; stay away from metallography labs!) that manage to sneak their way inside are simply pulverized into nothingness with no chance to pit the balls themselves. Moreover, silicon nitride doesn't react with water so that stint in the alligator-infested waters during your next La Ruta de los Conquistadores isn't likely to do much harm… to your ceramic bearings, that is.
So does it work?
In a word, yes. Independent lab testing by Bike Testing, Inc. confirms FSA's marketing claims almost exactly. As compared to that 4% figure we gave you earlier, FSA's Ceramic MegaExo bottom bracket eats up only about 0.5%. At the average pitiful 100W output that most of us kick out on a typical road ride, FSA's ceramic BB buys you four free watts. If you're a top ProTour rider spewing out 500W on a climb… well, you do the math. Pow, instant wattage increase.
Numbers aside, merely spinning a ceramic bearing-equipped crankset in comparision to a standard one provides more than enough subjective evidence that the ceramic BB is worlds smoother. You'd be lucky to get a handful of complete rotations out of a standard bit, but the ceramic-enhanced one goes and goes. With that kind of evidence, it doesn't take an advanced degree in tribology to see which one is faster.
It's debatable whether or not that reduction in friction is actually noticeable on the road, but I'd swear that the drivetrain felt markedly smoother as I pedaled along. Am I a believer in ceramic technology now? Yes. Is FSA's ceramic BB worth the US$189.99 MSRP? I can't really answer that for you, but I will say that few products out on the market can unequivocally enhance how much of your power actually makes it to the ground. My only question is when the mountain bike version will be available. That and maybe whether or not you buy these in bulk somewhere?
Photography
For a thumbnail gallery of these images, click here
Images by James Huang/Cyclingnews.com
The use of ceramic ball bearings doesn't tell the whole story. FSA also uses special low-friction seals, polymer bearing retainers, and a unique low-viscosity lubricant.
Faster, more durable, and even lighter! What's not to like? Production versions feature red-anodized cups, too. Alas, ours is plain Jane.
No red ano to see here, but at least it's labeled properly.
Weight: 130g (BSA threading)
Price: US$189.99
Pro: Dramatic reduction in friction and enhanced durability… and it's anodized red (well, not our test sample, but yours will be)
Con: Perhaps a bit expensive, but a very reasonable price to pay for such superior technology.
More information: www.fullspeedahead.com
Cyclingnews Rating: