Tech feature: SRAM unveils freeride and downhill gear for 2007, June 16, 2006
SRAM goes big
Rounding out its series of 2007 product launches, component maker SRAM last weekend unveiled its new range of components aimed at the demanding all-mountain, freeride and downhilling segments of the mountain bike world. James Huang braved the steep and rocky trails of Moab, Utah to get the low-down on the new kit.
Syndicate rider Kirt Voreis gets ready for SRAM's big drop into the freeride/downhill sector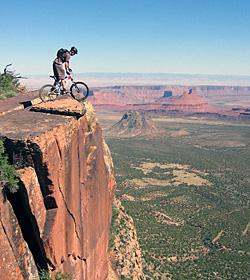 SRAM introduced a wealth of MTB products at its Sea Otter Classic mini-event earlier this year, but noticeably absent were products designed specifically for freeride and high-end hardcore all-mountain riders. The company openly admits to being last to the party, but has clearly made a big effort to fill in the gaps for the 2007 model year with a second product launch held in picturesque (and borderline other-worldly) Moab, Utah. With the help of a few of its sponsored pros, SRAM unveiled three completely new long-travel single-crown fork platforms, a new freeride-specific brake, and updates to its drivetrain offerings.
The Totem looks big

Totem dropouts

Rock Shox has switched

Totem fills 'extreme freeride' void
At the top of Rock Shox's new freeride lineup sits the Totem which offers 180mm of travel housed in a gargantuan single-crown chassis. Along with the new long-travel-specific Mission Control damper (see sidebar for more information), the new platform features 40mm diameter 7000-series aluminum stanchions, a forged Al-66TV crown, and cast magnesium lowers that are said to contain enough material to make two sets of SID lowers. The lowers are heavily braced not only in the arch area, but also around the lower bushings where a pair of Power Bulge reinforcements combat bushing slop and increase overall chassis stiffness. In addition, Rock Shox has integrated a set of SpeedLube ports that offer the ability to rapidly change oil bath lube as well as a clearly-defined disc hose mounting location on the arch.
New long-travel specific internals from Rock Shox
Unlike dedicated downhill rigs, freeride bikes often have to pedaled uphill to a certain extent as well as down, and Rock Shox has made sure to fill the new chassis designs with internals that it feels will match up with the uniquely diverse demands of the category. The newly introduced guts include a highly adjustable damper design as well as an innovative travel reduction feature.
Mission Control
Nicely machined, anodized, and laser-etched

The new Mission Control damper assembly is loosely based on the company's now-proven Motion Control setup with several key refinements. The most notable change is the addition of a dedicated shim stack to deal with high-speed compression forces, such as square-edged hits and hard landings. Low-speed compression is still handled by a basic orifice-type circuit, and both compression settings are externally adjustable via nicely machined and anodized aluminum knobs located on top of the crown. Not one to leave things well enough alone, Rock Shox has updated the other end of the damper tube as well with a new 'dual flow' rebound piston design with separate circuits for high-speed and low-speed forces. Rock Shox's Floodgate style of platform damping carries on with a new toggle-type switch also located on top of the crown and incorporates an adjustable threshold as in years past.
Internally, Mission Control

The overall layout of the damper has also been adapted specifically for use in forks with larger stanchions, with a 'tube in a tube' arrangement that increases air capacity in the lower legs for reduced ramp-up towards the end of the travel. Past critics of Rock Shox internal designs will be pleased to know that Mission Control uses aluminum construction almost exclusively with the exception of a few key areas to avoid metal-on-metal sliding contact, resulting in a more refined overall appearance than with past damper iterations.
Motion Control with Integrated Speedstack
For mid-range freeride forks, Rock Shox has developed Motion Control IS. For the most part, this new damper is essentially last year's Motion Control assembly with an additional (non-adjustable) shim stack for high-speed compression forces.
2-Step Air
A simple 60 degree turn

In the other leg, a new 2-Step feature reduces fork travel by 45mm with a single 60 degree turn of an aluminum adjuster knob in order to facilitate climbing. The new system, dubbed 'Liquid All-Travel' internally, utilizes a one-way valve to move oil in to and out of the top cap in order to limit the fork's extension instead of the plastic All-Travel spacer that had to be manually inserted in past Rock Shox forks. Spring rates increase by approximately 15-20 percent in the reduced travel setting, but the system remains fully active overall.
Totem will be offered in coil, Solo Air, and 2-Step Air spring options with either 1 1/8in or 1.5in diameter aluminum steerer tubes. A refined Maxle 360 20mm thru-axle system is standard and all forks will come equipped with post-type disc mounts for rotors 203mm in diameter and larger. Weights range from 5.9-6.3lbs, including axle and full-length steerer. What's the cost, you ask? Hope you're sitting down as MSRP for the Totem will range from US$995 up to a whopping US$1150.
New Lyrik caters to high-end all-mountain crowd
Lyrik fills in

As with Totem, Lyrik will switch

The Lyrik is designed to be a premium-level all-mountain fork with 160mm of travel and will also feature the new Mission Control internals. At first glance, Rock Shox's second new platform is essentially a downsized Totem with 35mm diameter aluminum upper tubes, a forged Al-66TV crown, and Power Bulge-equipped cast magnesium lower legs (sorry, no SpeedLube ports, but the disc hose mounting location remains).
As with Totem, a variety of spring options are available, including coil U-Turn, Solo Air, or 2-Step, and a 1.5in aluminum steerer will be optional on the coil-sprung version. All varieties will utilize the Maxle 360 20mm thru-axle system and will also feature post-type disc mounts for rotor sizes 160mm and up. Weights range from 5.1-5.73lbs, including axle and full-length steerer. MSRP for the Lyrik will range from US$920 up to US$1050.
Rock Shox Domain offers durable freeride performance in mid-priced package
Domain offers

Domain is available

In the mid-priced category, Rock Shox offers up the Domain, a sort of hybrid of the Totem and Lyrik platforms. The Domain chassis dimensions are similar to those of the Lyrik, with 35mm upper tubes (made of taperwall steel, in this case), a forged and hollow 6061 aluminum crown, and cast magnesium lowers. Total travel, however, reaches a Totem-like 180mm (depending on model). Upper-level Domain versions receive the new Motion Control IS damper while the others get more pedestrian internals with basic rebound control.
Domain will be available in U-Turn (115-160mm) and coil (180mm) options. As with the other new platforms, the Maxle 360 system will be standard along with post-type brake mounts for 160mm rotors and larger. All versions will be offered with 1 1/8in or 1.5in aluminum steerer tubes, and weights range from 6.15-6.5lbs. As described earlier, Domain will be a solidly mid-priced fork at US$530 to US$590.
New Avid Code brake adds pistons and bearings
The new Code
Yup, a full three cartridge bearings

Avid's Juicy Seven and Juicy Carbon brakes have proven to be excellent all-around stoppers, but hardcore users have pined for a more purpose-built design. In response, Avid displayed a prototype of its new heavy-duty four-piston brake at last year's Interbike and now we know its official name: Code. The new brake sports a four-piston caliper and new master cylinder design that produces 27 percent more stopping power than a comparably-equipped Juicy Seven. In fact, according to Avid main man, Paul Kantor, in-house tests of the new brake have shown that only Magura's Gustav M trumps it in terms of sheer clamping force. That being said, Kantor was quick to point out that, "the goal was not ultimate power, but more power with lots of control."
Some readers will question Avid's decision to stick to a two-piece caliper when others (notably Hope) have decided to go the one-piece route, but Avid feels that the four large M6 steel bolts that hold the two caliper halves together lend a measure of stiffness that is impossible to achieve with a single unit. Regardless of the philosophical dichotomies, much attention has been placed on heat management for Code, as its intended usage will undoubtedly have to dissipate more energy than in XC applications. The hose banjo has been moved as far away as possible from the pistons, and stainless hose hardware is used exclusively at the caliper to better radiate heat into the air. Speaking of the banjo, Avid uses an innovative centrally-located (and adjustable) mounting position which is sandwiched by the caliper halves to provide shielding from trail hazards. Both hose ends are threaded for easy hose length alterations.
Up top, the new master cylinder is equally purpose-built for abuse, with three cartridge bearings to support each main pivot and a two-piece lever with a breakaway feature. A center-mounted Speed Dial contact point adjustment and a front-access reach adjustment make for easier customization when running moto-style as well. The handlebar clamp uses the same dimensions as Avid's Juicy, so Code will also be Matchmaker-compatible for a cleaner setup.
Code will be offered with either 185mm or 203mm rotors only, and will come standard with organic pads to provide more linear stopping power (metallic pads are optional). Weights will vary depending on setup but will start at approximately 561g for a complete front brake with a 185mm rotor. MSRP will be approximately US$230 depending on rotor choice.
Truvativ's Holzfeller trims down and beefs up
Truvativ's new Holzfeller OCT

Holzfeller OCT

Bearing comparison

Just in case

One division of SRAM that has also experienced widespread success in the freeride world is Truvativ with its excellent line of heavy-duty drivetrain parts, including the ubiquitous Holzfeller cranks. For 2007, Truvativ introduces the new Holzfeller OCT version which drops 75g from the current Holzfeller yet tests 10 percent stiffer. These improvements are gained through the use of Truvativ's hollow forging process, dubbed Open Core Technology, which is said to afford the company the unique ability to forge higher-strength aluminum alloys such as the 7050. Mark Pippin, head of SRAM's 'Cogtech' division, claims that in-house evaluations proved the new crankset, including the company's Howitzer bottom bracket, to be the strongest of its main competitors (by as much as 40 percent in one case) while offering comparable levels of stiffness at a weight savings of 40g over the next lightest option.
Holzfeller OCT will be offered in three chainring configurations (Rock Guard double, DH single, and Bash Guard single) as well as three chainlines (51mm, 56mm, and 66mm). Conveniently, switching between different chainlines will only require a bottom bracket swap as both crankarms use a bolt-on style of attachment. MSRP for a set of Holzfeller cranks will be a competitive US$235, plus US$47 for the Howitzer Team BB.
SRAM
New low-mount X-7 front derailleur

There isn't much to mention here that wasn't discussed in our Sea Otter Classic coverage, but there are a couple of notable items. SRAM has finally developed a low-mount ('top swing' in Shimano-speak) front derailleur to accommodate those frames for which a high-mount just won't work. Unfortunately, the new derailleur will only be offered in the X-7 level for now.
The only other real point of interest from SRAM was something that wasn't even shown to us in Moab. SRAM is developing an ultra-lightweight high-end cross-country cassette using titanium for all of the cogs. Details were sparse to say the least, but there was mention of the use of hollow rivets to hold the cogs on to the carrier. Keep your eyes open at the next World Cup as Blackbox-sponsored rider Christophe Sauser is allegedly currently testing prototypes.
Off to ride
Syndicate rider Kirt Voreis

Naturally, Moab's status as a mountain bike mecca provided ample opportunity to put in some quality chamois time on some of the new gear on a few of the area's most famous trails, including Slickrock and Porcupine Rim. Some downhill shuttle runs and a quick trip over to Bartlett's Wash were tossed in for good measure as well, and all of our rides were graced by the presence of a handful of SRAM-sponsored riders, including SRAM-bassador Greg Herbold, Syndicate rider Kirt Voreis, and BC sensation Tyler Morland.
The overriding first impression of the Lyrik U-Turn on our cross-country rides was the excellent chassis rigidity. Regardless of line choice (and some of mine were admittedly, ahem, less than ideal), the Lyrik held firm. The new Mission Control damper proved to have a very wide range of adjustment with changes in low-speed and/or high-speed compression damping settings making a tangible difference in ride quality, and on one particular occasion, the Lyrik also managed to handle a sizeable drop with nary a quiver. One interesting thing to note is that none of the wiper seals on any of the test forks showed even a hint of weeping after two days of hard riding, indicating not just good seal quality, but also extremely tight bushing tolerances.
As for our downhill rides on the Totem fork, Code brakes, and Holzfeller OCT cranks… okay, I'll admit that I'm a bit of a downhill pansy (come on, I lived in Michigan for the last 14 years!) Regardless, attempting to keep up with HB, Voreis, and Morland on our downhill runs and watching them do their thing at Bartlett Wash proved to be an eye-opening experience on a number of levels as it became plainly obvious why these guys are paid to do what they do. Equipment-wise, though, the Totem certainly proved capable of making up for a lack of downhill skill as it saved my rear end on more than one occasion. Chassis stiffness was even more impressive than with Lyrik, and small changes to damper settings were also very noticeable as well. Unfortunately, our downhill /freeride excursions didn't provide much of an opportunity to put the brakes or cranks through their paces in a proper fashion, but for their limited use, the Code brakes displayed a light and precise lever feel with little evidence of caliper flex, and the Holzfeller cranks were markedly more rigid than the Stylo Team cranks which graced our cross-country loaners.
Departing words
In all, it seems that SRAM has recognized its freeride shortcomings and has clearly has put forth substantial levels of effort to enhance its presence in those arenas with totally new technology dedicated to the segment, as opposed to rehashings of present stuff. Some readers may scoff at the high cost of the new Rock Shox Lyrik and Totem forks, in particular, but those costs may prove to be justified if our early impressions are any indication.
Many thanks go out to our guides, Kyle, Matt, and Brian, for showing us the best lines and providing us with some handy local info, and to Ashley at Western Spirit for the post-ride grub!