Tech feature: Alessandro Petacchi's Team Milram Colnago Extreme C2 Prototype, March 29, 2006
A special chassis for the Ale-Jet engine
Petacchi's Team Milram Colnago Extreme C2 proto
Photo ©: Tim Maloney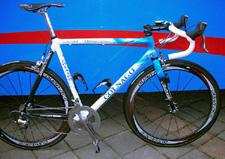 Alessandro Petacchi has never been one of those riders who can just hop aboard a production frame and give of his best. The tall, powerful Italian sprinter has always ridden custom frames that give him the long, low position in which he's fastest. For 2006 new bike sponsor Colnago has pulled out the stops to build Petacchi a frame that's super-stiff, as well as being fitted to his requirements. Tim Maloney takes a look.
On the eve of Milano-Sanremo, Cyclingnews exited the Team Milram press conference and ran straight into Alessandro Petacchi doing a TV interview about his new Colnago.
After we prevailed on the friendly Milram mechanic to take Ale-Jet's new ride around the back of the team bus to take a few shots, we then went to the Catholic University of Milano to get our race accreditation, just next to the Piazza San'Ambrosio where Milano-Sanremo was to start the next morning. We ran into Ernesto Colnago there and took the opportunity to ask him about Petacchi's new bike.
Alessandro Petacchi
Photo ©: Tim Maloney

The massive bottom bracket
Photo ©: Tim Maloney

One piece head lug
Photo ©: Tim Maloney

"Petacchi has a long torso so he needs a custom frame, and since he is one of the most powerful sprinters, he needs a frame that can stand up to his power," explained Colnago. "I have known Alessandro for many years; he started his amateur career on a Colnago and it is great to work with him again. He used our C50 all winter for training and gave us the information we needed to build him a special frame, the best frame for sprinting." Petacchi got his first Extreme C2 Prototype just before the GP Costa Etruschi in February, which he won, but Colnago explained that he wanted an even stiffer frame, but still with light weight.
"We then made some special lugs for Petacchi's next bike with a reinforced bottom bracket, head lugs and reinforced fork and he used this bike starting at Tirreno-Adriatico. It weighs 1340 grams without the fork in Petacchi's size and is very rigid. Once Petacchi rode it, we were happy to hear him say 'don't change anything'." Colnago was quick to emphasize to Cyclingnews that, "This bike for Petacchi is a special custom prototype for him and at this point, we don't have any plans to sell it to the public."
Full specification
Frame: Colnago Extreme C2 Prototype carbon fiber
Fork: Colnago Prototype
Colour: Blue & White Ale Jet
Critical measurements
Rider's height: 184cm / 6"01"
Rider's weight: 73kg / 160lbs
C of BB to C of seat tube: 545mm
C of BB to T of seat tube: 565mm
C of BB to T of seat: 795mm
Top tube length: 585mm (C-C)
Cranks: Shimano Dura-Ace, 175mm, 39/53
Chain: Shimano Dura-Ace
Front derailleur: Shimano Dura-Ace
Rear derailleur: Shimano Dura-Ace
Brakes: Shimano Dura-Ace
Levers: Shimano Dura-Ace
Rear sprockets: Shimano Dura-Ace, 11-23
Wheels: PRO R-50 Classic (Shimano prototype carbon wheels used for racing)
Tyres: Panaracer
Bar: Cinelli Neo 31.8, 44cm (C-C)
Stem: Colnago-Cinelli 31.8, 140mm
Headset: Colnago, 1'1/8"
Pedals: Shimano Dura-Ace
Seat post: Shimano Dura-Ace
Saddle: Selle San Marco Aspide
Bottle cages: Elite
Cycle computer: N/A
Total bike weight: 7.7kg/ 16lbs