Recently on Cyclingnews.com
Eurobike 2002
Friedrichshafen, Germany, August 29-September 1, 2002
Giro / Bell 2003
By Tim Maloney
Lance Armstrong, Texas.
Photo: © Cyclingnews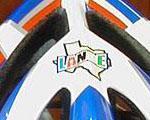 "Lance always used to have a hand-painted helmet that Giro would make up for him every year," Greg Shapleigh of Bell Sports explained to Cyclingnews, "but we wouldn't be able to commercialize it in production. It would take the artist about two months to make it, but now with our new screen-printing technology, we can replicate a hand-painted graphic for mass production. It costs a lot more to make this, but now Giro can do it. So this year, we are offering the 'Lone Star' Pneumo; the exact same Giro Pneumo that Lance Armstrong used in the Tour. It has the LAG.Org stickers and it comes with a Lone Star Giro helmet pod carrying case. We think that this is a great way for Lance Armstrong fans to own the identical helmet that Lance wears."
Giro is offering the Lone Star Pneumo as a limited edition and it will be in bike stores this October at US$200. Giro is also offering limited edition Pneumos in Cofidis colors and another blue/light blue color scheme. Besides the limited edition Pneumo, this model is in the USPS team colors, black and white, with 19 vents and weighs 284g.
Everythings Xen.
Photo: © Cyclingnews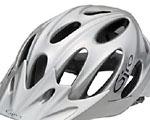 Giro's new Xen (say 'Zen') helmet, said Giro's Shapleigh, grew out of a demand for a lighter, better ventilated mountain bike helmet but with a more contemporary look. "We had a lot of mountain biker riders wearing out skate helmet, because it looks cool, but they were looking for a cycling specific helmet. That's why we built the Xen." Available in four colors, the Xen has 17 vents and weighs 298g.
Shapleigh also pointed out Bell's Ghisallo model as a real sleeper. "Ghisallo is a very affordable helmet with high-end performance," said Shapleigh. "We sponsor top pro teams like iBanesto.com and Credit Agricole among others with this model. It has 17 big vents and weighs 320 grams." Check out more info at www.giro.com or www.bellbikehelmets.com.