Tech news for March 16, 2001
Inside Francesco Casagrande's Pinarello
Fassa Bartolo riders get custom frames from Pinarello and unlike some manufacturers the Italian greats will still make a custom frame for Jo Racer, though with a range of production sizes in 1cm increments from 48cm to 62cm you'd need unusual requirements to really need a custom job. Of course, 'want' and 'need' are two totally different animals...
The Prince is mostly Dedacciai aluminium, and the tubes are custom-drawn to Pinarello's specifications in a wide variety of shapes. The Prince's down tube has a tear-drop cross-section, for example. The fork and seatstays are carbon fibre, which 'quiets' the ride.
Casagrande sits on a Selle Italia Flite, and goes for 43cm bars.
Fassa Bartolo bikes are white and blue, but the bike illustrated is otherwise identical to the Casagrande machine.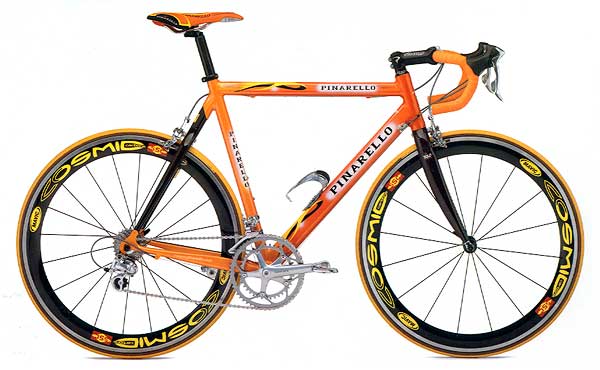 Pinarello's Prince road weapon, as ridden by Francesco Casagrande
Frame
Material: Dedacciai SC 61.10 A Ket Aluminium with carbon fibre seat stays
Fork: Pinarello Vola
Fork material: Carbon fiber
Headset: Integrated a-head system Pinarello
Frame size: 53cm x 54cm center to center

Components
Handlebar: Deda Elementi Newton, 43cm
Stem: Deda Elementi Newton, 130mm
Saddle: Selle Italia Flite
Seatpost: Pinarello Carbon
Pedals: Shimano Dura Ace
Chainset: Shimano Dura-Ace      
Bottom bracket: Shimano Dura-Ace
Front derailleur: Shimano Dura-Ace
Rear derailleur: Shimano Dura-Ace
Gear shifters: Shimano Dura-Ace


Chain: Shimano Dura-Ace                        
Brakes: Shimano Dura-Ace                       
Brake levers: Shimano Dura-Ace                 
Cables: Shimano Dura-Ace
Pads: Shimano Dura-Ace
Wheels: Mavic Ksyrium or Cosmic Carbon
Tyres: Vittoria Open CX 
Bottle cages: Elite       
Computer: Cateye
 

Cannondale's EPO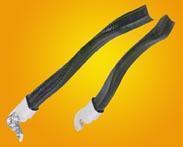 The bendy chainstays at the heart of Cannondale's EPO rear suspension
Cannondale has released more details of its 'EPO' suspension mountain bike, including a jokey 'confirmation' that "the EPO designation stands not for erythropoietin, but for "Engineered Pivot Orientation" (though Cannondale officials maintain that the new suspension will similarly enhance an athlete's performance)." We might leave it at that...
Anyway, contrived acronyms aside, it turns out the EPO uses flexible chainstays instead of a pivot. It's not a new idea - suspension bikes that work by flexing the stays have been around since at least the early-mid 90s - but Cannondale's implementation is interesting. According to the company's latest missive on the subject, "the EPO suspension's chainstays are crafted from a composite of carbon fiber, fiberglass, and nylon. The stays have a nearly rectangular cross-section, with the major (longer) axis oriented vertically at both ends. But along the central portion of their length, the stays temporarily flatten out so that their major axis is horizontal. Along this same section, the stays' lower edge gradually arches so the stays become noticeably thinner, top-to-bottom, at the center of their length. The ends of the stays are bonded within fixed collars that are part of the rear dropouts and bottom bracket shell."
The practical upshot of this is a bike that pivots in the middle of the chainstays, with the pivot achieved by flexing of a composite structure rather than the usual bearing or bushing. How it will ride is anyone's guess at this stage, though of course Cannondale are crediting enthusiastic noises about the system to Volvo/Cannondale rider Christoph Sauser, who the company says has been riding development versions of the bike since last fall. It's pretty certain it'll be light though; pivots and the gubbins around them are a major source of mass on conventional suspension designs, and we can see that careful component selection could get Cannondale to the bike's target weight of 23lb (10.4kg).
It's taken a long time for dual suspension bikes to start to look truly viable for cross-country racing, but this season is going to be very interesting, with Volvo/Cannondale campaigning the EPO, Trek's riders aboard Fuels and Team Specialized having the option of riding the suspended FSR. It might just be the year of suspended XC.