Tech news for April 12, 2001
In the pits at MTB World Cup #1, Napa Valley
The first World Cup of the season always brings interesting bikes, components and tweaks out of the woodwork. At this time of year manufacturers are getting to the end of the product development cycle for 2002 equipment, so new stuff lurking in the pits now may be in the shops anywhere between the middle of this year and the beginning of next. If it appears at all, that is — sometimes racing demonstrates something wasn't that great an idea after all…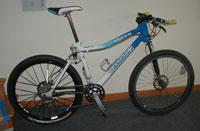 Photo ©: Tim Maloney/cyclingnews.com
Cannondale Scalpel
Sharpest bike on the course is perhaps the new Cannondale Scalpel; a 23lb full suspended bomb with full lockout. Check out the carbon fiber "EPO" composite chainstays, thinner in the middle to isolate flex point. The 'lightweight duallies for racing' field is getting crowded and while it's arguable that the pros need these bikes they could help make XC racing less uncomfortable for the proverbial 'rest of us'.
SRAM proto rear derailleur
| | |
| --- | --- |
| | |
Pictured on Rune Hoydahl's Giant is SRAM's extra light rear mech, built with magnesium and forged aluminum. Estimated weight is 50 grams less than the current SRAM 9.0 rear changer and it should be on the market for 2002. It'll sit above the 9.0 in SRAM's range.
Giant Xtc Team carbon fibre proto
| | |
| --- | --- |
| | |
Giant debuted this development proto race bike with a carbon fibre front triangle, derived from the company's successful carbon hardtails, and the rear suspension from the acclaimed Xtc cross-country bikes. Thanks to Giant PR bloke Steve Boehmke for the tip-off.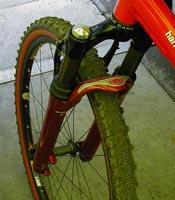 Photo ©: Tim Maloney/cyclingnews.com
Manitou Black Comp
Manitou's latest XC race fork made its World Cup debut at Napa. Manitou has placed the fork arch in the rear, and according to the fork maker this will increase the stiffness without increasing the weight. Available in Fall 2001.
GT I-Drive with lockout
| | |
| --- | --- |
| | |
Old buddy Doug Hadfield, longtime chief wrench of Team GT shows off Roel Paulissen's I Drive; check out the read shock lock-out! Hadfield will be at Paris-Roubaix wrenching on GT-sponsored Lotto's bikes. Mr. Versatility…