Make your Mountain bike roadworthy
By Øyvind Aas
Cross Country Mountain bike racers do a big part of their training on the road. So could you.

Pack animal
Photo: © Řyvind Aas
For many of us it is a matter of making a sacrifice when we choose a bike. Sometimes it is a matter of acknowledging one's preferences and wishes.
A road bike does what it is supposed to do, which is to go as fast as possible on a smooth surface, very well. A mountain bike does what it is supposed to do well, which is to help its rider conquer steep and rough terrain. Depending on the quality of the bike in question, a road bike will give a cyclist the most joy on the road while a good mountain bike will delight its user in the forest.
If the best option of having two different bikes is not an option, a choice will have to be made. A road bike can never be ridden off road, at least not very safe neither for the bike or its pilot. Some might suggest a road bike can take on gravel roads and similar surfaces with meatier tyres, but it's not an ideal option. A mountain bike however is capable of making the transfer quite well.
With a few changes a good quality mountain bike can be made into an ample roadrunner.
First the tyres will have to go. A road rider's main foe is rolling resistance and mountain bike tyres provide plenty. To convert all the way to the road, slick tyres are the answer. Some of the skinniest available are Hutchinson's Top Slicks, which are available in a minuscule 1.0-inch size, Continental and Specialized also make, good narrow 26 inch tyres. These tyres are as narrow as some real road tyres and roll wickedly fast. With the smaller size mtb wheel they also accelerate really quick.
To avoid changing tyres all the time, a second wheel set fitted permanently with these road tyres might be a good investment.
For those privileged among us that are using disk brakes, another even better solution is available: If you can afford a second wheel set, it's possible to build this with 700c road rims. These wheels will not stand back for any real road wheels. The fit in most mtb frames is tight, but sufficient.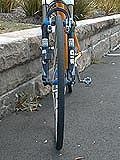 Skinny in frontl
Photo: © Řyvind Aas
Secondly, a suspension fork serves little purpose on the road. If you have an air fork like the Rock Shocks SID, inflate it so it's close to rigid, with a spring fork, tighten the pre load. Some new forks and Cannondale's Headshock have a lock out lever, which is handy. If there ever was a time for locking up the fork this is one.
If you're really eager it's possible and quite easy to even swap the fork before a road epic.
Many might have a rigid fork lying around somewhere. Now is a good time to get it out from the back of the garage again.
To make the swap easier, you might want to ride off road again soon, get a second crown race: the ring that press fits around the steerer on your fork to hold the headset in place. Your local bike shop might help you, or you might have to buy a spare headset. These things break all the time anyway.
If the steerer on your rigid fork is longer than your suspension's it's just fine. On the road it's nice to have the handlebar a fraction higher than you would racing cross country, so get some spacers. A suspension fork usually rides taller than a rigid as well, so some spacers are useful.
Here disk brakes may prove a problem. Still it is possible to get rigid forks with disk mounts. Otherwise use your suspension fork.
Now your bike is rigid and rolls easily on narrow tyres. Still there are some refinements that can be made to make the mtb fully capable on the road.

Pointy things
Photo: © Řyvind Aas
Hand positions tend to be a problem on a straight mtb handlebar. To get a few more options a clip on bar like attachment may be the answer. A time trial bar can be made out of two L bent bar ends attached inside the grips and levers. These won't be in the way when you are heading for the off road trails either. If you are using a really wide riser bar and is thinking about riding on the road, it might be a good idea to switch to a regular straight bar, with bar ends.
Changing handlebars all the time is a real pain. Open faced stems make stem changes easier, but handlebar changes are limited by ease of grip removal. An Odi Lock-On type grip is the only thing making this procedure easier.

More teeth
Photo: © Řyvind Aas
The last thing that could push a mountain bike one level further as a road bike is taller gearing. A standard triple chain ring set-up is 42-32-26 some may have a 44 big ring and XTR comes with a 46. If you are running a 42 at the moment a 44 or if possible a 46 might give you that little extra to keep up with the pack on a Sunday ride. Race Face among others makes 46 teeth big rings for compact cranks. If you are currently running a 46 XTR set-up make sure you have an 11 teeth small cog in the back. Most nine speed clusters ranges from 11-32 or 11-34. A 46X11 gear is ample for speeds up to 50-55k/p/h. If the pack is going a lot faster than that spin and lay low.
Remember to inflate your tyres properly, 80-100 lb. or 6-7 bar is what you should be aiming at. Now all you have to do is wear a Lycra shorts, shave your legs and behave in the pack.
Got tech? Send press releases, news, and tech questions to the Cyclingnews tech-heads.
---