Eurobike 2000, August 31-September 3
By Tim Maloney, cyclingnews.com correspondent
Once again, the international cycling marketplace has opened for business at the Eurobike trade show in Friedrichshafen, Germany. Cyclingnews.com was there when the doors opened last week and we checked out the show. Although the show is not open to the public, we were there!
This year's Eurobike was loaded with new road bikes. With the mountain bike market flat and road racing riding a world wide surge of enthusiasm, cyclingnews.com will bring you a selection of the best of new and exciting top-end road products for 2001.
Part I
Colnago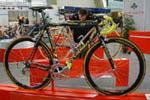 The new C40
"Il Maestro", Ernesto Colnago, has updated his top model, the C-40 carbon fiber road bike for 2001. Old friend (and loyal cyclingnews.com reader) Luciano Fusar Poli showed us the revised C-40, made with a new lighter grade of carbon fiber with a higher modulus. Colnago's new C-40 has a monocoque "B-Stay"; even more "rigid and stable "than the previous version, according to Fusar Poli. The new, "must have" C-40 may be available before Christmas and is available in 8 different color schemes and 19 frame sizes(!)
Website: www.colnago.com
Eddy Merckx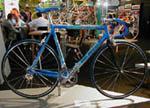 Eddy Merckx
Eddy Merckx is making a big comeback with his new bike line. He'll sponsor the powerful new DOMO team from Belgium in 2001, with his son (and Belgian champ Axel Merckx) back riding dad's bike! Despite a somewhat dated look, Eddy's top of the line "Titane "for 2001 has his classic geometry, combined with light weight. Merckx's most interesting model was the Alu model with the hot new Daytona 10 speed groupset and carbon fiber fork; a lot of bike for the money.
Website: www.eddymerckx.be, Email: info@eddymerckx.be
Battaglin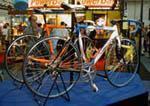 Battaglin's Vortex Unicarbon
Giovanni Battaglin is celebrating his 20th year in the bike business this season; and the man from Marostica has not stood still since Stephen Roche won the Giro, Tour and Worlds in '87 on a Battaglin. The Vortex Unicarbon is Battaglin's new top range bike. It has a Easton Alu front triangle with Vortex carbon fork, 1 1/8" integrated headset, CNC bottom bracket and full carbon rear end. On top of all these goodies, the Battaglin Vortex Unicarbon is one of the best looking bikes on the market this season.
Email: info@battaglin.com
De Rosa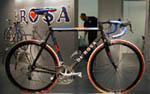 The UD De Rosa
De Rosa is still one of the most sought after cult bikes around, if you can get one! After you De Rosa lovers get a gander at the new "UD" model for 2001, they'll be looking to place another order! Ugo De Rosa has created his signature model with Dedaccai's new lightweight alu alloy U2 tubing. De Rosa claims that the frame weighs 900 grams in the new material. Add an 1 1/8" integrated headset and oversize full carbon fork, a stylish matte powder coat finish and you have a classic example of state of the art Italian road iron (or in this case aluminium)!
Website: www.derosa.it, Email: derosa@derosa.it
Dedaccai
Speaking of Dedaccai, the innovative Italian tubing and component maker has introduced a new carbon fiber road fork, called "Black Magic ". Published weight is 387 grams, with a alu steerer tube and indents on the outside of the fork blades for extra stiffness. And there's more from Dedaccai where carbon fiber is concerned. They have come up with a new tubeset in both Carbon Fiber and Kevlar & Carbon Fiber so look for top bike makers to take advantage of this new Dedaccai technology.
Campagnolo
Although there are no major innovations from Campagnolo for 2001, the Italian component maker has make some changes to refine their already state of the art groupsets. Record 10v has a lighter rear brake (by 40 grams) called "Differential "brakes and a "Hiddenset "Record headset for the new integral headset designs in both 1" and 1 1/8". And new "Pro-Fit Plus "pedals offer a wider foot support area than the 2000 model. For the big meat crankers, Record cranks are now available in 177.5 and 180mm length. "Differential "brakes are also available in Chrous for 01. For you value for money Campag consumers, the Daytona group is now available in 10v; Record look and performance for half the price!
Check out the Campag website for more info, it's a good one.
Website: www.campagnolo.com