On test: Scott Addict CX RC, November 26, 2008
Fifteen pounds of 'cross bike goodness
The Scott Addict CX RC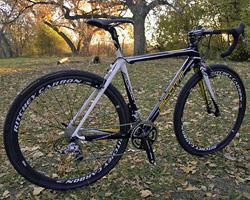 It isn't often that we come across a bike that makes such a strong impression but the Scott Addict CX RC is just such a beast. Cyclingnews technical editor James Huang mounts up on the ultra-premium cyclo-cross race machine and concludes that indeed, money really can make you go faster.
Scott's new Addict CX RC is a faithful 'cross rendition of its flagship road rocket complete with all of the original's carbon fiber technology and drool-worthy numbers. Though the geometry has been suitably adjusted, the stays widened, and the frame appropriately reinforced for the rigors of 'cross, claimed frameset weight is still sub-1kg at 980g - just 190g heavier than the road-going Addict LTD and yet intended for far more abuse.
Like the standard Addict, Scott uses its most advanced IMP (Integrated Molding Process) and CR1construction techniques plus its highest-grade HMX-NET carbon fiber in building the CX RC and just about everything on the 'cross version is made exclusively of carbon fiber including the dropouts and most of the housing stops. Aluminum inserts are used at the integrated rear brake housing stop, bottom bracket threads and front derailleur mount, though, and the rear derailleur hanger is a replaceable aluminum unit as well.
Total weight for our complete top-end Addict CX RC tester is a mind-blowing 6.72kg (14.8lb, size small) without pedals. Toss in a set of Crankbrothers Eggbeater 4Ti pedals and it's still just barely UCI-legal - for a road bike.
Light as a feather, stout as a rock
The Addict CX frame mimics the road-going version

Oversized tubes and lots of carbon fiber

As with the standard Addict road frame,

The stout rear end yields superb drivetrain stiffness

There is also gobs of clearance up top

The beefy seat stay wishbone

The oversized top tube is mildly ovalized

The Continental Cyclocross Mud tubular tires

Scott says the extra housing mount

Much as we've come to expect from the road-going Addict, the Addict CX RC is a true ultralight on the scale but yet noticeably more rigid than frames that are far heavier. It's not only incredibly fast on the ground as a result but quite easily the fastest 'cross bike we've tossed a leg over.
Acceleration from a standing start is truly road bike-quick and sizeable gaps close up with but a few hard pedal strokes. There's nary a hint of flex from the bottom end or front triangle regardless of how hard you try and you're constantly reminded of how easy it is to muscle this sub-7kg steed up the short power climbs typical of 'cross.
Handling is also spot-on. As compared to a similarly sized Addict, the CX RC uses a slightly shorter top tube, longer chain stays and a slacker head tube angle that yields an appropriately nimble personality that never feels too quick or too floppy. The accompanying Ritchey WCS Carbon Cross fork helps here as well with beefy carbon blades that offer precise steering and chatter-free braking that can be so essential on technical courses.
More importantly, the CX RC's modest 2mm of extra bottom bracket height yields a center of gravity that is just barely taller than on the road. While this means you won't be able to pedal through quite as many corners as on a more Euro-style 'cross bike, the upside is more stable cornering so you can dive in faster and harder.
Though the Addict CX RC may have the same magical superlight-and-ultrastiff combination as its cousin, it unfortunately also features its stiff ride quality on anything short of pavement. The thin-walled carbon construction delivers the usual damping of high-frequency buzz and fairly lively feel but there's little real compliance anywhere to soften impacts. If anything, the stouter wishbone-style seat stays offer even less vertical flex than on the standard Addict and cornering on rough ground can be a bit skittish at times.
Low-pressure tubulars aside, the Addict CX RC is stiff with a capital 'S' and yet makes no apologies for its harsh nature. Don't forget: this is a race bike through and through and there's little need for a cushy ride when the target arena is only an hour long. True, a softer frame might deliver you to the finish line feeling fresher - but maybe a few places back from someone of similar fitness who was on something lighter, stiffer and more responsive.
As one would imagine from such little weight, shouldering is less painful than usual thanks in part to the oversized and slightly flattened top tube and mildly sloping frame geometry that still leaves enough room to easily reach your arm through. We were initially taken aback by the rear brake cable routing - which runs beneath the top tube - but the forward stop is mounted far enough towards the head tube that it doesn't dig into your shoulder and the cable is at least offset a bit to the side.
According to Scott front man Adrian Montgomery, this is actually the preferred routing location for sponsored rider Thomas Frischknecht and the Scott-Swisspower team. That may be the case, but the cable itself still ends up slightly between you and the top tube on run ups and the 5 o'clock position results in a less-than-ideal housing kink at the seat stay wishbone. Twelve o'clock routing would move everything away from the shoulder and would also allow Scott to run the line directly through the integrated mast for the ultimate in low-friction routing.
Top-shelf parts picks
US$7474.99 is a hell of a lot of money to ask for any 'cross bike but thankfully it also includes a component spec that wants for little and goes a long way towards helping the Addict CX RC hit that sultry weight figure.
The SRAM Red transmission continues to be one of our favorites for 'cross thanks to its positive 'shift, clunk' shifting performance and the FSA SL-K Light crankset is wisely fitted with discipline-appropriate 46/36T chainrings. The matching 11-26T spread on the matching SRAM OG-1090 cassette still offers a fairly wide range of gears but the PowerDome design's shallow channels are known to clog up in heavy mud - keep that in mind if course conditions are goopy.
Speaking of mud, Scott clearly anticipates that the Addict CX RC will see plenty. The DT Swiss 240s hubs are laced with DT Swiss Aerolite spokes to 38mm-deep Ritchey WCS Carbon tubular rims that are not so valuable here for their aerodynamics but rather their ability to cut through muck and sand. Wrapped around those rims are Continental's new 32mm-wide Cyclocross Mud tubulars with their aggressive open tread pattern and stopping the whole shebang is a set of wide-profile Tektro cantilevers.
Though this combination is undoubtedly excellent for tromping through the slop, it isn't so great if your local conditions call for less-than-ample rain. The knobby Continental tubulars roll surprisingly fast regardless of terrain and provide excellent bite on looser ground but are a bit sketchy on fast hardpacked corners.
Likewise, the Tektro cantilevers deliver plenty of mud clearance and a firm lever feel but like most wide-profile brakes, there's little power when you really need to scrub a lot of speed or are careening into a hard corner at the bottom of a technical descent. They're also rather tightly sprung and the single mounting holes front and rear offer no alternatives for backing off the tension.
We can't help but wonder about the long-term durability of the carbon railed Selle Italia saddle and Ritchey Logic II Carbon bar, too. Both bits undoubtedly shave precious grams but the latter is prone to damage from the inevitable crash and the former certainly had us paying more attention than usual during remounts. Thankfully, neither failed during testing (which unfortunately also included crashing!) but potential buyers might want to consider swapping both items for something a little tougher.
Guaranteed higher speed… at a price
The Scott Addict CX RC is an amazing rig for the dedicated 'cross racer and it's a virtual guarantee that you'll go faster aboard one - and we don't say that often. Save for a handful of relatively minor quibbles, it's nearly everything we could dream of for a 'cross racer and then some. If you have the money, buy one and never look at your current racer the same way ever again. Just do your best to keep it upright as neither the ultralight carbon parts - or the thin frame tube walls - are likely to hold up well to impact.
Still, über-machine or not, US$7474.99 is an enormous sum of money for what will likely be someone's second or third rig. Scott also sells the identical frameset for US$3299.99 (frame with integrated mast, fork, headset, and seatpost head) or, for just another US$800, the standard Addict CX with a lesser parts spec and roughly an extra kilo of heft.
Seeing as how the chassis is clearly the star of the show here, either of those options strike us as far better values. They're still awfully expensive but in this case, you certainly seem to get what you pay for.
Price: US$7474.99
Weight: 6.72kg (14.8lb) (size S, without pedals)
Pros: Unreal frame stiffness and responsiveness, lighter than most road race bike, top shelf spec
Cons: Ungodly expensive, stiff ride, some questionable component picks, debatable rear brake cable routing
Cyclingnews rating:


More information: www.scottusa.com
Photography
For a thumbnail gallery of these images, click here
Images by James Huang/Cyclingnews.com
Frame: Scott Addict CX RC
Available sizes: XS, S (tested), M, L, XL
Fork: Ritchey WCS Carbon Cross Straight
Headset: FSA Orbit IS CX w/ integrated hanger
Stem: Ritchey WCS Carbon 4-Axis UD
Handlebars: Ritchey WCS Logic II Carbon
Tape/grips: fi'zi:k bar:tape
Front brake: Tektro CR720 w/carbon-specific pads
Rear brake: Tektro CR720 w/carbon-specific pads
Brake levers: SRAM Red DoubleTap
Front derailleur: SRAM Red
Rear derailleur: SRAM Red


Shift levers: SRAM Red DoubleTap
Cassette: SRAM OG-1090, 11-26T
Chain: SRAM PC-1090R
Crankset: FSA SL-K Light, 46/36T
Bottom bracket: FSA MegaExo
Pedals: n/a
Rims: Ritchey WCS Carbon tubular, 38mm
Front hub: DT Swiss 240s
Rear hub: DT Swiss 240s
Spokes: DT Swiss Aerolite
Front tire: Continental Cyclocross Mud tubular, 32mm
Rear tire: Continental Cyclocross Mud tubular, 32mm
Saddle: Selle Italia Kit Carbonio
Seat post: Ritchey One-Bolt Stubby integrated