On Test: Kurt Kinetic Rock & Roll Pro trainer, March 25, 2008
Bringing the outdoors in
Kurt Kinetic's Rock & Roll is a unique looking trainer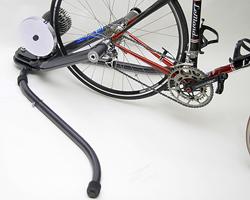 Stationary trainers are the bane of many cyclists' existence but Kurt Kinetic promises to bring a little more realism to indoor workouts with its unique Rock & Roll Pro. Cyclingnews Technical Editor James Huang turns up the music, cranks up the fan and pedals away on the long road to nowhere.
Let's get this out of the way right off the bat: by most accounts, indoor training is generally held in about as high esteem as using pure lye as a facial scrub. Ok, logging saddle time in your basement does serve a purpose and is practically the only lifeline to one's favorite activity for much of the world in winter months (ah, lovely Ann Arbor… oh how I miss thee) but to stand any chance of significant use, indoor trainers must faithfully mimic real-world conditions as much as practically possible.
To date, the feel of fluid-type resistance units have come the closest to actually being on the road but the potential for messy leaks, however small, has often weighed heavily on their owners. Last we checked, 'Antiqued Fluid Trainer Oil' was not among the ten most popular hardwood floor finishes at Home Depot.
A magnetic personality
Kurt Kinetic takes a different approach with the Pro resistance unit fitted to our Rock & Roll tester. Instead of a conventional drive shaft that physically enters the fluid chamber, Kurt Kinetic's impeller is coupled to the drive roller with magnets. As such, there are no dynamic seals whatsoever to fail, thus nearly eliminating any potential for leakage. An array of 80 cooling fins also improves reliability by keeping operating temperatures down and Kurt even backs the unit with a lifetime unconditional warranty.
The heart of any trainer

Eliminating the drive shaft

Elastomeric cones isolate the upper carriage
Big PVC feet keep the Rock & Roll firmly planted

The big quick release lever

The legs can be removed easily enough

The Rock & Roll frame is ideally sized
The optional Turntable Riser Ring

Near-real time power measurements can also be had

It's a good thing

Kurt Kinetic sets the resistance based on a 75kg (165lb) rider on a 10.5kg (23lb) bike with 170mm crankarms going up a 1% grade (custom units for riders weighing more than 23kg (50lb) outside of that range on either side are also available). We conveniently fell right in the middle of that range and found the resistance unit eerily quiet and uncommonly smooth as well as impressively realistic in feel.
Moreover, the built-in 2.7kg (6lb) flywheel goes a long way towards mirroring real-world conditions but we're particularly fond of the unit's 8.1kg (12lb) add-on as long as you're not doing a heap of interval training (rapidly accelerating all that mass is hard on tires).
With a whopping total of 10.8kg (18lb) of shiny chrome-plated steel whirling about, coast-down times are recorded in minutes, not seconds, and the sensation is lacking only in that wind-in-your-face feeling and those random acts of disdain from passing motorists for its just-like-being-outside feel (if you simply can't get into your workout without the latter, perhaps consider having your significant other shout obscenities at you while taking aim with partially full Coke cans).
Rocking and rolling
The Pro resistance unit is available on a conventional folding steel frame but we opted for Kurt Kinetic's intriguing Rock & Roll model (the frame will also accept any of the company's other resistance units). The cantilevered upper frame is mounted to the ultra-wide base by four chunks of mildly flexible elastomers. According to Kurt Kinetic, the resultant side-to-side rocking motion adds even more realism to the experience (did we really just say that?), adds an element of technique to indoor training and engages core muscles required for stability. The motion can also be locked out (albeit through a fairly cumbersome process) or even exaggerated if desired.
We'll attest to the realism of the motion, especially when out of the saddle, but we're not entirely sure just how useful it is. Perhaps our pedal strokes were already reasonably smooth but we just didn't get that core workout that Kurt Kinetic promises in its literature. Square-pedal mashers out there might get more benefit, though, and anyone will gain from the base's unmatched 120cm-wide stability. Short of bolting the trainer to the ground, this is far and away the most rock-solid trainer we've ever used.
That stability does come at a price, though. The leg extensions are easily removed courtesy of two pull pins but the remaining structure is still anything but flat and is unwieldy to carry. There's also no height adjustment to bring the rear wheel closer to the ground if you're not using the expected 700c hoops.
Most importantly, this sucker is seriously heavy. We normally don't care much about the weight of stationary trainers but with the optional flywheel attached, the complete Rock & Roll Pro weighs a disc-rupturing 28kg (61lb). Stable? Absolutely. But don't even think of casually tossing one of these in the back of your car for that pre-race warmup unless your nickname is 'Governator'.
Accessorize your indoor training
Kurt Kinetic's Turntable Riser Ring is the perfect complement to the Rock & Roll as it not only offers four distinct height positions but also allows the front wheel to rotate side to side. Again, we're not sure exactly how much benefit this will have but it did add another interesting element to our workouts (although we have to wonder how things might have been different had explosive Uzbek sprinter Djamolidine Abdoujaparov trained with one of these).
Unfortunately, even the lowest setting still raised the front wheel just a bit but at the very least, it's stable and seemed well-built… and could possibly double as a Lazy Susan with a little creativity come Thanksgiving time. Turkey, anyone?
We had much higher hopes for the Power Computer. For just US$50 you get the usual speed and distance functions but also current, average and maximum wattage numbers that are calculated based on the wheel speed and the known power curve of the resistance unit (sorry, it won't produce accurate numbers when you're not on the trainer) and optional bits will allow for data download to a PC.
We won't go into the benefits of power readings for structured indoor workouts but the idea of collecting that very useful data for such a modest cost is appealing to say the least and Kurt Kinetic claims its Power Computer to be within +/- 3 percent of PowerTap figures. We found the steady state readings to fall surprisingly close to that range as compared to our PowerTap SL 2.4 reference (although readings were more accurate without the additional flywheel) which is a good thing considering the Power Computer has little going for it otherwise. The unit itself is cheap in look and feel and the included mount is sized for standard-diameter bars only (oversized bars can be accommodated if you slide the mount away from the stem).
One of our favorites
For dedicated indoor riders, the Kurt Kinetic Rock & Roll Pro constitutes just about the finest stationary trainer we've come across (again, barring far more expensive computer-controlled models that win out by virtue of their sheer entertainment value). The unit's laughable portability has to be kept in mind, but otherwise its fantastic stability and life-like resistance curve makes it a top pick for heavy duty use in inclement weather or when a particularly structured workout demands a more controlled environment.
Kurt Kinetic Rock & Roll Pro trainer
Price: US$669.99
Weight: 28kg (61lb) (with both flywheels)
Pros: Fantastically smooth and quiet fluid resistance unit, unique no-leak design, ultra-wide frame base, realistic feel
Cons: Expensive, rocking motion doesn't engage core muscles as much as we'd hoped, bulky and heavy
Cyclingnews rating:

Kurt Kinetic Turntable Riser Ring
Price: US$39.99
Pros: Rotating design adds another element to indoor training, multiple heights, stable and well built
Cons: Lowest setting needs to be a bit lower still, rotating feature may not be all that useful for some
Cyclingnews rating:

Kurt Kinetic Power Computer
Price: US$50
Pros: Useful power data for workouts, relatively inexpensive
Cons: Somewhat questionable accuracy, cheap construction and feel, can't download data to a PC without additional hardware and software
Cyclingnews rating:

More info: www.kurtkinetic.com

Photography
For a thumbnail gallery of these images, click here
Images by James Huang/Cyclingnews.com
Images by Kurt Kinetic
Images by James Huang/Cyclingnews.com