Recently on Cyclingnews.com
On Test: Giant TCR Advanced T-Mobile Team, January 11, 2008
Quintessential racer
The Giant TCR Advanced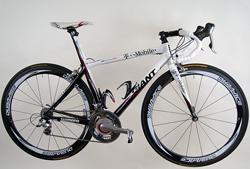 T-Mobile may have pulled its sponsorship of its long-running road team, but it hasn't taken any of the luster out of the Giant TCR Advanced T-Mobile Team edition bike. Cyclingnews Tech Editor James Huang borrows Mark Cavendish's personal ride for an extended stint through a Colorado fall and winter.
In today's incredibly competitive (and fickle) 'what have you done since yesterday' road bike market, Giant's three year-old TCR Advanced frameset isn't exactly considered the new kid on the block (and we didn't help things when we shamefully overlooked it in putting together the 'Team Bike' category for our 2007 Reader's Poll… no ice cream for us tonight) . Yet in spite its dulling sheen from a marketing perspective, it's a long way from asymptotically approaching 'ancient' and its well-engineered design continues to remain competitive from both a performance and aesthetic perspective.
Much of the TCR Advanced's staying power likely comes courtesy of the integrated seatmast. Integrated posts are becoming increasingly common these days, but Giant was among the first major manufacturers to incorporate the feature into a production model. Even ignoring the ahead-of-its-time integrated post, though, the TCR Advanced is still a solid piece of carbon engineering.
Giant bladder-molds the front triangle as a single unit, and then joins it to the chain stay and seat stay assemblies using now common (but then cutting edge) carbon wrapping techniques. According to Giant, this assembly technique makes for a lighter, stronger, and more precisely aligned end product than plug-and-play lugged designs. Relatively conservative aluminum dropouts are bonded into the ends of the stays, and aluminum is also used for the threaded bottom bracket shell insert and bearing seats for the integrated head tube. The matching fork is a similarly full-carbon construct and also uses aluminum tips.
Radial driveside lacing of previous versions

Giant's formulaOne composite frame

Smooth contours surround the bottom bracket shell.

The integrated seatmast tapers noticeably

The aluminum seatmast head

There's not much flex

The tight rear triangle

All told, a medium-sized frame with an uncut mast is claimed to weigh under 1100g. This isn't superlight by modern standards, but can still easily build into sub-6.8kg racer with the right build kit. Speaking of build kit, this review differs from our usual ones in that we didn't test a stock, commercially available sample. What we have here is the personal bike of British sprinter Mark Cavendish, complete with complete T-Mobile team bike spec.
The consumer version comes outfitted with a full Dura-Ace group, including the excellent Road Tubeless-compatible WH-7850-SL clincher wheelset, a carbon fiber PRO PLT stem and matching Vibe OS bar, and a Selle Italia SLR saddle. In contrast, Cavendish's bike comes with Shimano's decidedly racier deep section Dura-Ace carbon wheelset wrapped in team-only Continental Competition Pro Series tubulars, an aluminum PRO PLT bar and stem, and a Selle Italia Signo Team Edition saddle. The standard Dura-Ace crankset has also been replaced with an SRM power meter with a slick team-only internally routed sensor and wiring harness.
Proving yet again that weight isn't everything (Cavendish clearly has no issues making this thing go plenty fast), our team bike tester weighs in at a relatively ho-hum 7.4kg (16.3lb), complete with Dura-Ace SPD-SL pedals. Giant doesn't offer this bike at retail so we don't have any official pricing, but based on the standard TCR Advanced T-Mobile Team model, we estimate our tester to fetch about US$10,500. Yow.
Team spec, team ride
We received Cavendish's bike straight from its European theatre shortly after Eurobike in a swanky team-issued soft case. Assembly time was pleasantly minimal and Cav conveniently runs the exact saddle height we needed so we were on the road in no time. New TCR Advanced Team buyers (or their respective shops) will obviously have to contend with cutting the integrated seatmast, but it's a task that is accomplished easily enough as long as one is careful to measure correctly and uses the correct tools (Park's new SG-1 cutting guide should be considered a must-have here).
While we were clearly going to benefit from the upgrades of the team-issued spec, it didn't take us long to realize that we were also going to have to deal with the team-issued riding position. As one of the team's top sprinters, Cavendish runs with quite a bit of handlebar drop and reach. Neither was excessive by any stretch (ha, a pun!), but it became clear from the get-go that this was going to be no cushy stroll through the park.
Giant designed the frame from the outset as a full-on race machine. After spending some quality time on it, we'd have to say that that description suits that billing to a T. Just as you'd expect out of a sprinter's machine, the TCR Advanced T-Mobile Team is seriously rigid in every way, and markedly more so in some ways than what many casual riders would want out of an everyday cruiser. The relatively deep profile of the integrated mast probably contributes to the jarring ride somewhat, but the ride quality is so solid and so direct that we can't help but wonder if there's some truth to the rumor that T-Mobile's actual team bikes are made a little stiffer than stock ones (which is not an entirely uncommon thing in the pro peloton). Road feel and feedback are superb and there's decent isolation from road buzz, but bigger bumps shoot through the fork and rear end like electricity. Swapping wheelsets helped somewhat, but didn't detract much from the frame's inherent personality.
That solidity pays off in spades when it comes time to drop the hammer, though. What the TCR Advanced lacks in comfort it more than makes up in quickness. The uber-rigid frame and short 405mm chain stays easily match the get-up-and-go spirit of one of the stiffest-feeling bikes we've tested recently but without its heft, and the aggressive position and deep section wheels were almost as good as a bottle hand-off from a team car when we were up to speed. Handling is similarly sharp and 'right-now' quick, in spite of what the parallel 73° angles would suggest, but the bike still manages to hold a straight line well.
As usual, the lack of flex and efficient power transmission paid off going uphill, too, and we never felt that the 7.4kg weight was ever too heavy. We might have opted for a slightly more upright position on extended ascents, but that's an issue that is easily remedied and we weren't bothered by it enough to modify anything.
The performance of the bike's componentry was by and by what you'd expect: the Dura-Ace transmission remained smooth and quiet throughout the test period and dutifully rattled off shift after shift without hesitation. Likewise, the dual-pivot calipers delivered an excellent feel at the levers, but we'll admit that we were somewhat disappointed by the bite offered by the carbon-specific Shimano pad compound. They were ok, but we've definitely experienced better.
What absolutely did not disappoint us, though, was the Dura-Ace carbon wheelset. Shimano's latest round of top-end wheels managed to provide the same snappy feel as the scandium-rimmedRoad Tubeless-compatible model we tested last year, but in a noticeably lighter, faster, and racier-looking wrapper. Scoff if you must at their loose ball bearing-equipped hubs, but we still agree with Shimano's engineers that angular contact systems are easier to adjust and service than cartridges, arguably more durable, and generally more finely tunable, too.
The corresponding Continental Competition Pro Series were similarly superb, with a supple feel and outstanding cornering ability. We can't say with certainty that their Vectran breaker belt prevented any flats, but we never had to limp home as a result and just knowing it was there offered a bit of confidence when we brazenly headed out on training rides without a spare.
Not for everyone
The Giant TCR Advanced T-Mobile Team is a race bike, first and foremost. Those of you in search for such a steed will undoubtedly find that it embodies what you're looking for, but its stiff ride and direct feel will likely go wasted on more casual riders. The frame design may be going on its third year, but its performance more than suggests that it's still in its prime. Nevertheless, Giant has hinted that a replacement for the TCR Advanced isn't far off. With how good the 'old' frame is already, we can't wait to sample the new one.
Price: US$6000 (stock TCR Advanced T-Mobile Team), US$10,500 (estimated, TCR Advanced T-Mobile Team team bike, as tested)
Weight: 7.4kg (16.3lb), as tested, with pedals
Pros: Super stiff frame yields 'right now' drivetrain response and handling reflexes, integrated seatmast design still manages to look current
Cons: Super stiff ride quality might not suit all
Cyclingnews rating:


More info: www.giant-bicycles.com
Photography
For a thumbnail gallery of these images, click here
Images by James Huang/Cyclingnews.com
Frame: Giant TCR Advanced T-Mobile, formulaOne Composite
Available sizes: XS, S, M (tested), L, XL
Fork: Giant formulaOne Full Composite, 1 1/8" carbon steerer
Headset: integrated
Stem: PRO PLT OS Road
Handlebars: PRO PLT Anatomic OS
Tape/grips: PRO
Front brake: Shimano Dura-Ace BR-7800
Rear brake: Shimano Dura-Ace BR-7800
Brake levers: Shimano Dura-Ace STI Dual Control ST-7800
Front derailleur: Shimano Dura-Ace FD-7800-F
Rear derailleur: Shimano Dura-Ace RD-7800-SS

Shift levers: Shimano Dura-Ace STI Dual Control ST-7800
Cassette: Shimano Dura-Ace CS-7800, 11-23T
Chain: Shimano Dura-Ace CN-7801
Crankset: SRM Training System road version Shimano Dura-Ace, 39/53T
Bottom bracket: Shimano Dura-Ace SM-FC7800
Pedals: Shimano Dura-Ace SPD-SL PD-7810
Wheelset: Shimano Dura-Ace WH-7850-C50-TU
Front tire: Continental Competition Pro Limited All-Around, 22mm
Rear tire: Continental Competition Pro Limited All-Around, 22mm
Saddle: Selle Italia Signo Team Edition
Seat post: Integrated