Tech feature: Merida 2009 preview, November 12, 2008
Merida unveils 2009 range
By James Costley-White
Merida's Ninety-Six Team-D
Photo ©: Merida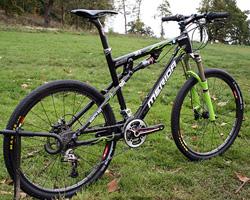 Merida is set to build on the success of its top-end carbon fibre road and mountain bikes with a refined range for 2009. The Taiwanese firm unveiled its new stable of mountain, road, cyclo-cross, track and commuting bikes at the Ashton Court Estate in Bristol, England.
With a total of more than 70 models covering everything from World Cup racers to children's bikes, the company seems determined to make waves in the British market. Many of the 2009 bikes feature improved specs, with technology from the top-end models filtering down throughout the range.
The firm's research and development department in Germany has had a major input and the impact of a new designer is clear, with impressive frame detailing and new graphics which provide a sense of continuity throughout the range.
Mountain bikes
Merida One-Five-O 3800-D
Photo ©: Merida

The most striking thing about Merida's '09 mountain bikes is the tube profiles. The frames feature the latest carbon, hydroforming and technoforming technology, and you would struggle to find a single conventionally shaped tube. Instead, huge square-section top tubes taper towards the seat tube and trail bikes feature downtubes that would have looked large on a downhill bike a couple of years back.
Merida's flagship full-suspension bike, the Ninety-Six Carbon Team-D, has been garnering rave reviews. With a frame weight of just 1860g, the 9kg complete bike can be lifted with just one finger yet still has 100mm of travel to soak up the bumps.
For those who can't quite stretch to the £7499.99 asking price, the range also includes the Ninety-Six 3500-D, which still features a full carbon frame but comes in at 'just' £2999.99 and 10.6kg, and the 1000-D, which has a hydroformed aluminium frame with carbon seatstays, costs £1,599.99 and weights 12kg. The Ninety-Six can also be bought as a frameset.
We got a chance to ride the Ninety-Six 1000-D and first impressions were promising. Acceleration was swift and the bike tracked well down rocky descents, although the tyres - Merida Race 2.1s - struggled in light mud and quickly became clogged. The full Shimano SLX groupset is a definite bonus, providing fast and positive shifting and powerful braking, and the carbon seatstays add a touch of 'bling'.
The Trans-Mission Carbon 3800-D
Photo ©: Merida

For those who care more about pinning the descents than saving the odd gram, there is the One-Five-0 range featuring, you guessed it, 150mm of rear bounce. This year a floating disc brake has been added to isolate the suspension from the effects of braking. The top-of-the-range £2749.99 One-Five-0 3800-D has a hydroformed aluminium frame, Fox 36 Talas RL fork and RP23 shock, Magura Louise brakes and Shimano XT drivetrain, while the £1899.99 One-Five-0 880-D has a Rock Shox Domain 302 fork, X-Fusion 02 RL shock, Hayes Stroker brakes and Shimano SLX.
The Trans-Mission is Merida's do-it-all bike, with 130mm of rear travel and a floating rear disc brake. The top-of-the-range Trans-Mission Carbon 3800-D at £3499.99 has a carbon frame, Fox Talas 32 RLC fork and RP23 shock, XT drivetrain and Magura Louise brakes. Next in the range is the Trans-Mission HFS 3000-D, with a similar spec but hydroformed aluminium frame, at £2349.99. Three models with technoformed aluminium frames are also available, ranging from the £799.99 Trans-Mission TFS 300-D with RST Launch fork and SR Epicon LOD shock to the £1349.99 Trans-Mission TFS 900-D, which has been given a shock upgrade from last year's Epicon to an X-Fusion 02 RL.
According to Merida's Chris Carter, if the Ninety-Six rewrote the carbon full-sus rulebook this year, next year it is the turn of its hardtail brother, the £3499.99 Carbon FLX Team-D, to shake things up. The bike features a new carbon monocoque frame that weighs in at just 1100g, Manitou R7 MRD fork, Magura Marta SL brakes and components from FSA and SRAM. For £1650 less, the FLX 1000-D looks like a bargain as it shares the same frame but cuts costs with a Manitou R7 Super Air fork, Shimano XT/SLX drivetrain and M575 brakes.
Merida's Carbon FLX 1000-D
Photo ©: Merida

Slinging a leg over the £2499.99 Carbon FLX 3500-D, the bike's snappy acceleration was impressive, with instant power transfer and a welcome hint of give in the carbon rear end when the trails got bumpy. There was none of the skittishness often associated with super-light bikes. It was difficult to evaluate the fresh-out-of-the-box Rock Shox SID Race fork as it had not bedded in, but based on past experience it should prove a perfect, race-ready match for the frame.
Merida's other hardtails carry the Matts tag - Merida Advanced Tig-welding Technology System. The basic Matts line ranges from the £249.99 10-V, with V-brakes and SR XCT fork, to the £549.99 60-D, with Hayes Stroker Ryde hydraulic discs and SR XCM fork.
If you can afford a little more, the Matts TFS Trail range features technoformed aluminium frames, more relaxed geometry, longer travel forks and more durable components. They are aimed at what Merida's German R&D department calls 'soul riders' - those who ride for the sheer pleasure of it, not just to win races. The line ranges from the Matts TFS Trail 300-D, with Tektro Auriga Comp hydraulic discs, Shimano Deore drivetrain and a Rock Shox Dart fork for £599.99, to the 700-D, with Hayes Stroke Trail brakes, Deore/XT drivetrain and Rock Shox Recon 327 Solo Air, at £949.99.
The top Matts bikes are the HFS and TFS models, featuring hydroformed and technoformed aluminium frames respectively. A highlight of the range is the £999.99 TFS 900-D, with Rock Shox Reba SL fork, XT drivetrain and Shimano M575 brakes. Merida describes this as its 'Cycle to Work bike' - designed to give people buying a bike through the government-backed scheme the most bang for their bucks.
Although Merida has made its name with cross-country and road bikes, it does have a sub-brand, UMF or United Merida Freeriders, which caters to the downhill and dirt jump markets. On show at the launch were two hardtails, the Hardy 4 Disc and Hardy 2. The Hardy 2 stood out from the crowd with its tartan saddle and downtube decal.
Hybrids
The Speeder I8 has straight handlebars
Photo ©: Merida

Merida has a huge range of commuting bikes, ranging from 700c 'sports hybrids' to the S'Presso 'coffee shop bikes'.
The versatile S'Presso features clean lines, with cables hidden out of sight under the down tube, disc brakes, straight-bladed forks and muted colour schemes, with prices ranging from £529.99 to £729.99.
The Speeder range, described as both "perfect for commuting at speed with good visibility and comfort" and ideal "race bikes for the more mature gentleman", takes its cues from Merida's drop-handlebar bikes but features straight handlebars and an upright position, and ranges from the £399.99 Speeder T1 with aluminium fork, Mavic rims and Shimano R225/Sora drivetrain to the £629.99 Speeder T3 with carbon fork and R443/Ultegra drivetrain.
The Crossway has more of a mountain bike influence, with the pricier models sporting suspension forks, but with 700c wheels. The line ranges from the V-brake equipped £259.99 Crossway 10 Comfort-V to the £479.99 Crossway 100 Sport-D with Tektro hydraulic disc brakes.
Road/Cyclo-cross/Track
The Scultura Evo Team-20
Photo ©: Merida

Merida boasts that its carbon Scultura Evo Team 20 road race bike has the third stiffest and lightest frame in the world. The range has now been increased to four models, all with carbon forks, ranging from the Team 20 at £3999.99 with SRAM RED drivetrain and Mavic R-SYS wheels to the SE 904 at £1499.99 with Shimano 105 and RS10 wheels.
The firm's aluminium race bikes carry the Road tag. They range from the Road 905-20 at £1099.99 with Shimano Ultegra and RS10 wheels to the £449.99 Road 880-24 with Shimano R2200/Sora and Mavic CXP22 rims on Shimano 220 hubs. The Road 904-20 has been designed for the crucial £999.999 Cycle to Work scheme pricepoint and features a hydroformed aluminium frame, carbon fork, Shimano 105 drivetrain and RS10 wheels.
Merida now has three cross bikes - the Cyclo Cross 5, 4 and 3. The 4 and 3, at £899.99 and £699.99 respectively, have ample mud clearance and look like they would make good winter training bikes, while the £1099.99 5 is a full-on race machine. All feature aluminium frames, drivetrains with a mix of FSA and Shimano, and Mavic rims. The top two models have carbon forks.
On the track side of things, Merida offers the Warp 4, 5 and 9. Ranging in price from £1199.99 to £3299.99, all feature aluminium frames, carbon forks and FSA BR-RO-6020 brakes. The top model gets an FSA Team Issue Time Trial/SRAM Force drivetrain and Zipp 404 Clincher wheels.
Photography
For a thumbnail gallery of these images, click here
Images by Merida