Recently on Cyclingnews.com
On Test: Schwinn Madison, April 27, 2007
Just when you thought you didn't need another bike
Schwinn's bare-bones Madison is likely to be the least expensive bike we'll ever test, but far from the least entertaining. Cyclingnews Tech Editor James Huang dons his luddite hat and rediscovers the simpler things in life.
The Schwinn Madison delivers true fixed-gear fun
Photo ©: James Huang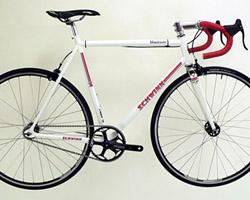 The Schwinn Madison marks a series of firsts for us here at Cyclingnews. Not since our 2001 review of a Morati titanium road machine have we tested a bike that was completely devoid of even a single strand of carbon fiber. This is (sadly) also the first completely steel-framed rig we've officially evaluated and, in fact, there are no exotic materials hidden away anywhere throughout its endless expanse of gloss white paint. At a suggested retail price of US$524.99, the entire bike costs less than half that of the last set of wheels we reviewed.
Even Schwinn's own marketing blurb speaks volumes: there is no mention of 'gram-shaving this' or 'optimal stiffness that', nor a single nonsensical acronym to be found. The pedals include toe straps which some newer cyclists might not even know how to operate (I, on the other hand, am still the proud owner of both Cinelli and Campagnolo toe strap buttons!). There are no contributions from Shimano, Campagnolo, SRAM, or FSA. Hell, the thing doesn't even have multiple gears.
Er, so why am I even remotely interested in this?
What the Schwinn Madison does offer is a prepackaged way to get into the fixed-gear world that doesn't require you to scour the annals of eBay. Deep down you know that that crappy old throwaway you were hoping to snipe wouldn't normally be worth the electricity used to light up the pixels of its digital image, anyway, but yet you still can't help but resist the ludicrous 'Buy It Now' price thanks to those elusive horizontal dropouts. Unless the conversion of such a steaming pile into a mildly acceptable mode of transportation garners street cred from your group of riding buddies, there are better options out there.
Does this look familiar?
Photo ©: James Huang

Retro graphics pay homage to Schwinn's history.
Photo ©: James Huang

Yes! This is what we all cherish
Photo ©: James Huang

Formula flip-flop rear hub
Photo ©: James Huang

Cushy tape covers up a generic aluminum handlebar.
Photo ©: James Huang

Even at its entry-level price
Photo ©: James Huang

Even at its modest price, the Madison frameset is nicer than the vast majority of those blue-light specials: the full-chromoly frame uses double-butted main tubes (straight pipes elsewhere), there's a classy chrome-plated crown atop the brazed chromoly fork, and proper 6mm-thick rear-entry horizontal dropouts grace the rear end. Frame geometry is decidedly track-oriented with steep 74.3° and 74.5° head and seat tube angles, respectively, and an itty-bitty 968mm wheelbase on our medium-sized tester. And of course, we have to mention the cool retro-inspired graphics package.
At you'd expect, the equipment spec is decidedly entry-level, but solid and complete nonetheless. Wheels consist of Formula track hubs, generic stainless steel spokes, and a set of Alex R500 double-walled aluminum rims, all wrapped in Schwalbe Blizzard rubber. In a nice touch, the rear flip-flop hub includes both a fixed cog and a single freewheel to add a bit of versatility or when you're just feeling lazy (or begging for jeers), and in true fixie fashion, there is absolutely no provision for mounting a rear derailleur.
Forward drive (and rearward if you are so inclined) is handled by a modest Truvativ Touro Track crankset and KMC chain, along with the aforementioned generic clip-and-strap pedals. For the less-seasoned fixed-gear riders out there (or if you're actually going to hit a velodrome), Schwinn also outfits the Madison with a full set of Tektro dual-pivot brake calipers and levers which can also be easily removed if so desired. As for the seat post, handlebar, and stem... let's just describe them as 'moderately shiny aluminum' and leave it at that.
When all is said and done, the complete package is, well... there's no two ways around it: it's heavy. Even without multiple cogs, shifters, or derailleurs, the Madison still hits the scales at a whopping 9.9kg (21.8lb) without pedals, or roughly 100g more than the Scott Scale 10 hardtail we tested last year. That bike not only included gears but also tubeless knobby tires, dual hydraulic disc brakes, and a suspension fork with 80mm of travel. Then again, the Scale also eclipses the Madison's price by a factor of ten so it's not exactly what you'd call a fair fight. Well, like they say, less is more, more is less... or something like that. Anyhoo...
Out on the road
To put it mildly, there is no cheating on a fixed-gear; the fittest rider with the smoothest pedal stroke almost always wins here, and if neither of those descriptors applies to you, riding such a machine will fix that in a hurry. There is but a single gear provided for flats and climbs, and the lack of a freewheel means you can't even coast when your legs need a break, however brief. Usual routes which you previously had considered child's play induce a whole new kind of pain and anguish. Mild rises begin to feel like insurmountable walls and long descents that you used to cherish just force your tired legs into a frenzied blur. You suddenly can't help but develop a newfound respect for your buddy's heretofore ridiculed spin class.
Oddly enough, though, you almost forget about the Madison's considerable heft once underway. The direct drivetrain is impeccably smooth and quiet, and the budget steel frame and fork offer up a level of useful communication and road feel that even many high-end carbon frames can't deliver. Credit the springy steel frameset and burly wheels there, which also lend a confidence-inspiring sense of solidity. Some may question why Schwinn opted for a steel frame and fork when aluminum would have lopped off gobs of weight, but we have to agree with its product managers here if only for the ride quality. Pedal harder, we say.
The frame's track-style geometry translates into a predictably quick-handling machine that still works well on the open road. While not necessarily nervous, it does require your attention; this is no sip-a-latte-while-chatting-on-your-cell-phone machine. Cornering, in general, can be a bit dicey since you must constantly be aware of pedal clearance on your inside leg, and things naturally get a little hairier as speeds increase. Then again, we're not entirely sure just how fast most riders would be going on this thing, even downhill (remember what we said about there being no freewheel?).
We didn't use the brakes much thanks to the direct drive transmission, but the Tektro dual-pivot stoppers worked reasonably well when asked. The inexpensive setup doesn't provide the precise feel and overall power of higher-end equipment, but then again, what do you expect for five hundred bucks? Sheesh, picky picky.
Oh, and what about the shifting? Uh huh... what about the shifting? It's ok; you have every right to feel silly now. Run along, now.
Add another hook to your wall
We're not going to lie to you and say that the Madison is a technological tour-de-force (did we mention yet that it's heavy?), but it is absolutely an appealing addition to your collection if only for the giggle factor. The low price is fairly easy to justify, the fitness benefits offered by its fixed-gear drivetrain are undeniable, and the simple mechanical layout will almost assuredly work when your fancier rigs are temporarily sidelined. What would we change? We'll give you two guesses. Well, maybe just one. Still, though, we can't help but recommend the thing. Go buy one.
Weight: 9.9kg (21.8lb)
Price: US$524.99
Pros: Exceptionally high fun factor, excellent for training purposes, fixed-gear drivetrain is unbeatable for durability, bargain-basement price, solid component spec
Cons: Heavy. Really heavy.
Cyclingnews rating:

Photography
For a thumbnail gallery of these images, click here
Images by James Huang/Cyclingnews.com
Full Specification
Frame: Schwinn Custom track frame w/ N'Gauged Double Butted Cr-mo main tubes and 6mm thick horizontal dropouts
Available sizes: S, M (tested), L, XL
Fork: Schwinn N'Gauged Track fork w/ brazed crown construction and 28.6mm ovalized legs
Headset: VP A71 threadless
Stem: Alloy 25.4mm clamp dia.
Handlebars: Alloy 25.4mm clamp dia.
Tape/grips: Schwinn gel tape with embossed star logo
Front brake: Tektro 510A dual-pivot caliper
Rear brake: Tektro 510A dual-pivot caliper
Brake levers: Tektro
Freewheel: 18T cog and 18t ACS Maindrive freewheel

Chain: KMC Z410RB
Crankset: Truvativ Touro Track crank 170mm w/ 48T chainring
Bottom bracket: Truvativ cartridge square taper 68x108
Pedals: Wellgo alloy/steel w/ toe clips and straps
Rims: Alex R500 semi aero 32h ft/rr
Front hub: Formula TH-50 32h
Rear hub: Formula TH-51 32h, flip-flop
Spokes: Stainless steel ED Black
Front tire: Schwalbe Blizzard Sport 700x23
Rear tire: Schwalbe Blizzard Sport 700x23
Saddle: Selle San Marco Ponza
Seat post: Alloy w/ micro adjust head 27.2x350mm