Recently on Cyclingnews.com
On Test: Reynolds Cycling Attack wheelset, March 20, 2007
Carbon fiber performance at aluminum prices
Reynolds Cycling offers up the Attack carbon clincher wheelset
Photo ©: James Huang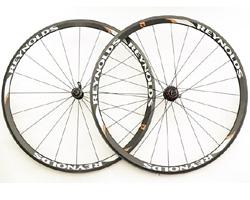 Reynolds Cycling taps into its extensive carbon fiber expertise to deliver a carbon-rimmed clincher wheelset comparable in price to most company's top aluminum offerings. Cyclingnews Tech Editor James Huang packs on the miles to see if the Attack can hold its own against the big boys.
Reynolds Cycling is a virtual household name in cycling by virtue of the company's superb Ouzo Pro carbon fiber road fork, which continues to offer a near-perfect balance of light weight, comfort, handling precision, and proven reliability. Yet in spite of that product's near-iconic success, only a wise few are aware that Reynolds Cycling also offers an array of excellent carbon fiber components, including an entire family of forks, handlebars, seatpost, and a comprehensive assortment of wheelsets using both carbon and aluminum rims.
That relative anonymity is rapidly fading, though. We don't know who lit the fire, but Reynolds Cycling has made a marked push to enhance its visibility through several means, including professional team sponsorships (such as the Health Net Pro Cycling Team Presented by Maxxis, Team Volksbank Professional Cycling, and our very own Team DFL-Cyclingnews-Litespeed squad), a number of new products, and a bold new logo that screams, rather than whispers, the company logo.
Among the new offerings is the Attack, a US$1200 carbon-rimmed clincher wheelset that promises to offer much of the benefit of Reynolds Cycling's more premium-level models but at a price that racers with kids in college might actually be able to afford (well, maybe if they're in a public school… and they qualify for in-state tuition).
Little brother to the MV32C
Bigger and better!
Photo ©: James Huang

Naturally, Reynolds Cycling takes full advantage of its carbon engineering and manufacturing expertise for its new wheelset: the Attack rim wears the same 32mm-deep aero shape and full carbon clincher construction as the MV32C, but a different fiber lay up schedule reduces costs while adding only slightly more weight (430g vs. 400g). In addition to being lightweight, the impressive 150psi maximum inflation pressure (the folks at Vredestein should be pleased) suggests that the rims are robust as well.
Much of the cost savings for the Attack lie in the Taiwanese-made KT hubs, which utilize sealed cartridge bearings, large-diameter aluminum axles, and an aluminum freehub body (available in both Shimano and Campy-compatible varieties) with six individually-sprung pawls. Before you label these as generics, we should mention that slight variations of these hubs (and the internal mechanism) are used in no fewer than four other wheelsets we've either tested previously or are testing currently, in both road and off-road flavors. Regardless, the hubs are impressively lightweight at 120g/250g for the front/rear, respectively.
Reynolds Cycling joins the two with DT Swiss 14/15g butted stainless steel spokes in a 20h radial front and 24h radial/two-cross rear pattern, and the spoke nipples are internally located for better aerodynamics, enhanced rim strength, and a cleaner look. When all is said and done, the total weight for our test wheelset is 1502g (688g/844g front/rear, without skewers), or roughly 100g heavier than the MV32C and at an enormous cost savings of about 40%. Skewers, rim strips, tire levers, valve extenders, carbon-specific brake pads (to fit Shimano-style holders only), and even a spoke wrench are even all included with the decidedly value-oriented package. Wow.
On the attack with, er, the Attack
Reynolds Cycling uses a "woven scrim" layer
Photo ©: James Huang

The Attack's 1502g total weight may not seem all that exciting on paper as compared to some of its competition, but the carbon rim construction imparts a number of benefits that simple numbers don't convey all that well. For starters, the light 430g rim weight mimics the feel of a dedicated climbing wheelset, but the aerodynamic 32mm section depth makes it much easier to keep the needle pinned at speed. By comparison, an aluminum rim with similar dimensions would typically lie closer to the 500g mark or give up a substantial amount of strength and rigidity.
Reynolds Cycling could have gone with
Photo ©: James Huang
In addition, the carbon fiber rim isn't just lighter than a comparable aluminum hoop, it's also more rigid and yields that uniquely damped 'riding on carpet' feel that only carbon can produce. Moreover, Reynolds Cycling says there's no rider weight limit associated with the 20f/24r spoke count (its beefiest build for a road wheelset), and the wheelset certainly feels plenty solid.
Finally, the carbon construction should also pay dividends in terms of durability. Unlike a malleable aluminum hoop, the Attack's carbon rim won't deform from impact and should require less truing over time. Ok, fine, it'll have more of a tendency to crack instead, but it will probably take much more force to do so. Indeed, we hammered our test set over endless stretches of washboard-like dirt roads (and even some trails…) with nary a wobble to speak of.
Braking performance in dry conditions was very good with the included carbon-specific Baradine pads and overall stopping power and modulation was easily on par with an aluminum rim. However, the pads have a tendency to produce an ear-piercing howl once hot (who called the banshees?!) and they also seemed to wear quickly. Unfortunately, we weren't able to test the braking performance in the wet, though (curse this arid Colorado weather).
Maintain this
The Attack is a good value on its own already,
Photo ©: James Huang

The off-branded hubs will likely still stand as a point of concern, but the rest of the wheelset performed their duties admirably and without fuss throughout the test. In spite of their lack of cachet, the KT hubs started out rolling smoothly and stayed that way throughout the test period, and the six-pawl driver mechanism never uttered an inappropriate peep. Moreover, the freehub internals are easily accessible when maintenance is finally needed, and bearings are standard items that can be replaced with reasonable ease (or upgraded to aftermarket hybrid ceramic ones if so desired).
The only remaining maintenance issue lies with the internal spoke nipples which require the removal of the tire, tube, and rim strip in the event that truing is required. Reynolds Cycling has a valid justification for the design, though, saying that the smaller spoke hole required yields a higher strength rim and a higher spoke tension so this is likely something that the end user will just have to live with as a tradeoff. Thankfully, it doesn't appear that truing would be needed all that often so this may be a moot issue.
Snappy feel, aero speed, light weight… what's not to love?
To be honest, there isn't much room for improvement here. The lack of bladed spokes to go along with the aero rim is a bit of a disappointment for a US$1200 wheelset, but it's far from a deal breaker and the carbon rim offers up real advantages over aluminum. Otherwise, Reynolds Cycling's Attack wheels are suitably lightweight, speedy, and seem to hold up well. To sweeten the deal, they are even a rather comprehensive package having nearly all of the necessary ancillary bits included, and all for a rather reasonable cost. Sounds like a winner in our book.
Weight: 1502g (688g/844g front/rear, without skewers)
Price: US$1200
Pros: Snappy acceleration, good aerodynamics, stiff and robust rim, unique ride quality
Cons: Non-aero spokes, somewhat questionable long-term durability and parts availability of off-brand hubs
Cyclingnews rating:

Photography
For a thumbnail gallery of these images, click here
Images by James Huang/Cyclingnews.com