Recently on Cyclingnews.com
On Test: Kuota KOM, March 29, 2007
Aptly-named lightweight flies going both up and down
In spite of the spindly weight
Photo ©: James Huang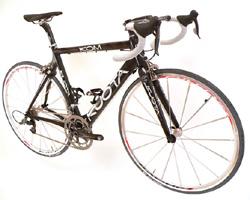 Italy-based Kuota Bicycles is one of an expanding group of companies that offers frames built exclusively in carbon fiber. For 2007, Kuota jumps into a new league with the introduction of the ultralight KOM. Cyclingnews Tech Editor James Huang heads into the hills and finds out what's in a name.
The Kodak Gallery Pro Cycling Team presented by Sierra Nevada Brewing Co. makes the switch from all-aluminum frames last year to all-carbon ones for the 2007 race season, thanks to new frame sponsor Kuota Bicycles. While the team will primarily ride the more all-purpose monocoque Kredo model, Kuota now also offers its new KOM, a superlight semi-monocoque frame that sheds nearly 150g per frame size versus the KGSN team bikes while supposedly giving up only a hair of comfort and nothing in terms of drivetrain efficiency.
Let me in!
The KOM wears an absolutely enormous down tube.
Photo ©: James Huang

The '900g Club' is an increasingly crowded place to be these days as more companies develop ways to shed weight. Kuota hits this mark for its new KOM using a semi-monocoque construction and "NanoTechnology" carbon fibers to yield a frame that is claimed to weigh as little as 870g (±30g, size small), or about 920g for our medium-sized frame on our test bike.
Even with its diminutive weight, Kuota imbues the KOM with absolutely enormous tube sections. The mildly squared off down tube alone measures 60mm in diameter, while the triangular-shaped top tube and round seat tube still measure about 40mm and 35mm wide, respectively. Not surprisingly, the bottom bracket shell area is similarly inflated, with bulbous reinforcements jutting out between the down tube and seat tube as well as behind the seat tube itself.
"Kuota Monocoque Construction"
Photo ©: James Huang

As with many carbon frames these days, Kuota builds the KOM as a three-piece structure consisting of a one-piece front triangle, "High Power Transfer" rectangular-to-round section chain stays, and wishbone-style seat stay yoke, all joined in a virtually seamless fashion that belies its true roots. The joints are visible if you look hard enough, but Kuota admirably covers the entire frame in a bare clearcoated 3k weave that provides little cover for a sloppy job instead of the more commonly used bondo-and-paint scheme. The back end is finished off with a set of somewhat clunky-looking aluminum dropouts along with a replaceable derailleur hanger.
The KOM sports a bulbous bottom bracket area.
Photo ©: James Huang
Up front, Kuota's "Super Drive" full carbon fork receives the same oversized treatment with a conventional 1 1/8" upper diameter that flares to 1 ¼" down at the crown, deep and broad straight legs, and neatly integrated aluminum dropouts. Unfortunately, the KOM's fork isn't graced with the same feathery construction as the frame (claimed weight is a rather average 359g ± 20g), but if that extra mass translates into more precise handling and improved reliability, it's a small price to pay.
With all of these giant tube sections, though, it's not hard to imagine how Kuota shed the weight. A quick 'squeeze test' suggests that the down tube and top tube both use frighteningly thin tube walls, but Kuota insists that the KOM is no noodle as a result and still passes all of the necessary safety standards (hmm… is my health insurance paid up?).
The rest of our test bike was finished off with a nearly complete SRAM Force group (levers, derailleurs, brakes, crankset, bottom bracket, and chain), Shimano Ultegra cassette, Racing 1 clincher wheels by Fulcrum (Campagnolo's shadow company), Michelin rubber, a titanium-railed fi'zi:k Arione saddle, and a full complement of house-branded carbon components. These included Kuota's own wing-shaped Katch bar, full carbon stem, carbon seatpost, and 'Kold' carbon bottle cages. Fully assembled, our test bike weighs 7.1kg (15.6lb) without pedals.
What goes up must come down
Semi-anatomic bend on the Katch bar
Photo ©: James Huang

To be completely frank, we expected a self-proclaimed lightweight climber such as the boldly-named KOM to be a bit lighter, especially since our test bike was based on a near 900g frame. To be fair, the component choice is decidedly all-purpose and would likely be equally at home on stretches of pavé as it would on high alpine passes, and the bike could easily be built much lighter with just a handful of component swaps. Regardless, our selected Boulder, CO testing grounds thankfully offer up more climbing than anyone could ever ask for (sometimes more than I ask for…) and proved to be the perfect locale for Kuota's newest machine.
Once I stopped obsessing over weight and began heading up, the beauty of the KOM begins to reveal itself. Unlike some other true featherweights out there, the KOM frame does indeed seem to shed grams while retaining outstanding overall rigidity, both in the drivetrain and otherwise. Paper-thin tube walls notwithstanding, the frame's beer can-sized proportions and beefy stays clearly offer some benefit in this regard as out-of-the-saddle efforts were pleasantly rewarded with snappy response and an eager willingness to move forward.
SRAM continues to make inroads in OEM spec
Photo ©: James Huang

Unless you're doing the Mt. Evans hill climb (you have to drive back down?!), the inevitable reward of ascending all that way is, naturally, the joy of hurtling back down. Here, light weight doesn't usually provide as much of an advantage; on the contrary, some true lightweights can feel eerily nervous and unstable at high speed, causing some to begin pondering one's own mortality as you careen at near-highway speeds on two 23mm-wide tires with little more than a layer of Lycra and a foam bucket on your head to protect you. Right, moving on…
The KOM's climbing prowess was no big surprise, but its outstanding ability to descend certainly was. Credit the excellent front-end rigidity, precise-handling tapered oversize fork, and well-crafted geometry for the surprisingly confident feel as the scenery whizzes by. Even on long twisty descents littered with post-wintertime sand, the KOM proved to be an absolute descending beast, carving reducing-radius corners and high-speed sweepers with equal aplomb, all while delivering positive feedback on what the tires were doing.
Kuota designers had to make special concessions
Photo ©: James Huang

Speaking of feedback, the KOM also delivered a surprisingly buttery-smooth ride in spite of its daunting appearance. In fact, the KOM easily ranks among the more comfortable bikes we've ridden, and it's equally at home on a fast flat cruise on pockmarked dirt roads as it is in the hills. We eventually got over our concerns about the paper-thin tubes, as that might even be part of the reason for the resilient and snappy ride (sort of like how a large-diameter steel bike can be rigid yet still comfortable and lively as long as the tube walls are thin). The KOM still doesn't offer the truly magical ride of some other carbon bikes we've ridden, but it's not too far off, either, and was a pleasant companion to have on longer days in the saddle.
Componentry-wise, the SRAM Force group continues to impress us with its robotic shift quality and sure-stopping brakes. We're still holding out for a bearing upgrade to cure the GXP bottom bracket's excessive drag woes, though (perhaps an optional ceramic bearing upgrade for 2008?), and it'd be nice if SRAM nestled the derailleur housing next to the brake lines on the front of the handlebar like Campy did after the first few generations of Ergopower. For the most part it isn't much of an issue, but some handlebars seem to place the derailleur housing of SRAM's lever straight under the ulnar nerve in your palm (maybe that for 2008, too? How about a Force-level cassette while we're at it?).
Cleanly executed external cable routing
Photo ©: James Huang

The Fulcrum Racing 1 wheelset was a perfect match for the KOM with a laterally rigid build and deeply bladed spokes that gave the wind little to hold on to. The 1550g/pair claimed weight was reasonable given the solid feel, and the hubs displayed Campy's legendary bearing smoothness. We can't say with any certainty whether or not Fulcrum's unique 2:1 rear lacing system (where there are twice as many driveside spokes as non-driveside) makes a difference in how the wheels performed, but the concept at least makes plenty of sense and the wheels held up well during testing so we're not going to complain.
Kuota isn't as well-known for its componentry, but its house-branded bits performed admirably well as a whole. The Katch handlebar sported an extremely comfortable shape and well-done internal routing, and the carbon stem felt plenty stiff. Of notable exception, though, were Kuota's Kold carbon fiber cages, which were utterly horrible. Its carbon fiber arms are far too flimsy to hold anything securely and it's virtually impossible to run large bottles on anything other than glass-smooth roads. Even small bottles are still questionable at best and unfortunate owners of said items should be thankful if the evil things are irreparably damaged in shipping ("What can brown do for you?").
King of the Mountain or just a joker?
Kuota is now the official frame sponsor
Photo ©: Rob O'Dea

Kuota's KOM honestly surprised us a bit here. Not only did it perform its stated function extremely well, but it also excelled as an overall performer in other situations, too. The responsive frame, comfortable ride, and balanced handling would make the KOM at home in road races and club rides alike, but the fragile tubes would still make us hesitate a bit in entering this thing in a local criterium (we can't imagine those fragile tubes would take too well to being stuffed into a curb during a botched corner). Other than a few minor details, we likely wouldn't change much at all, and given our tendency to nitpick, that's saying quite a lot.
Weight: 7.1kg (15.6lb) without pedals
Price: US$3099.99 (frame, fork, headset, and seatpost); US$5799.99 (as built)
Pros: Light weight coupled with solid feel, responsive and balanced handling, superb descending abilities
Cons: somewhat polarizing styling, frighteningly thin tube walls, clunky dropouts
Cyclingnews rating:


More info: www.kuota.it
Photography
For a thumbnail gallery of these images, click here
Images by James Huang/Cyclingnews.com
Images by Rob O'Dea/KGSN Cycling
Images by James Huang/Cyclingnews.com