Tech feature: Specialized 2008 MTB lineup Part I, July 3, 2007
Specialized brings the integrated approach to iconic Stumpjumper
The new Stumpjumper bears a closer resemblance
Photo ©: James Huang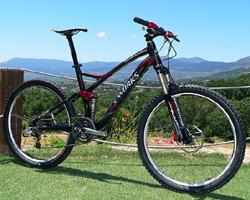 Specialized's current S-Works Stumpjumper FSR Carbon has only been on the market for a short two years, but the company has already decided to launch an all-new, and dramatically revamped, version for 2008. Cyclingnews Tech Editor James Huang continues to brush up on his Spanish while taking a look at the new Stumpy and other gems in the new Specialized lineup.
Good ideas for product innovations apparently trump traditional fiscal responsibilities in the halls of Specialized's Morgan Hill, CA, headquarters. After an exceptionally short two-year reign, the S-Works Stumpjumper FSR Carbon will be replaced for 2008 with an all-new version that promises to be stiffer, faster, and a lot lighter than the bike we've come to know and love.
At first glance, the new Stumpjumper Carbon frame looks almost like a downsized Enduro with a similarly low-slung profile for greater standover clearance, an S-shaped down tube to provide room for a bottle cage, and a new rocker link-type rear suspension configuration that allows for a more refined axle path and nearly completely uninterrupted seat tube for a greater range of seatpost adjustment.
Relative to last year's version, the down tube is also oversized throughout its serpentine length and the top tube is noticeably wider and flatter for improved torsional rigidity. An all-new rear end now incorporates a carbon fiber seatstay assembly (with a carbon fiber driveside dropout and trick forged and bonded aluminum one on the non-driveside), a lighter mount on the chainstay for the remote Brain, and cleaner routing for the corresponding hydraulic line.
The inflated dimensions allow for greater surface contact
Photo ©: James Huang

The down tube is larger in diameter throughout its length
Photo ©: James Huang

A curved down tube
Photo ©: James Huang

The new Stumpjumper retains its trail bike status with 120mm of travel front and rear, but the 'Total Suspension Integration' theme of last year's Enduro has now been taken one step further. After the recent news that Fox Racing Shox would not offer its Terralogic fork line for 2008 (you can draw your own conclusions), it should come as no surprise that Specialized has integrated its terrain-sensing FlowControl Brain damper into an all-new single-crown fork dubbed the FutureShock S120 that Specialized claims delivers perfectly matched suspension performance front to rear. As with the rear shock, external adjustments include air spring preload, rebound damping, and Brain Fade to fine-tune the overall plushness.
The 'Buddy System' packs that new damper and air spring (which is carefully sized to yield a nearly identical spring curve as the AFR rear shock) into a single 32mm aluminum stanchion to eliminate internal hardware redundancies. The other leg is completely empty save for some lubricating goo. Cast magnesium lowers use post mount-style disc tabs and massive dropouts mate with 28mm-diameter end caps on a new Roval wheelset for extra stiffness (the fork is still compatible with any standard front hub).
All of that sounds impressive enough, but don't bother entertaining any ideas of using the S120 on your current rig as the new fork also utilizes a new one-piece carbon fiber crown and steerer with 1 ⅛"-to-1 ½" tapered and oversized dimensions similar to the new Tarmac SL2. Naturally, the steerer's proprietary dimensions are matched to a similarly specific head tube on the new frame.
The new frame's head tube can accept standard forks when combined with an adapter for the lower cup, but the S120 fork can obviously only be matched to one frame option. Why would anyone go to such extremes, you ask? As with any such integrated system these days, Specialized claims the benefits of lighter weight, increased stiffness, and additional strength far outweigh the inconvenience of being locked into what it feels is a superior system, anyway. Claimed weight for the fork is an extraordinarily light 1450g, and Specialized engineer Brandon Sloan claims the S120 is the "lightest and stiffest fork we've tested so far."
Likewise, the new frame sheds 200g from last year's already-light S-Works Carbon version for a claimed sub-2kg figure and Specialized also says the combined frameset package even offers 15% greater steering precision to boot owing to the larger front end.. Complete bikes (sans pedals, of course) are said to weigh just 10.4kg (23.3lb) straight out of the box, easily landing it in elite company as one of the lightest mass-produced trail bike on the market (Gary Fisher's Carbon HiFi is another notable member).
To read Part II of the Specialized 2008 MTB lineup, click here.
Photography
For a thumbnail gallery of these images, click here
Images by James Huang/Cyclingnews.com