Tech News – November 8, 2006
Edited by James Huang
Got tech? Send press releases, news, and tech questions to the Cyclingnews tech desk.
SRAM sponsors Saunier Duval Prodir for 2007
A SRAM-equipped Scott Addict
Photo ©: Saunier Duval Prodir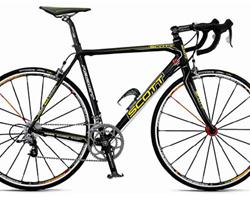 With only a single year under its belt in the road componentry market, SRAM announced that it will be the official component supplier of a ProTour team for 2007. The Saunier Duval Prodir squad will use the complete SRAM Force group on its bikes throughout next season's campaign, including full drivetrains, brakes, and the innovative DoubleTap integrated levers.
According to SRAM's Road PR and Media Manager Michael Zellman, "Both sides were enthusiastic and it really came together in a matter of weeks. We plan on working closely with the team through the season and we'll look for great feedback as we continue our advanced road componentry developments. With superstars like Millar and Simoni, this is the next level for us and we are excited and look forward to being in the classics as well as the grand tours."
SRAM's Force groups will be hung on the team's new superlight Scott Addict carbon framesets, along with Mavic wheels, Hutchinson tires, Ritchey seatposts, bars, and stems, Time pedals, fi'zi:k saddles, Elite bottle cages, and Topeak accessories.

Serotta takes possession of MacLean Quality Composites facility
The Meivici marks Serotta's entry
Photo ©: James Huang
NY-based framebuilder Serotta Competition Bicycles seeks to enhance its carbon fiber capabilities with the addition of a dedicated composites facility. MacLean Quality Composites (MQC), parent company of Reynolds Cycling and a long-term collaborator with Serotta as well as a number of other manufacturers in the industry, currently operate the Poway, CA facility that will change hands on January 1, 2007.
According to Ben Serotta and Dean Gestal, CEOs of Serotta and MQC, respectively, "Our companies have enjoyed an excellent working partnership of more than five years. At the core of the relationship has been our honest and open dialog, in which we've shared some of our long range strategic plans and concerns with each other."
Serotta will retain the complete staff of the Poway operation as part of the agreement, including lead engineer Mike Lopez who will also continue to provide engineering and consulting services to MQC and its customers on an "on call" basis. Lopez, a widely regarded expert in the field, views the new arrangement as a "win-win result for all parties involved."

Pace suspension and rigid forks will soon be produced by DT Swiss
Photo ©: James Huang

DT Swiss acquires fork division of Pace Cycles
In other business news, DT Swiss has recently acquired the suspension and rigid fork division of Pace Cycles Ltd. DT Swiss anticipates that the line will be fully integrated into its suspension range within 6-12 months, during which Pace will continue to manufacture its forks in the UK. Current Pace owner Adrian Carter will also serve as a technical consultant to DT Swiss during this period and for future developments.
Production will eventually be transferred to the DT Swiss factory in Switzerland, at which point Pace will become the exclusive UK distributor for the DT Swiss suspension range, in addition to providing continuing support for the Pace suspension brand.

Cervélo frames finally available in Scandanavia
Cervelo Soloist Carbon
Photo ©: Paul Henderson-Kelly

It seems a bit ironic that Team CSC Manager Bjarne Riis has been technically unable to purchase his squad's own official Cervélo frames in his native Denmark since the company began its sponsorship agreement in 2003. Currently, no distributor exists for Cervélo in the region but that is set to change as Riis' own company, Riis Cycling, has partnered with the Canadian builder to finally bring its frames to all of Scandinavia.
Selected retailers throughout Denmark, Norway, and Sweden, will have access to all of Team CSC's workhorses beginning in January 2007, such as the Soloist Carbon and P3, as well as Cervélo's newest SLC-SL frameset. According to Gerard Vroomen, co-founder of Cervélo, "We're very excited to increase our collaboration with Riis Cycling with this partnership. Originally, we were bike suppliers, then we became partners in product development and now we are partners in making Cervélo available to the Scandinavian market. Of course, it is a great advantage for the customers to have the team do this, and it really adds value to the whole experience of purchasing a Cervélo."

Columbus takes another shot at stainless steel tubing
After a long hiatus, Columbus has reintroduced a stainless steel tubeset, dubbed XCr. Unlike the older Metax pipes, XCr will be truly seamless, starting from a solid machined billet and then cold drawn to produce the final wall thicknesses. Columbus claims that this production method will keep the mechanical properties constant and uniform throughout the entire round section of the tube. Moreover, the grain structure of the new XCr tubing is said to be unaffected by welding, thus maintaining joint strength.
As expected, frames built with the new XCr tubes will boast excellent resistance to corrosion, and many builders will likely opt to use a bare finish. XCr frames also promise to be rather light as well, since tube walls as thin as 0.4mm will be possible given the material's high strength.

Pearl Izumi's new Gavia soft shell boasts wind- and waterproof
Photo ©: Pearl Izumi

Pearl Izumi introduces high-end cold weather clothing line and new mid-weight fabrics
Pearl Izumi's new cold weather Gavia collection utilizes a mix of its UltraSensor-Kodiak and new Microsensor-Thermal fabrics along with strategically-placed panels of AmFIB-Ultra laminates to offer cold weather warmth and wind and water protection without the need for multiple bulky layers. Included in the premium line will be a "soft shell" jacket, bib tight, and gloves. While not intended for truly ugly winter weather, the new garments should offer ample protection for most riders in typical winter training conditions.
The Microsensor-Thermal mid-weight fabric is also used for a new cool weather line when conditions are too cold for a summer weight garment, but not cold enough to justify full winter gear. Microsensor-Thermal is said to offer the same moisture-transferring properties as standard Microsensor, but with the additional warmth of a brushed thermal fleece interior. Pearl Izumi utilizes the fabric in a novel short sleeve jersey with slightly longer sleeves, a long sleeve jersey, as well as bib shorts and knickers.
Photography
For a thumbnail gallery of these images, click here
Images by Saunier Duval Prodir
Images by James Huang/Cyclingnews.com
Images by Pearl Izumi