Tech feature: Strong growth fuels development of Specialized women's products line, August 14, 2006
Catering to the other 51 percent
Our coverage of Specialized's 2007 product line launch finishes up with details on its extensive line of women's products. The words "intelligent design" are actually applicable here, as a lot of thought was put in to products aimed at the oft-neglected half of the cycling population. James Huang wraps things up from Holzkirchen, Germany and finally gets to go home after a long month on the road.
Specialized's new women's product manager, Eron Chorney (second from left)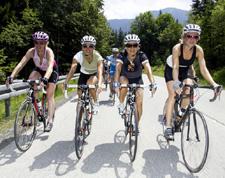 Elastomeric Zertz inserts

Just like on the men's S-Works models,
Well, no one said

Even looks fast

The new women's Epic Marathon

The rear end of the women's Epic Marathon

Smaller faces
The new women's Pro Carbon

Smaller hands

Although women make up 51 percent of the world's population, they have historically been a woefully underserved group as far as the sporting goods industry is concerned, and cycling haws been no exception until fairly recently. Specialized made the wise decision to enter the women's cycling market seven years ago, and its dedication to the segment has paid clear dividends with a reported 32 percent growth in sales last year alone.
The company hopes to continue its momentum for 2007 with a comprehensive and coordinated bicycle, component, and equipment lineup that includes more women's-specific bicycles than some companies have in their entire catalog. Specialized has also brought in a new product manager, Eron Chorney, to steer the ship, and she certainly seems up to the challenge with a healthy list of qualifications: she holds a mechanical engineering degree, worked as an engineer for Rocky Mountain Bicycles, and possesses extensive retail experience. In addition, as a former Canadian national team member (she competed in the MTB World Championships in Kaprun, Austria in 2002), she clearly knows a thing or two about women's cycling gear and how to use it.
History has shown that so-called "women's-specific" gear that is little more than downsized and recolored men's products won't cut it over the long term. Men and women display real differences in anatomy and how they approach cycling, and those distinctions need to be accounted for in order to produce a solid product. In assembling its women's lineup, Specialized says that it has conducted extensive research to identify these differences and has incorporated them into nearly every piece of its women's gear (much of which, it should be mentioned, is available in light blue and pink hues).
Faster and lighter, bigger and brawnier
On average, women are shorter and lighter than men and also tend to have significantly shorter arms and torsos than men for a given height. More critically, women also have a lower power-to-weight ratio and are usually easier on their equipment. In response, Specialized's women's bicycle line are offered in sizes as small as 44cm with shorter top tubes, taller head tubes, lighter weight tubesets, and custom butting profiles and fiber layups. In addition, all bikes have been designed to utilize full-sized wheels without resorting to custom forks or excessive toe overlap.
Last year's carbon Ruby road bike was a runaway hit for Specialized with demand exceeding original forecasts by a factor of two-to-one. For 2007, Specialized decided to add a new S-Works model to the lineup which boasts a lighter carbon layup than the standard Ruby and an oversized bottom bracket shell that now houses a light and rigid S-Works integrated carbon crankset. In addition, the S-Works Ruby also holds the distinction of being the first women's-specific S-Works model in the company's history.
Specialized continues with its aluminum Dolce line for '07 which actually tends to be a bit lighter than comparably sized and equipped men's models. Thanks to women's lighter weight and lower power-to-weight ratios, smaller diameter tubes with different butting profiles can be used, which not only reduces frame weight but also enhances ride quality in smaller sizes.
Similar alterations are applied to the company's mountain bikes. A new high-end Epic Marathon comes dressed with Specialized's new AFR rear shock and Brain technology which also graces a Comp level version as well. The new top tubes on both models are not only shorter, but also radically bent to provide more standover clearance. Two new women's-specific Stumpjumper FSR models (Expert and Comp) boast the same suspension geometry revisions and AFR shock upgrades as on the men's models as well as the shorter and bent top tube as on the Epic. Sadly, Specialized has yet to add any carbon women's-specific mountain bikes to its repertoire, but hinted that at least one was being considered for future development.
Completing the package
In addition to women's-specific framesets, Specialized also offers a healthy range of components and equipment. Women's hands are generally smaller and narrower than men's, and lever reach can be a big issue, particularly when in the drops of a road bike. In light of this, the Ruby SL is said to be the industry's first and only women's specific carbon road handlebar with a short reach and shallower drop. If the reach needs to be shorter still, rubber Slim Shims of varying sizes can be inserted into Shimano's complete line of road STI levers. Coincidentally, this nifty feature should not be lost on male riders, either, who may want to reduce their lever reach for easier access during sprints or when paired with today's "anatomic" bars.
Not surprisingly, Specialized also offers a full range of Body Geometry accessories expressly designed for the needs of women, including a new Pro Carbon shoe in both road and mountain versions, the Trivent triathlon shoe, and the Jett and Ariel saddles. Women's shoes are built on a unique last to accommodate their narrower heels and lower volume forefoots, and include all BG features, including the varus wedge, metatarsal button, longitudinal arch support, and choice of three different footbeds. Grips and optics haven't been forgotten, either, with a new lock-on style anatomic mountain bike model as well as eyewear specifically designed to fit on smaller faces. Need clothing? Oh right, Specialized has that in spades as well, and colored to match no less.
Want more?
Specialized is one of just a small handful of companies to get a jump on the women's cycling market early on and has clearly benefited from its head start with an impressively complete set of offerings that seems to have few holes. Without a doubt, it's good to finally see the level of women's equipment come up to the top level, and hopefully it is a trend that will continue to grow.
Photography
For a thumbnail gallery of these images, click here
Images by James Huang/Cyclingnews.com
Images by Karel Duerinckx/Specialized