Tech feature: Specialized road lineup continues to build momentum for 2007, June 20, 2006
2007 road army captained by new S-Works Roubaix SL
A busy product introduction season is finally coming to a close, but not before James Huang racked up a few thousand more frequent flyer miles in a recent around-the-world journey. Holzkirchen, Germany was home for a few days in July for the introduction of Specialized's 2007 lineup. We'll explore its road bikes and equipment in this installment, with off-road and women's products to come later.
The S-Works Tarmac SL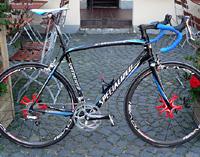 This year's Tour de France is certainly shaping up to be the most riveting one in years with nary a sure thing in sight with the final week looming. One American pre-race favorite, Levi Leipheimer (Gerolsteiner), is having a rough start to this year's TdF after an inexplicably poor individual time trial back in Stage 7 on the way to Renne. On the upside, his team's equipment sponsor, Specialized, is poised for another successful season with a bevy of interesting product.
Specialized continues to refine road fleet
Specialized's road bike array is capped by its new S-Works Roubaix SL, a dramatically revamped iteration of last year's fast-yet-comfy machine. We already covered the Roubaix SL's mini-launch in northern France back last month so we won't rehash too much here, but suffice to say that pictures don't do the swoopy new Az-1 carbon fiber frameset justice. The new curves not only look great, but also reportedly enhance the frame's vertical compliance by 5.6 percent as compared to last year's carbon Roubaix, a difference Specialized likens to running just 90psi in your tires versus 120psi. The Zertz elastomeric dampers carry on, but alas, they still don't come in colors…
At 1065g, the SL also drops 25g from last year's carbon Roubaix yet measures 10 percent stiffer in torsion and 2 percent stiffer at the bottom bracket according to in-house testing. The verdict is still out on whether or not your average consumer can actually detect such relatively small-scale differences, but they are improvements nonetheless.
The S-Works Roubaix SL

The new Zertz system

The S-Works Roubaix SL

Lessons learned from the Tarmac

This is about as proprietary as it gets.

Specialized's new Roval Rapide Star wheels

Star hub bodies

Remember this?

Yup, it really is

The new 2007 Barmac

The Pro Road shoes
The new X-Link strap base

The Tarzo

Extended test rides through the picturesque Bavarian countryside seem to reinforce Specialized's general claims. The Roubaix SL is indeed very comfortable with a compliant, yet springy, ride that not only mutes high-frequency road buzz but also takes the edge off large bumps, too. Of note, an impromptu hop off of a curb (sorry, Specialized!) resulted in just a dull thud and an overall surprisingly planted feel. Cornering requires a hair more conviction than on the company's decidedly edgier Tarmac, but is still solid and predictable.
Although my test bike wore short 170mm cranks (172.5mm is my norm), out-of-the-saddle sprints and steep climbs were met with impressive torsional and lateral frame rigidity. Specialized head honcho Mike Sinyard calls the Roubaix SL his favorite bike given its combination of compliance and performance, and after 200km, it might very well be my favorite bike in the Specialized lineup, too.
Az-1 carbon construction also now graces the Roubaix Pro and Expert models (albeit with a different carbon layup), and all models receive the curved top tube of the SL that slopes more dramatically upwards to diminish the appearance of the Roubaix's 35mm head tube extension. Roubaix models also get compact cranksets across the board along with shallower drop handlebars.
The Tarmac, Leipheimer's weapon of choice, is basically carryover as far as the frames are concerned. The S-Works model gets new hybrid ceramic headset bearings with ceramic balls and hardened stainless steel races, and the Pro model will now use Specialized's top-level Az-1 carbon construction method. New for '07, Specialized will offer an S-Works Tarmac SL 'module' which will include the Tarmac SL frame, S-Works full carbon fork, new carbon Barmac integrated stem and handlebar, S-Works Pave SL carbon post, and an integrated S-Works carbon crankset.
Component
Specialized expands the resurrected Roval wheel family to seven models for next year, two of which feature a rather unorthodox approach to aero wheels. The new carbon-rimmed Rapide Star and aluminum-rimmed Fusee Star clincher wheelsets forego deep section rims (the Rapide rim measures only 32mm tall) in favor of a wild-looking set of hubs. The thin, aerodynamic, 7000-series aluminum flanges of the aptly named Star hubs are narrowly spaced to help reduce the frontal area of the wheels. In addition, the flanges are exceptionally tall which cuts spoke length by roughly a third which serves to enhance lateral stiffness and combat windup.
Specialized claims that the new wheels are more aero than even its own legendary 3-spoke wheel that it developed in conjunction with DuPont ages ago (the wheel is still available today through Hed who licenses the design). However, the new wheel design is said to have vastly superior ride quality without the crosswind shenanigans that can plague conventionally designed aero wheels.
The new wheels certainly aren't light with the top-level Rapide Star hitting the scales at 1750g for the pair. On the road, though, they were markedly easier to keep up to speed than lighter, non-aero wheels, and the additional weight wasn't terribly noticeable. If the Star concept proves successful, it seems logical that a carbon-hub version wouldn't be far off (can you say '2008'?). The new wheels will be offered in three interchangeable freehub varieties: Shimano 8/9 speed, Shimano 10 speed, and Campagnolo 10 speed.
The S-Works integrated carbon crankset will now be available in three spider options: standard 130mm, compact 110mm, and a SRM version which will be available this fall. Last year's claims of being 23 percent lighter and 17 percent stiffer than the benchmark Shimano Dura-Ace 7800 crankset are reiterated, but the S-Works crankset will, unfortunately, still only fit the oversized bottom bracket shell of the company's top-end road models.
The Barmac integrated carbon handlebar and stem gets a bit lighter and stiffer for '07. The new drops are shallower and a cleaner-looking steerer clamp that utilizes an interesting wedge system also offers some sizing flexibility. A variety of wedges provide 8° of total angular adjustment, from +7° to -1°. However, there is no mechanism to compensate the tilt of the bar itself when stem adjustments; the whole thing is 'integrated', after all. Stem lengths from 90-130mm will be available.
Road equipment
Specialized continues to make inroads in the pro peloton with its accessory lines. Five complete ProTour teams and 27 individual riders are using its Decibel helmet, introduced two years ago, and Specialized helmets were perched atop the top three finishers in Stage 1 of this year's Tour. The company's Body Geometry shoes have had an even bigger impact on the racing landscape; roughly 100 ProTour riders use Specialized footwear, including Phonak team leader and GC hopeful Floyd Landis.
Sponsored pro riders are about evenly split between last year's BOA-equipped S-Works model and the newly redesigned Pro Road version. The Pro Road shoe also incorporates the company's trademark Body Geometry ergonomic features (varus wedge, longitudinal arch, and metatarsal button) and stiff FACT carbon sole but with a more conventional upper that uses a single ratcheting strap plus two forefoot hook-and-loop straps. The main strap receives a new 'M-Lock' buckle plus a novel 'X-Link' base which allows for both fore-aft and volume adjustments to provide a more custom fit.
Specialized continues to evolve its photochromatic Adaptalite NXT optics line. For 2007, road optics feature a wider transmission range (12-39 percent vs. 17-41 percent in '06) that also reaches further into the darker end of the spectrum for particularly bright days. The new Adaptalite lenses are also said to have a faster response time. Last year's 17g Arc model carries over (with the new lens), but new in the lineup is the Tarzo. The new optic is specifically intended for narrower faces and features a close-fitting wraparound design for good protection and vented lenses to combat fogging.
Not one to leave things well enough alone, Specialized has also overhauled its ubiquitous Turbo inner tube. A wider and thicker valve stem base resists the sharp edges of today's rim strip-less wheels, and a partially smooth valve stem is easier on pump head gaskets. Three stem lengths will be available (36/48/60mm) and tubes will weigh as little as 69g.
Photography
For a thumbnail gallery of these images, click here
Images by James Huang/Cyclingnews