On test: Specialized Mondo S-Works and All Condition tyres, November 1, 2005
All-round star performers
With over a quarter of a century in the tyre making business, Specialized has come up with a couple of top quality racing clinchers with the Mondo S-Works and All Condition S-Works. Cyclingnews' Chief Tyre Destroyer Jeff Jones was able to put these through Belgian winter, spring and autumn (did someone mention summer?) conditions, and came out a better person.
The Mondo S-Works
Photo ©: Specialized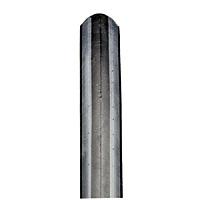 The All Condition S-Works
Photo ©: Specialized
Specialized is no stranger to the bicycle tyre market, having been making them for some 30 years - almost as long as the company has been around for. Although mountain bikes are still the focus of the California, USA based firm, the road is gaining a stronger foothold with the sponsorship in 2005 of teams such as Gerolsteiner, Davitamon-Lotto (glasses and helmets), Milaneza-Maia, Webcor Builders, Victory Brewing and the USA national teams.
Currently, Specialized makes three types of tyres specifically for road racing: the Mondo S-Works, All Condition S-Works and Roubaix S-Works. Cyclingnews tested two out of three of these, putting a set of Mondo and All Condition S-Works tyres through their paces on the unforgiving roads of Belgium.
Features
Both the Mondo and All Condition S-Works are designed to be top-end racing tyres, foldable, and weighing around 200 grams each for the 700x23 versions. The Mondo is built for speed while the All Condition (as the name suggests) is more durable and can better handle rougher terrain and conditions. Both have a dual compound tread, with a harder compound (Durometer: 75 (Mondo) and 65 (All Condition)) in the middle for more durability and a softer rubber on the shoulder (Durometer: 64 (Mondo) and 60 (All Condition)) for better grip while cornering. The Mondo has a completely smooth tread while the All Condition has a siped tread for "water management," Specialized claims.
Specialized has also tried to modify the shape of the tyres with a "motorcycle inspired" raised centre profile for "minimal straight-line contact (for speed) and maximum cornering contact (for traction)". To me, this seems a little far fetched as a bicycle tyre's contact area is normally only dependent on the weight of the bike and rider and the pressure of the tyre. Also, once the tyres are pumped up to 120 psi, it's difficult to tell whether the centre is raised or not.
A more important quality is the threads per inch count of the casing. Both the Mondo and All Condition have 127 tpi, which is not as high as some clinchers that I've ridden, but is enough to give that all-important supple ride quality that's also grippy around corners. The recommended tyre pressure for each is between 115 and 125 psi.
Puncture resistance is that other key feature of a good racing tyre. There's no point in having something super fast if you puncture it on every other ride. Each tyre is constructed with Specialized's "Flak Jacket" aramid/elastomer subtread, which is light but very tough when it comes to eliminating those pesky flats.
The colours available for the Mondo are: yellow/black, blue/black, red/black, silver/black, and plain black. The All Condition is available in red/black and plain black. Finally, the tyres are priced at US$50 a pop - not cheap, but not outrageously expensive either. They're made in France too.
The All Condition S-Works
Photo ©: Paul Mirtschin

The Mondo S-Works
Photo ©: Paul Mirtschin

Beautifully sleek:
Photo ©: Paul Mirtschin

On the road
I put the All Condition S-Works tyres on when I got to Belgium in mid-February this year. It's the perfect time for testing tyres, as it's typically the coldest part of winter with a fair amount of snow, rain and mud around. Some sane Belgians ride mountain bikes or 'cross bikes then, but most sane Belgians don't ride at all. Happily, I am not in the category of Sane Belgians. I am a silly Aussie and I like testing things until they die.
Performance-wise, the All Conditions were up to the task of early season training - I didn't get to race on them. I rode them on plenty of snow covered roads, through the icy February sleet and the ever present Belgian mud, and they stood up to the punishment. They offered good traction and I was quite comfortable on the snow. I don't even recall puncturing once in approximately 4000 km, although I remember standing around wet and freezing while waiting for someone else to fix a flat, then restarting on some cobbles and riding another 40 km into a biting north wind. Not even my latest set of rose coloured glasses will throw any positive light on that memory.
I didn't use the Mondo S-Workss until later in the year, but for the couple of months I had them on for, they got a fair dose of rain and mud. The first time I used them was after I realised my tubulars were flat again, and I had a race to go to. I slapped on the Mondos and spent the next few hours flogging them (and myself) over a fairly technical circuit nearby. They performed excellently, giving a smooth ride on the numerous corners and bumps in the circuit, and helped me to a fairly decent result.
I kept them on after that and ended up getting nearly 5000 km out of the rear without a flat. During that time I raced a few more times and tested them out in the wet. I was quite impressed with their ability to stick to the road, and did not detect any of the slippage that I would in certain other tyres. Really, I couldn't fault the Mondo S-Works.
Overall
Both the Specialized Mondo S-Works and All Condition are remarkable tyres. It's very rare that you get a racing clincher that's fast, grippy in the wet, durable, puncture resistant, and comfortable. These have those attributes in spades, and they're not overpriced at $US50 per tyre. If I could give these a 5.5 rating out of 5, I would, as they have exceeded all my expectations in a good quality racing tyre. I'll take 'em!
Recommended retail price: US$50.00 (both Mondo S-Works and All Condition S-Works)
Claimed weight: 200g (both tyres)
Threads-per-inch: 127 (both tyres)
Colour: Mondo: yellow/black, blue/black, red/black, silver/black, and plain black; All Condition: red/black, and plain black.
Pro: Light, excellent wear, very good road performance
Con: None that I could find
More information: Specialized's website
Cyclingnews Rating: