On test: Pinarello Dogma FP, December 16, 2004
Italian couture - experimental thoroughbred
Pinarello is one of very few companies working in magnesium, a material that's notoriously hard to weld. But combine magnesium's strength-to-weight and stiffness-to-weight ratios with Pinarello's oversize M.O.st bottom bracket and you get something special, as Ben Atkins discovered.
Pinarello Dogma FP
Photo ©: Pinarello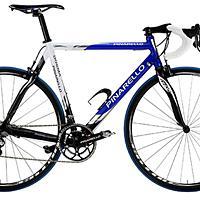 Pinarello introduced the Dogma in 2003, as the company's entry into the Lightweight Frame Wars. Pinarello had taken aluminium as far as it felt it could go in the form of the Prince SL so rather than moving on to carbon or titanium like most of its competitors - the company decided to start experimenting with other metals. It found that, with magnesium, it could replicate its aluminium frames with less weight and even more stiffness. So far Pinarello is one of very few framebuilders to use magnesium - and it has an exclusive on Dedacciai's AK61 magnesium tubeset until 2005 - so the Dogma really stands out on its own.
The Dogma has been used to great success over the last few years by the Deutsche Telekom and Fassa Bortolo teams and most notably of all by Mr Ale-Jet himself Alessandro Petacchi.
FP?
So that's the Dogma, so where does the FP come in, and more to the point, what does it stand for? Well, Pinarello isn't saying what FP actually stands for - maybe "Fast Pinarello" (or "Fausto Pinarello", Giovanni's eldest son), or something dull like "Full Power", but the fact that the frame carries this moniker means that it's a bit more special than a plain old Dogma.
M.O.st wanted
The M.O.st b/b
Photo ©: Pinarello

The internals
Photo ©: Pinarello

Another view of the oversized botom bracket
Photo ©: Nen Atkins

The Dogma's cockpit
Photo ©: Pinarello

The very pretty Carbon Compact chainset
Photo ©: Pinarello

Gotta love that classic paintjob
Photo ©: Pinarello

Onda Forks
Photo ©: Pinarello

The test machine
Photo ©: Ben Atkins

Name on the frame
Photo ©: Ben Atkins

Pinarello carbon crank
Photo ©: Ben Atkins

You have to look a bit closely to see what changes the FP has from the previous Dogma, and indeed all the other bikes in the peloton. Sure, the carbon Onda front and rear forks have a slightly different wiggle from last year, but the thing that sets this bike apart is between your feet. The Dogma FP features a brand new M.O.st bottom bracket shell. At 55mm in diameter it's much larger than the standard 40mm and according to Pinarello this makes it stiffer, and smoother rolling. Cynics might say that this is yet another gimmick to make you buy Pinarello's own components rather than other ones you may want, but there's more to it than that.
With the larger bottom bracket shell comes a larger area to attach down, seat and chainstay tubes, making a stronger - and stiffer - joint where it's most needed. It is, after all, through this point that most of the rider's power passes, and so the stronger and stiffer this area of the bike can be the better.
It is true that the only bottom brackets available to fit this frame are made by Pinarello (although an adapter sleeve is provided), but Pinarello believes that component manufacturers - like neighbours Campagnolo in nearby Vicenza - will soon follow suit. After all, it wasn't so long go that threaded headsets were standard, and it took a brave pioneering framebuilder to start using threadless, ditto the move from 1in to 1 1/8in steerers, and the introduction of fatter seatposts, and so on.
As well as the new bottom bracket, there is an innovation at the front of the bike. The Onda fork now has a tapered steerer, that is 1 1/8in at the top, and flares to 1 1/4in at the bottom. This, like the new bottom bracket, is intended to make this major stress point stronger, stiffer and smoother rolling.
So that was the science part (as they used to say in shampoo commercials) but how does this all translate to the road? The test session consisted of a gentle (not!) spin around the Treviso countryside, followed by my first crack at the Gran Fondo Pinarello.
The first impression of the Dogma FP is that it feels really light. Not in the almost flighty manner of some light bikes, but in a more dependable kind of way. The Dogma as a solid feel to it, it just doesn't weigh very much. Maybe this strange mixture of sensations comes from the second compulsory act when meeting a bike for the first time. Straight after we've picked it up and registered its lack of kilos we lightly tap our fingernails on the top tube. Most top end aluminium bikes sound like they're made of foil when you do this, but the Dogma doesn't. Because magnesium is so much lighter than aluminium, Pinarello has been able to make the tube walls a bit thicker, which again can't do any harm on the stiffness front.
The frame, aesthetically speaking, is one of those things that you either love or hate. Personally I love it. The Onda forks and stays are designed to take the pain out of road buzz and minor bumps, while maintaining stiffness and control. Whether using this shape makes much of a difference from a more standard rake is a moot point, but the whole effect - with a wiggle in either direction - looks great to me. The only criticism I would have - and this is me being really picky here - is with the welds. I like my bikes to have nice, smooth lines and it was a bit disappointing to find The Dogma FP's welds were left as they'd come from the torch. However, building a larger weld that could then be filed smooth would add weight to the frame, which is why it hasn't been done.
Pinarello seems to have given up the fight with their great rivals Colnago over garish paintjobs and gaudy graphics. For me, this was the correct decision. The test bike was a classic, subtle and stylishly understated black and white. Like a good Italian suit, it oozed class without having to be ostentatious about it.
The frame is available in standard geometry between 50 and 62 cm, in one centimetre increments, and three sloping sizes. My frame was a standard 56cm with a top tube length of 56.5cm and seat tube angle of 73.2 degrees.
Components
Campagnolo Record is my favourite of all the current component groups. The shifting is beautifully sure, with a really satisfying 'thunk' confirming you've just done something that you don't get with Shimano. This is a personal choice of mine, but the Japanese stuff doesn't do it for me like the Italian does.
The major departure from the standard group is the inclusion of a Pinarello Carbon Compact chainset. The Compact 50/34 combination is a nice compromise between a standard double chainset and a triple - ideal for us lardy types who don't want the visual stigma attached to that granny ring. The chainset is attached to the M.O.st bottom bracket via Isis drive, the standard used by Pinarello. A square tapered Campag compatible spindle is available for those who want to use their chainsets, Shimano users will have to use the adapter sleeve supplied.
Finishing kit
Most of the rest of the bits, the bars stem and seatpost - even the computer - were Pinarello branded. The carbon stem was a little chunky for my taste, but coupled with the oversized anatomical carbon bars I was unable to detect any discernible flex, I'm a big fan of oversized bars, both the comfort of the larger diameter and the extra stiffness it affords. The only thing I didn't really like was the saddle: a Pinarello Prince XP made by Selle Italia. Aside from the fact that it had 'Prince' printed on it (when this is a Dogma), it just wasn't my shape and I never got properly comfortable. This is, though, a purely personal thing. Different saddles suit different backsides; mine just didn't seem to fit this one.
The only major part not mentioned so far are the wheels; these were the new silver Mavic Ksyriums. I've not used these wheels before and I was very impressed. How can an aerodynamic wheel be so lightweight, or a lightweight wheel be so stiff? The only small problems encountered were two punctures caused by a rough edge around the valve hole. One puncture got me at about five minutes into the Saturday spin, the second on the way back to my hotel afterwards. The rim doesn't have the need for tape, so any imperfection like this could cause problems - worth checking if you buy a pair. The problem was solved by the Pinarello mechanics applying a small piece of black tape to the offending area and I had no more problems for the duration of the test.
The ride
Saturday's test spin took in some of the roads frequented by local riders, a few hills, but nothing too taxing. I spent most of this time seeking out the roughest bits of tarmac, and all the drain covers, to see just how shock-damping the Onda carbon fork and stays would prove to be. When I wasn't doing this I was out of the saddle, churning the biggest gear I could to see how much I could make it flex. The Dogma FP excelled on both counts; while I didn't exactly not notice all the lumps and bumps, the harshness was certainly lessened; as for the flex, well there was no bending this baby! I was listening for any brake rub but didn't hear any, indicating that the wheels were refusing to budge either.
Sunday's ride was a bit more extreme, comprising 203km of baking hot torture in the Gran Fondo Pinarello. The beginning was conducted at well over 40km/h, which was where the small weakness of the compact chainset was exposed. My top gear was 50 x 12; only a few teeth less than everybody else's, but my lumbering, grinding style (I like to think I'm channeling Jan Ullrich) isn't used to spinning that fast, and I could have done with a conventional chainset for these first 25km. The 34 tooth inner ring would prove most useful later on though.
Climbing la Crosetta, by far the biggest hill on the route, was sadly not made appreciably easier by this bike, although it was made much more pleasant than it could have been. Aside from the 34 x 25 gear that I was able to call upon where necessary, the stiffness of all parts of the bike meant that at least I knew that none of the considerable amount of energy that I was expending was being wasted. A slightly psychosomatic effect I know, but sometimes you'll take what you can get.
The place I really did notice the quality of the bike was on the way down again. The Onda forks - despite their unconventional shape - were totally predictable. Whichever way you point these things they will take you there, most useful when descending hairpins at 70kmh.
The rest of my test ride was carried out over some beautiful roads around the Prosecco vineyard area to the north of Treviso, before finishing in front of the Pinarello store. They almost had to break my fingers to get the bike back.
Conclusion
It's very easy to enjoy a ride on a bike of this price, which is why when you're trying to review one you have to be even more fussy than you would when reviewing a cheaper one. That said, I found it really difficult, even with my finicky head on I could find virtually nothing to complain about. Aesthetically I've always found the Onda curves to my liking; the simple paint job and graphics were understatedly beautiful; I could even forgive the unsmoothed welds as they were left for reasons of weight. Riding the bike reveals a fantastic synthesis of comfort and stiffness that almost contradicts itself, how can a bike this stiff be so forgiving, and vice versa?
At over four grand for a frame and the best part of seven for a bike like our test machine, the Dogma is one of the most expensive bikes out there. To buy one of these and equip it with the bits it deserves would set you back more than most of us can afford, but if you have got that kind of money, then I'd recommend you seriously consider this bike.
Pro: Beautiful, stiff, responsive
Con: Not much!
Cyclingnews Rating:

Full specification: Pinarello Dogma FP

Frame: Pinarello Dogma FP Magnesium AK61
Fork: Pinarello Onda FP
Colour: Black/White, Blue/White, Red/White, Orange/White, Fassa, All Black
Sizes: 50 to 62 in 1cm increments (plus 44, 46, 48 Sloping)
Recommended UK Price: £2640 (frame, forks, headset & seatpost)


Chainset: Pinarello Compact Full Carbon (50/34)
Bottom Bracket: Pinarello M.O.st
Front Derailleur: Campagnolo Record
Rear Derailleur: Campagnolo Record
Brakes and Levers: Campagnolo Record
Rear Cassette: Campagnolo Record (12 - 25)

More information: Pinarello's website

RRP - Frame: UK£2640 (frame, forks, headset & seatpost)

Wheels: Mavic Ksyrium
Tyres: Vittoria Open Corsa

Stem: Dogma Full Carbon 31.8
Bars: Dogma Full Carbon 31.8

Seatpost: Pinarello Carbon
Saddle: Pinarello Prince XP (by Selle Italia)