Tech review - November 25, 2004
On Test: Fi'zi:k BAR:GEL handlebar tape
Comfort and grip
Branching out from its traditional saddle territory, Fi'zi:k is aiming to improve comfort at another contact point, your hands, with this cushioned tape. Steve Beletich slammed through some potholes and steered one-handed round a pile-up to find out how well it worked.
Fi'zi:k BAR:GEL tape
Photo ©: Fi'zi:k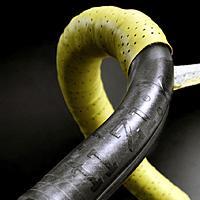 In just a few years high-tech saddle maker Fi'zi:k has grabbed a significant slice of the seat market with innovative and comfortable saddles such as the Aliante, Arione and Gobi. It's a logical progression to bring the same materials and design approach to the rider's other main contact point, the handlebars, and that's what Fi'zi:k has done with the BAR:GEL tape. The BAR:GEL kit consists of microtex bar tape, bar end plugs and, drum roll please, Technogel strips for installation under the bar tape. We can't read a product name that starts 'Techno' without thinking of Wallace and Gromit's Technotrousers but in this case BAR:GEL isn't "the wrong handlebar covering, Gromit."
Fi'zi:k claims that the Technogel strips will not harden or break down over time, and that they will maintain their elasticity and 'shape memory' characteristics indefinitely. However, given the time constraints of a test lasting a few weeks rather than a couple of years, we'll mostly be looking to see how well the BAR:GEL delivers on the promise of being comfortable, providing good grip and in particular absorbing road shock and vibration.
Installation
BAR:GEL is no more difficult to install than standard bar tape (not to say that task is by any means easy, unless you do it every day). The only additional step is to install the four gel strips on to to the handlebars. This is straightforward - just lay the two straight-section gel strips on top of the drops and push firmly into the curves.
One side's worth
Photo ©: Paul Mirtschin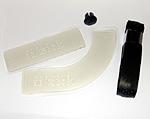 Inside the drop
Photo ©: Fi'zi:k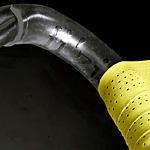 Not bulky
Photo ©: Fi'zi:k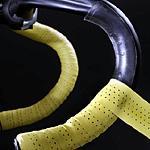 The Microtex tape
Photo ©: Fi'zi:k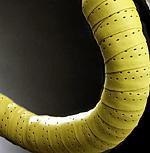 Now what?
Photo ©: Steve Beletich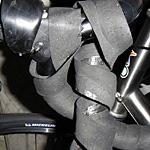 Sorted
Photo ©: Steve Beletich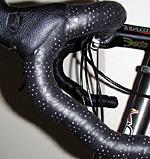 Similarly, the two L-shaped gel strips are laid over the tops of the bars and follow the bar curve out towards the brake levers. As I spend most time up on the hoods, I laid the gel strips right out over them, further enhancing that nice flat Campagnolo interface between the hoods and the bar tops. Mmmmmmm.
The Technogel conformed well to the shape of the bars and stuck beautifully. Before wrapping the bar tape over the top, I had a little feel in the nude, so to speak (the bars, not me). It felt really cool - like play dough in your hands - I could have left it like this!
Finally, it was just a matter of spiraling the bar tape over the top in the conventional fashion. The key here, of course, is to take your time. If you can remember which way to wrap bar tape over a set of Campagnolo hoods, you're a better man than me. I always need at least five attempts to get it right.
Hitting the road - literally
The easiest and therefore first test is appearance. Quite frankly, I thought this stuff looked sensational. Slightly shinier than cork tape, with that perforated-leather look rather like the steering wheel on a Magnum-PI era Ferrari. Very retro-Euro.
That brings me to feel. While it looks shiny, microtex has an unusual, sticky feel to it, as if I had spilt Coke on it a couple of weeks ago. This is of course a very desirable attribute for keeping your hands on the bars.
I have to admit that my biggest concern was how bulky it was going to feel. I have bad memories from the time I bought a pair of gloves with about an inch thick wad of gel padding. This made the bars feel so big that I almost couldn't get my fingers all the way around them. With the BAR:GEL I noticed a slight increase in the thickness of the bars, but not enough to concern me. This was a huge relief.
After riding the BAR:GEL for a while, I found it very comfortable. Hard to put into words, though - it just felt subliminally good - analogous to being in the fetal position - a throwback to womb days, perhaps.
The gel did seem to conform to my hand shape, although whether or not it actually remembers the shape of my hand is an entirely different question.
So, the general feel was excellent. Time now to get sweaty and slam the bike into some rough stuff. Fortunately, or unfortunately for some, there's not too much pavé in Sydney. However, we do have a bitumen alternative which comes very close: Cleveland Street, Surry Hills.
All cities and towns have one of these streets - you know what I'm talking about - it's the street built before WW1 that was last sealed just after WW2. Riding it involves speed, heat, adrenalin, truck fumes and monster potholes. To my amazement, I found that the BAR:GEL definitely enhanced the experience of riding this road. Indeed, I sought out the rough stuff wherever I went, in order to test it further. Someone in the bunch yells "hole!" and I'm looking for it, not to avoid, but to plough into - "got it!"
BAR:GEL definitely helps with bad roads and potholes. I also found that it gripped better than my old cork tape under sweaty summer racing conditions. Indeed, I was thankful for it when a crash occurred several riders in front of me during a race, and I was able to steer around it successfully, with one hand on the bars and my drink bottle in the other - a bad time for a crash but an acceptable result for me. Thank you, Mr Fi'zi:k.
Conclusions
After a month of riding, BAR:GEL feels good, reduces road buzz and makes potholes and bumps more bearable. I like the look of it and found it gripped admirably when moistened by sweat or spilt carbo-drink. I couldn't detect any signs of wear, although the microtex tape did tend to lift a little at the edges when rubbed. The only fault I could find was that it made my bars ever so slightly thicker, although there's no avoiding this - more padding means more bulk.
Recommended retail price: US$30.
Components: Technogel strips (2 curved, 2 straight), microtex bar tape, bar end plugs.
Colours: US kit currently black only - other colours to be available in 2005
Pros: Comfort, shock absorption, grip.
Cons: Slight increase in bar thickness.
More information: www.fizik.it
Cyclingnews Rating: