Tech review - March 2, 2004
Arundel Bicycle Company carbon bottle cage
By John Stevenson
Effective carbon cage
Photo: © Paul Mirtschin/CN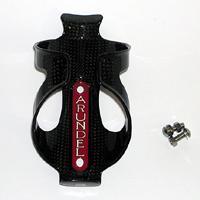 You probably don't think about bottle cages much. After all, they're just things that hold your bottles, right? You've got to have them, unless you're doing very short rides, wearing one of those mountain biker hydration backpack things, or fond of making yourself very ill from dehydration. They're almost as essential as tyres.
But as the lightweight craze shows no sign of abating it was inevitable that someone would notice just how darned heavy is your average water bottle cage. The very standard aluminium cages I took off to test these babies weighed 60g each. Sixty grams! That's four whole ounces a pair. A quarter of a pound! Crikey!
Okay, I do have tongue slightly in cheek here. But if minimizing bike weight is your bag, then your bottle cages are an area where you can probably lose a few grams without losing any function. And you can also, fairly inexpensively, acquire some carbon cachet too.
Exhibit A: Arundel's carbon fiber cages. At 28g each they shave some weight without sacrificing any function. In a couple of weeks of use on the urban moonscape that Sydney's councils laughingly call 'roads' I've not had a bottle take flight, even though my riding involves lots of the kind of traffic that makes avoiding potholes a much lower priority than avoiding inattentive idiots in light trucks.
Retaining the bottle was one of the things the guys at Arundel set out to do with their carbon cage design. The cages are laid up by hand and pressure-molded and the shape clamps a bottle firmly enough to retain it, but not so firmly that it's hard to get in or out.
My only gripe with the Arundel cage is that the supplied button head socket cap screws take a 3mm hex key. These demand care and good tools to avoid rounding them out; using a ball-end hex key makes the job lots easier.
While the Arundel cages aren't the lightest around (that honour almost certainly goes to BTP's 5g Kevlar cage) it will take any bottle - unlike some super-minimal cages that require a tapered bottle. And while the Arundel cage isn't exactly cheap at $39.95, it's a bargain compared to some carbon cages. It looks good, it works well and it saves weight - what more could you want?
Recommended retail price: US$39.95
Weight: 28g
Pro: Light, effective, looks good
Con: 3mm hex screws are slightly fragile
More information: Arundel Bicycle Company
Cyclingnews Rating: