On test: Sidi Genius 6.6 Carbon Mega, June 11
More room for your piggies
The heel counters sprout a few small ventilation holes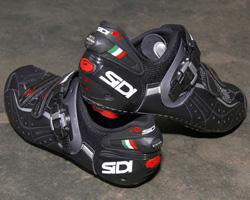 Sidi's standard Genius 6.6 Carbon road shoes are outstanding kicks in their own right but as is sometimes the case with Italian footwear, they can be somewhat narrow. Cyclingnews technical editor James Huang tries on the roomier Mega version and says they're not just for people with wider feet.
Sidi have added a wider 'Mega' version of their high-end Genius 6.6 Carbon road shoes to address those riders who found the standard fit a bit too constrictive. Aside from the extra room, nothing else has changed: users are treated to the usual buttery sock-like fit typical of high-end Sidi shoes, complete with a densely padded and adjustable-length ratcheting main strap, two locking Velcro forefoot straps, a cushy tongue, and supple soft touch materials throughout for a pressure point-free feel that is as comfortable in hour five as it is in hour one.
Gripes are few and far between as far as the uppers are concerned. A little more mesh would be nice to have in warmer conditions but thankfully the Lorica synthetic leather is still quite breathable. The heel cup gains a few small vents though and is now augmented by Sidi's novel Heel Security System reinforcement, which does a nice job of subtly improving heel hold relative to previous versions by pinching the top of the shoe down around the back of your foot. However, the one used on the Genius 6.6 Carbon isn't adjustable like on the top-end Ergo 2 so you'd better like how it feels straight out of the box (though the adjustable bits can be retrofitted).
Small toothed inserts in the forefoot straps

In addition, the Caliper buckle is lower in profile than the previous edition for a cleaner look but we still miss the Ultra SL's finer half step adjustment and the now-smaller lever can be hard to grasp when wearing full finger gloves.
Sidi mate all of this to their top-end full carbon outsole, which is just a touch softer than many other fiber composite plates currently on the market. Though the reduced stiffness could be seen as being less efficient by some, the faint amount of give does do an excellent job of keeping hot spots at bay, even on long days in the saddle and with the stock paper-thin insole.
Sidi's Full Carbon Sole isn't quite as stiff as other makes

Speaking of which, this is where the Genius 6.6 Carbon Mega can offer an advantage over the standard fit even if you don't have particularly wide feet. Typically, adding more substantial and supportive aftermarket insoles - be they stock or custom - into Sidi shoes significantly reduces the total volume and makes them tighter. But subbing in custom insoles into a pair of Megas yields roughly the same fit as before - so now you can have your cake and eat it, too.
True, the Genius 6.6 Carbon Mega is still on the heavier end of the spectrum and even with the recent price reduction announced in the US market, still very expensive. But long-term durability continues to be superb as is the overall quality and finish and Sidi's amazing trademark fit is still essentially unrivaled, making the painful price tag a little easier to swallow.
Price: US$449.99
Weight: 658g/pair (sz44)
Pros: Usual buttery sock-like fit typical of high-end Sidis, Heel Security System is reasonably effective, low profile buckle, roomier fit is more accommodating of custom insoles, stiff-but-not-too-stiff carbon outsole, superb construction quality, still expensive but still superb
Cons: A bit heavy compared to some of the competition, Heel Security System isn't adjustable, low profile buckle does without previous version's half step release, stock insole offers minimal support
Cyclingnews rating:


More information: www.sidisport.com; www.sidiusa.com
Photography
For a thumbnail gallery of these images, click here
Images by James Huang/Cyclingnews.com