Tech feature: Ridley 2010 preview, June 12, 2009
New mid-range aero road bike and lots of 'cross for 2010 from Ridley
By James Huang in Tessenderlo, Belgium
Ridley for the road - lots of changes for aluminum models
Carbon fiber or aluminum? Now you have a choice.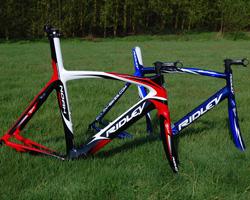 Consumers who lust after Ridley's recently revamped Noah aero road bike - but can't afford one - will have a less expensive aluminum option for the 2010 model year called Phaeton (our preproduction photo sample was still marked with its earlier working name, Gryphon).
The Phaeton will feature a giant deep-section down tube and bowed top tube like the Noah, along with a deep-section seat tube as well. The cutout on the Phaetone seat tube will be accomplished via a welded aluminum plate though and the Noah's integrated mast is traded for an extended semi-integrated one for the alloy version.
Ridley are also offering the Noah in a team replica paintjob

Phaeton will also borrow the Noah's unique split-blade 'R-Flow' fork leg design (similar to Oval Concepts' JetStream fork), which Ridley say diverts air away from the front wheel's churning spokes for reduced drag. However, the new fork will make do with a straight 1 1/8" steerer and the R-Flow treatment will not be used on the seat stays as on the Noah.
Naturally, all that aluminum will add up though: claimed weight for a medium Phaeton is 1565g vs. the Noah's 1,200g but cost will be a much more attainable US$1,150 vs. the Noah's US$3,450.
In addition, the mid-range Icarus will be reintroduced for 2010 complete with scandium-enhanced and butted 7005 aluminum tubing and a choice of sloping or traditional geometries. Claimed weight for a medium-sized sloping version is 1320g. Women will also get a new Tempo aluminum road frame but Ridley will otherwise cut most of their aluminum models from the range - the Boreas, Heracles, Triton, Triton S, Triton C, Aedon and Scandium are all gone for 2010.
The 'entry level' Orion carbon road frame will get a new R-Blade fork for 2010 but otherwise all Ridley carbon road frames are unchanged for 2010 save for updated paint.
Bring on the mud!
Team Fidea will use the all-new X-Night for this year's UCI 'cross series.
Ridley will continue their two-pronged 'cross approach in 2010 with all-new versions of the X-Night and X-Fire carbon frames.
The US$3,000 X-Night frameset features a more Euro-traditional tall bottom bracket height and drops a substantial amount of mass from last year - claimed weight is now just 1,150g with an uncut integrated seat mast. Even so, stiffness looks to have gone up considerably as well, especially up front with a newly tapered 1 1/8"-to-1 1/2" steerer, bigger crown, and more widely spaced legs on the updated Oryx fork.
In addition, the 2010 X-Night will feature a BB30-compatible bottom bracket shell and internal cable routing for more consistent shifting and braking performance in muddy conditions.
Both dropouts of the new X-Night are fully replaceable

Riders favoring a more conventional bottom bracket height can look to the heavily revised X-Fire, which gets the same tapered Oryx fork as the X-Night for reduced brake shudder and more precise handling. Ridley look to have taken a page out of their road frame design manual here as the X-Fire's chain stay diameter has gone up considerably while the seat stays are noticeably slimmer for a more responsive drivetrain but presumably more comfort on the race course. Claimed weight for a 54cm frame is a svelte 1192g - just 42g more than the X-Night - and suggested retail price is half that of the X-Night at US$1,500.
As Ridley have done with the Noah and Phaeton, X-Fire will also have an aluminum counterpart in the new X-Ride. Weight goes up a bit as well (to 1370g for a 54cm frame) but X-Ride will also use the same tapered Oryx fork and cost just US$950.
Ridley isn't typically the first brand that comes to mind when it comes to mountain bikes but their Ignite carbon hardtail is noteworthy nonetheless. For 2010, the current version's mostly round tubes are replaced with more geometric and angular shapes for additional rigidity and head tube angles are slightly slackened for improved high-speed stability. Cable routing will now be internal and Ridley will offer versions with conventional or integrated seat masts.
Photography
For a thumbnail gallery of these images, click here
Images by James Huang/Cyclingnews.com