Tech News – December 24, 2008
Got tech? Send press releases, news, and tech questions to the Cyclingnews tech desk.

Something big on the way from Trek?
By James Huang
Trek employees received this cryptic message a few days ago.
Photo ©: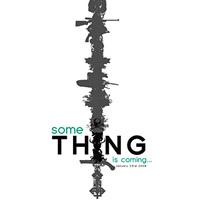 Trek issued a rather curious internal memo a few days ago that was completely devoid of verbiage save for the cryptic phrase, 'Something is coming...January 23, 2009'.
There is otherwise no indication as to what the 'thing' might be but we could probably speculate for hours on some of the symbolism. For example, the amalgamation of icons (which include several guns, a cow, a feather, a skull and crossbones, and even Excalibur's sword lodged in a stone) is arranged to form a dagger, and the January 23 date could perhaps be a reference to the company's announced return to World Cup-level mountain bike racing with 23 Degrees Sports Management.
Trek has recently overhauled the entirety of its top-level mountain bike range, though-including the Top Fuel, Fuel EX, OCLV carbon hardtail and Session range-so we would be quite surprised to see significant change to any of those lines.
On the other hand, it has been rumored that Trek is set to debut an all-new time trial machine to replace its Equinox TTX. Though Trek introduced a lighter SSL variant just last year, the original dates back to 2006 and it is quite possible the company wants to provide something special for its returning poster child, Lance Armstrong.
Surely there would be few ways for Trek to generate a bigger buzz than to provide the Texan with a new cutting-edge aero rig for his favored discipline given the media blitz surrounding the seven-time Tour de France winner's return-particularly if he were to win aboard one which is well within the realm of possibility.
Keep in mind that all of this is mere speculation for now and for all we know, 'something' could refer to a new 401k plan for Trek employees though that seems decidedly unlikely. In the meantime, mark your calendars: January 23 isn't far off and we'll be sure to have computers at the ready.

Photography
For a thumbnail gallery of these images, click here
Images by