Tech News Flash – August 7, 2008
Edited by James Huang
Got tech? Send press releases, news, and tech questions to the Cyclingnews tech desk.

SRAM sells minority stake to Lehman Brothers Merchant Banking
Deal also creates US$10M SRAM Cycling Advocacy Fund
SRAM announced today a new "equity partnership" with Lehman Brothers Merchant Banking.
Photo ©: James Huang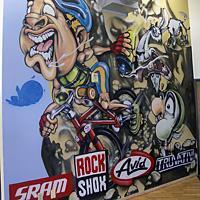 SRAM has announced today a "equity partnership" with Lehman Brothers Merchant Banking (LBMB), a division of global private equity business Lehman Brothers. According to the LBMB web site, the group "manages funds that seek significant long-term capital appreciation through direct investments in established operating companies in partnership with management. The funds invest in companies with sound business fundamentals, proven operating teams and a compelling business strategy or vision."
According to a SRAM press release, LBMB will be a minority investor and current SRAM senior management will remain in place and retain their current capacities. Projected 2008 revenues for SRAM are expected to approach half a billion dollars and the transaction is anticipated to close in late September.
"The SRAM team has done a great job building a global organization in an exciting industry," said SRAM chief executive Stan Day, who is also one of the company's founding members. "We have now achieved scale where we believe it is prudent to add an experienced institutional investor to our shareholder base. We are very pleased that LBMB is committing its capital and expertise to SRAM."
"SRAM has grown to become a true leader in its industry without losing touch with its entrepreneurial roots and its core values," said Charlie Moore, LBMB managing director. "We are privileged to partner with Stan Day and the SRAM management team as they build on the company's strong momentum in the bicycle components market."
While some may view this partnership in a negative light, one associated deal is indisputably and overwhelmingly positive.
SRAM will also establish the SRAM Cycling Advocacy Fund which will support advocacy in the U.S., Europe and Asia on policy issues affecting cycling infrastructure and the bicycle industry. The fund will initially be capitalized with a healthy US$10 million and will be paid out approximately $2 million per year for five years based on advice from established advocacy groups such as Bikes Belong. SRAM expects to have a grant request process in place by this November and additional details will be available in approximately 60 days.
"Bikes are a constructive transportation and recreational solution," said Day. "Governments everywhere are recognizing their value to address traffic congestion, environmental concerns, health promotion and high gas costs. The fund will support grass roots advocacy efforts focused on improving cycling infrastructure."
"With market leadership comes responsibility," added Moore. "We are pleased to see SRAM establishing the SRAM Cycling Advocacy Fund, which will give the industry a vehicle to highlight issues of importance to the cycling public."