Photo ©: Sierra Nevada Cycling/Casey B. Gibson
Stuff of legend
With the Amstel Gold World Cup just around the corner, Cyclingnews' Anthony Tan thought it appropriate to look at a team bike sponsored by a beer brewing company - Trent Klasna's Sierra Nevada Cycling Serotta Legend Ti ST.
Nice profile
Photo ©: Sierra Nevada Cycling

Many of Camapagnolo's innovations
Photo ©: Sierra Nevada Cycling

Curvaceous ST carbon seat stays
Photo ©: Sierra Nevada Cycling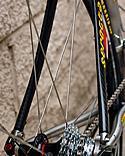 No surprise to see an 11 cog
Photo ©: Sierra Nevada Cycling

One of a plethora of US-based Division III men's teams in 2004 (my last count was 12), the Sierra Nevada Cycling team consists of a 12-man line-up managed by former pros Kurt Stockton and Mike Neel. Based out of Smartville, California, not too far away from the headquarters of the brewery that sponsors their team (maybe a little too close for me!), the team's big guns include Trent Klasna (he won a stage of the Sea Otter Classic yesterday) and multiple national time trial champion Eric Wohlberg, along with Kiwi Glen Mitchell and previous espoir cyclo-cross champion, Ben Jacques-Maynes.
Now, anyone who says Division III teams don't get to play with nice toys obviously hasn't seen Sierra Nevada Cycling's Serotta race machines. Founded in 1972 by Ben Serotta, Serotta Bicycles has long been a player in US cycling circles, and over the years, the company has developed an enviable reputation for their impeccable craftsmanship, best known for their aero pursuit frames (the first US company to do so in 1977) and producing bikes for the 7-Eleven cycling team in 1983 - which, before US Postal, was the most successful cycling team to come out of America. Other significant milestones in the company's history include sponsorship of the Coors Light Team (yes, another beer company!) from 1991, the team dominating the domestic racing scene during the early to mid-nineties, and in 1993, Serotta produced the first double-butted titanium frame, the Legend Ti.
Although bearing an almost-identical name as its 1993 original, Trent Klasna's 2004 Legend Ti ST is very much a modern-day road machine, but still retains the classic elements that carried Coors Light to more domestic wins than any other in US cycling history. The ST is ostensibly the Legend Ti that is still made today - a now much lighter frame, featuring triple-butted, 3AL/2.5V cold-worked, stress relieved titanium tubing and a tapered profile - but with carbon seat stays, rather than a full titanium rear triangle. The company claims that with the substitution of carbon, "the vertical compliance of the front triangle and fork is matched in the back for balanced performance", and "the sealed bearing pivot [where the carbon tubes meet with the chain stays] allows the system to give with the increased loads found in high-speed cornering".
However, what we also noted was that this model Legend Ti ST uses compact frame geometry, something which isn't shown on their website. We asked the guys at Serotta for some clarification; Amy Austin, Director of Sales and Marketing, told Cyclingnews compact frames are available to anyone, and all team Sierra Nevada bikes are custom-designed for each rider - something also offered to their customers at no extra cost.
Up front, the Serotta-branded F2 carbon fork with titanium dropouts provide the steering; both the fork and carbon stays coming from Reynolds. Other bits and pieces from the USA include Profile's Lava oversize bars and stem and O3 carbon seat post, Blackburn's Switchback stainless steel bottle cages, and Bontrager's Race X-Lite wheels, improved for 2004, with Maxxis' Xenith Hors Categorie rubber keeping the lanky, 170-pound Klasna scooting along.
While not to be sneezed at, one of the only signs that this pro bike is from a Div III team are the Campagnolo Chorus components. Though as one can see, features from last year's flagship Record group, such as their carbon cranks and ergo levers, have already filtered down into this lower-priced, better value set. Keeping the European flavour real is Fi'zi:k's top-shelf Arione saddle, helping Klasna's buns stay happy, Time's Impact Mag clipless flippers, and Cateye's computer in a custom Sierra Nevada Cycling colour.
Now did I hear someone say something about going for a Sierra Nevada Pale Ale?
Photos
Images by Sierra Nevada Cycling/Casey B. Gibson
Full specification
Editor's note: all weights shown are manufacturers' claims
Frame: Serotta Ottrott ST
Fork: Serotta F2 Carbon fork by Reynolds
Colour: Sierra Nevada Cycling

Cranks: Campagnolo Chorus carbon
Bottom bracket: Campagnolo Chorus
Chain: Campagnolo Chorus 10 speed
Front derailleur: Campagnolo Chorus 10 speed
Rear derailleur: Campagnolo Chorus 10 speed
Brakes: Campagnolo Chorus
Levers: Campagnolo Chorus 10 speed
Rear sprockets: Campagnolo Chorus 10 speed, 11-21
Rim: Bontrager Race X-Lite clincher, 640g (F), 850g (R)
Hubs: Bontrager, Swiss-made cartridge bearing design
Spokes: DT Swiss, bladed, 20 (F), 24 (R)
Skewers: Mavic
Tyres: Maxxis Xenith Hors Categorie, 700x23c, 230g
Stem: Profile Design Lava OS, 138-166g
Bars: Profile Design Lava OS, 240-258g
Tape: Profile Design Bar Wrap, 55g
Headset: Campagnolo Chorus

Pedals: Time Impact-Mag, 290g per pair
Seat post: Profile Design O3 carbon, 263-385g
Saddle: Fi'zi:k Arione, 250g