Pro Team Tech 2004
T-Mobile and Health Net on Giant
From Tech News, October 21, 2003
Giant's TCR Composite Team in T-Mobile colours
Photo ©: Luc Claessen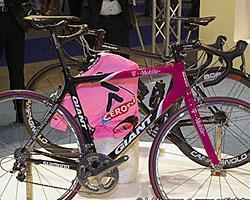 It's official that T-Mobile (the Team Formerly Known As Telekom) will be riding on Giant bikes next year. The announcement was made by Giant at Interbike in Las Vegas on Monday. "We are delighted that one of the most successful teams in road cycling has selected Giant to be their weapon of choice for the coming years," said Tony Lo, President of Giant, Inc..
"During the last few years we have made a reputation with our time trial bike where we have won many stages at the leading tours," added Mr. Lo. "We are therefore very excited and looking forward to see that leading time trial specialists like Jan Ullrich and Santiago Botero will be riding our time trial bikes."
As well as officially confirming rumours that T-Mobile will ride Giant bikes in 2004, Giant sources have told Cyclingnews that they expect to announce in the next two or three weeks a deal for the revamped Health Net team to ride the company's bikes in 2004.
Health Net is expected to be one of the two strongest teams on the US domestic scene in 2004, benefiting both from previous expansion plans and the high-caliber riders released by the recent demise of the Saturn and 7Up teams.
Two details not previously reported are that both teams will use all or mostly Shimano components, a change for T-Mobile/Telekom from Campagnolo, and the T-Mobile bikes will carry Giant's logo on the down tube. The team's previous Pinarello bikes had Telekom decals.
Giant's involvement with Health Net will be the first time the company has sponsored a US team since 2001, and is part of a marketing and product development strategy that sees a strong racing presence in both the US and Europe.