Pro Team Tech 2004
Cannondale's carbon/aluminium bike official
From Tech News, February 11, 2004
Cannondale's 2004 six13 Saeco team bike
Photo ©: Tim Maloney/CN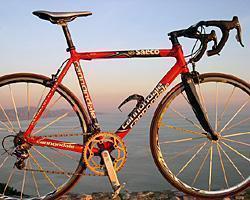 At the Saeco training camp in Italy over the weekend, Cannondale officially launched the carbon fibre and aluminium bike that Saeco will campaign this year, as the red coffee machine team aims to defend Gilberto Simoni's Giro title and make more of an impact at the Tour de france this year than last.
Carbon peek-a-boo
Photo ©: Tim Maloney/CN

Dubbed the six13, for the atomic numbers of carbon and aluminium respectively, the new bike is constructed from custom carbon fiber tubes bridging welded aluminium lugs and the bare frame is claimed to weigh 1,150 grams.
Now, slipping carbon fiber tubes into metal lugs isn't exactly a new notion, as some readers pointed out when we looked at the prototype six13s Saeco were riding at last year's Tour, but Cannondale claims to have come up with some finessing of the idea that gives real advantages.
Welded bottom bracket & seatstays
Photo ©: Tim Maloney/CN

For starters, the tubes are formed in place within the lugs, so there's a mechanical interface between the two, and the joint isn't just relying on adhesive to hold it together. Terrific as modern glues are, you do now and then hear of bonded frames failing at the joints. Cannondale also claims that this makes for a stiffer joint and therefore a stiffer frame.
Cannondale describes its carbon fiber tubes as 'braided' rather than woven, and claims this allows customization of tube shapes and variable wall thicknesses.
Perhaps the biggest advantage of this construction, though, is that Cannondale plans to offer 12 different frame sizes when the six13 becomes available in April. That's a respectable range, and should allow most riders to get a decent fit, addressing the most common complaint about composite bikes that the restricted range of frame sizes makes precise fitting difficult.
Photography
Images by Tim Maloney/Cyclingnews