Road Season Preview 2004
Belgium and the Netherlands: Small countries, big sport
With seven teams in Division I and one in Division II, Belgium and the Netherlands are regaining their status as two of the top cycling nations. Belgium in fact boasts five Division I teams, a result of a comparatively high level of sponsorship in a country with a population of just over 10 million. It's a sure sign that cycling is still very much a part of the culture, and companies can see the value of advertising by sponsoring a sport that gets so much media coverage. The Netherlands, which for years had Rabobank as its only Division I squad, now has a second one in BankGiroLoterij.
Team by team breakdown
The Rabobank team
Photo ©: Bert Geerts

The Rabobank professional team has been in existence since 1996 and Rabobank (a giant Dutch banking conglomerate) is indeed a major force at all levels of Dutch cycling. The 25 man team this year is very much "home grown" and the only new additions to the squad are Hans Dekkers, Joost Posthuma and Pieter Weening, all of whom have been promoted from the Rabobank Division III team. In fact, the biggest change at Rabobank has been the removal of Jan Raas as manager and the introduction of Erik Breukink as a team director.
On paper, Rabobank is quite strong with the likes of Michael Boogerd, Oscar Freire, Levi Leipheimer, Michael Rasmussen and Marc Wauters in its ranks. However things didn't quite go according to plan for the team last year and victories were few. The team is well suited to the hillier classics and shorter stage races, and is hoping to strike gold this year with Boogerd, Freire and Wauters in the classics, Leipheimer and Rasmussen in the major tours, and Erik Dekker as a wildcard comeback kid.
The second big Dutch team, BankGiroLoterij, is a reluctant starter in Division I for financial reasons. However, it made the step this year after consistently having been at the top of Division II for the last couple of years, and has certainly earned the right to be in the top echelon of pro cycling. Unlike Rabobank, the 16 man BankGiroLoterij team has kept only seven of its riders from last year, and there are several imports from the now defunct Team fakta as well as a number of riders from smaller Dutch teams.
BankGiroLoterij features the current Dutch champion Rudi Kemna, an accomplished and experienced sprinter. With Matthé Pronk, Addy Engels and Danes Jørgen Bo Petersen and Allan Johansen, the team is expected to challenge in the smaller stage and one day races, particularly the windy Dutch classics.
Moving onto the major Belgian teams, one of the newcomers this year is Chocolade Jacques-Wincor Nixdorf. The team, managed by Jef Braeckevelt with Johan Capiot and Andrei Tchmil as team leaders, is based on the old Marlux-Wincor Nixdorf team with a number of riders (and the director) from the BankGiroLoterij squad present. Sponsored by a Belgian chocolate company and an IT business, Chocolade Jacques will be an interesting team to watch this year.
The team is led by Dave Bruylandts, the powerful Belgian climber who is a danger in any sort of hilly classic. With the experience of Bart Voskamp and Jans Koerts, and the strength of Latvian Raivis Belohvosciks, Chocolade Jacques should be able to win enough races to keep the boys in chocolate for the year. Look out also for Polish riders Zbigniew Piatek and Cezary Zamana, both of whom have many years of experience behind them and a lot of strength to boot.
The Landbouwkrediet-Colnago team
Photo ©: CN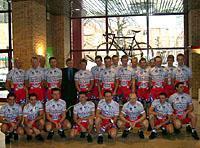 Landbouwkrediet-Colnago, sponsored by a Belgian agricultural bank and a well known Italian bicycle manufacturer, is an interesting mix of youth and experience with a number of Eastern European riders infiltrating the ranks. Ukrainian super talent Yaroslav Popovych will be the team's top dog for the big stage races after he finished third in last year's Giro d'Italia. Popovych is surrounded by his compatriots, including sprinter Yuri Metlushenko, who has already won the GP Costa degli Etruschi this season. In addition let's not forget Belgian sprinter Tom Steels, who also has a victory to his credit this year in the Etoile des Bessèges, and will surely be aiming for more.
New signings for Landbouwkrediet this year include Jacky Durand (ex-FDJeux.com), who is a surefire bet to get in the early break in just about any race, Nico Sijmens (ex-Vlaanderen), an up and coming Belgian sprinter, Geert van Bondt (ex-CSC), an experienced classics man who is hoping for a better run of luck this year, and domestique Cristian Gasperoni (ex-Mercatone Uno). Don't forget Ludo Dierckxsens, who is in his 40th year this year but will no doubt be putting in 100 percent to try and gain a few victories.
Belgian stalwart Lotto-Domo is in its second year of combined sponsorship, after the Belgian lottery and the Domo carpet company came together to form the team at the beginning of 2003. Managed by the super efficient Christophe Sercu, Lotto-Domo's 23 man roster includes just one new rider this year: Piotr Wadecki from the Quick.Step-Davitamon team.
The squad's principle weapons are Belgian classics specialist Peter Van Petegem, who pulled off the impressive Ronde van Vlaanderen/Paris-Roubaix double last season; Australian sprinter Robbie McEwen, who in recent years has had a consistent record of winning races, big and small; Axel Merckx, who while having to deal with the label of being the son of Eddy Merckx, has proven himself as a versatile rider capable of winning hilly one day races; Rik Verbrugghe, who hopes to put a couple of years of injury woes behind him to finally have a good season; and Stefan van Dijck, who wants a bigger role this year as a sprinter.
The Palmans team in various guises has been an institution in Belgian cycling for many years. Like Landbouwkrediet, this year marks its second year in Division I, and it has combined with online betting site MrBookmaker.com to maintain this status.
Palmans riders tend to dominate the Belgian pro kermesse circuit, with Belgian champion Geert Omloop arguably the kermesse king. Although it will probably maintain its dominant status at home, MrBookmaker-Palmans has expanded its roster this year to include Australian TT champion Ben Day, British sprinter Jeremy Hunt, Belgian sprinter/all rounder Jo Planckaert and Belgian climber Kurt Van De Wouwer, among other new additions. Only time will tell how effective the team is abroad.
Quick.Step-Davitamon
Photo ©: Luc Claessen/CN

Patrick Lefevere's main interest for the last season has been the Quick.Step-Davitamon team. Sponsored by a parquet flooring company and a pharmaceutical company, Quick.Step-Davitamon is one of the sport's top teams. Extremely strong in the classics, the team boasts World Cup champion and UCI number one Paolo Bettini at its helm, who will be trying for his third consecutive overall World Cup series this year. Quick.Step also features the Lion of Flanders, Johan Museeuw, who is in his last months as a professional cyclist with retirement looming in mid-April. Museeuw is the reigning classics king, with 11 classics victories to his credit. Can he snatch a couple more before he calls it a day?
There is no shortage of talent in the rest of the Quick.Step armada either. Up and coming classics rider Tom Boonen is looking to improve his results this year, while Australian Michael Rogers is ready for the next step after winning three UCI 2.3 stage races last year. Luca Paolini is ranked in the top 30 in the world and is an excellent lieutenant for Paolo Bettini. Richard Virenque is dreaming of yet another polka dot jersey in July, while much will be expected of Spanish talents José Antonio Pecharroman and Juan Miguel Mercado. Swiss veteran Laurent Dufaux joins the squad this year, and he is always an excellent rider for the shorter stage races.
The sole Belgian Division II team is Vlaanderen-T Interim, which can be considered more of a development team for up and coming riders. Sponsored by the Flemish government and a temporary work agency, Vlaanderen-T Interim now even has a Division III feeder team (Jong Vlaanderen 2016), making the transition from the amateur to the pro ranks in Belgium as painless as possible.
Being a development team, Vlaanderen-T Interim is not about getting results and winning lots of races. It's most experienced riders are Paul Van Hyfte and Matthew Gilmore, who will certainly do their bit for the squad. Otherwise look out for new pros Koen Barbe, Steven Caethoven, Benny De Schrooder as well as Wesley Van Speybroeck, Geoffrey Demeyere and Steven Kleynen in the results.