A Cyclingnews special sponsorship feature
Campagnolo 2003 Report
Refined and evolved products.
By Cyclingnews staff
The tradition of innovation lives on in Campagnolo's 2003 range, but Campy's likeable media manager Joseba Ariaga explained to Cyclingnews that "we don't have a lot of new items in this years range, but we have refined and evolved our existing products for 2003."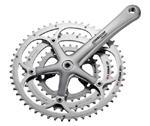 Record 10x3 crankset
Photo: © Campagnolo
Record 10x3 "compact" crankset
This refinement and evolution is evident in Campagnolo's newest version of the Record 10x3 crankset, a "compact" 30x40x50 chainwheel combination of the Record 10x3 crankset. This development stems from the current Grand Fondo craze in Europe and the compact combination is smaller, and lighter, enabling riders to have a wider choice of triple plateaus. The newest Record 10x3 also allows riders to use a short or medium cage derailleur and a smaller, more closely spaced rear cluster. Campy has also added a new carbon fiber version Record Hiddenset headset for integrated headtubes, with a lighter top fixing bolt cap in carbon fiber. And although the Record carbon crankset was introduced last year, Campagnolo reports that there should be greater availability in 170mm and 175mm lengths for 2003.
New Chorus
Campagnolo has now expanded Chorus into the triple department, with a new rear derailleur and 111mm bottom bracket, which when mated with the Record triple crankset, will offer an alternative to a 100% Record triple group.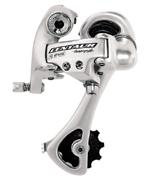 Centaur 10x3 rear derailleur
Photo: © Campagnolo
Centaur 10x3
Campagnolo's only new group for 2003 is the Centaur 10x3, a hi-performance triple for mid-range bikes. Formerly know as Daytona, Centaur is a beautifully made, great-looking group that offer a triple crankset in both 30x40x50 chainwheel combination like the new Record 10x3 and 30x42x53. Centaur 10x3 can be used with the Centaur short, medium and long cage versions. Centaur has new Oversize hubs, with the same internal parts as the Chorus and Record hubs, available in 32 and 36 hole drillings. Centaur 10x3 is destined to be the new standard in mid-range triple road groups.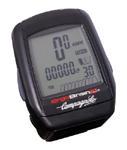 10x3 ErgoBrain
Photo: © Campagnolo
If I Only Had An Ergo-Brain
With the increasing popularity of triple road groups, Campagnolo has enhanced their Ergo-Brain in a 10x3 compatible version, easily recognizable by a new, black finish. Of course, Ergo-Brain has all the features as before; as well as all the functions of a cyclo-computer, it has sprocket self-learning, sprocket and chain display, stopwatch and shows your gear ratio in meters, all on a back-lit screen.
Spray It, Don't Say It
For 2003, Campagnolo has new aerosol chain lubricant called "Superlative". This is a high quality, totally synthetic product that coats the chain and repels moisture and road dirt.
Next: Campagnolo 2003 Cycling Apparel Collection